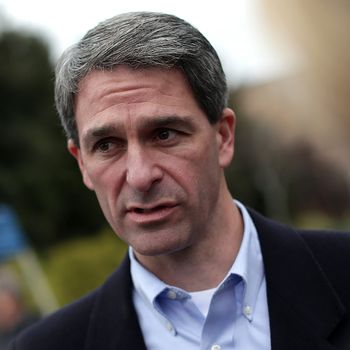 Kris Kobach makes Cuccinelli look almost reasonable.
Photo: Win McNamee/Getty Images
The whole world understands that the recent sacking of key personnel at the Department of Homeland Security represented a presidential demand for a toughening of already-rough immigration policies. The competition to succeed defenestrated DHS Secretary Kirstjen Nielsen may indicate exactly how vicious Trump and his trusted policy henchman Stephen Miller intend to get.
Naturally, Trump favorite Kris Kobach, who has some time on his hands after losing the 2018 gubernatorial election in Kansas, is in the mix. He boasts a dual commitment to exclusionary immigration policies and voter suppression that makes him especially congenial to the MAGA folk. But he may not be confirmable in the Senate.
And then there's the possibility of a lateral transfer for Energy Secretary and former Texas governor Rick Perry, who has always been tough on border security, despite occasional squishiness (i.e., agreement with a majority of Americans) on other immigration issues, like treatment of Dreamers and other undocumented people already in the country.
A possible compromise between troglodyte Kobach and mere Visigoth Perry is emerging, though: Virginia's former attorney general and conservative ideological warhorse Ken Cuccinelli.
Cucccinelli, who gained national attention as the failed Republican nominee for Governor of Virginia in 2013 (losing to Terry McAuliffe), is a hard-core immigration hawk, mainly as a corollary of his general determination to stake out the firmest and clearest conservative ground on everything. He was best known in Virginia as a right-wing culture warrior against legalized abortion and homosexuality. But he also battled climate science, tried to kill Obamacare, and on the issue most relevant to his current aspirations, he called for a constitutional convention to revoke birthright citizenship.
The Virginian's big problem is that he was not an original Trump supporter; indeed, he was Ted Cruz's chief delegate hunter before and during the 2016 Republican National Convention. But as Philip Wegmann of RealClearPolitics reports, Cuccinelli, like Cruz himself, has tried to make it all up to the warlord who conquered his party:
Cuccinelli has all the prerequisites for the Trump Cabinet, whose members regularly double as cable TV guests. He is tough on crime, hawkish on the border, and an articulate, often feisty, interviewee. The longtime lawyer regularly made the cable news circuit to defend the president before signing with CNN in 2017 as a legal commentator.




A combative Cuccinelli notably caught flak there for clashing with Ana Navarro. During a shouting match over Trump's immigration policies, he told the former Republican strategist and current co-host of "The View" that he was "sick and tired of listening to your shrill voice in my ears."
Cuccinelli is getting major backing from his long-time movement-conservative allies:
In a letter postmarked for Friday and obtained by RealClearPolitics, 19 outside conservative organizations urged the president to pick Cuccinelli. Longtime Trump boosters, including former South Carolina Sen. Jim DeMint, Brent Bozell of the Media Research Center, and Ginni Thomas — the wife of Supreme Court Justice Clarence Thomas — lent their signatures.
Those are some important friends to have. He also reportedly has the good fortune of being acceptable to both Stephen Miller and his sometimes-rival, presidential son-in-law Jared Kushner.
Trump is also considering the appointment of a an "immigration czar" who gets to ride herd on administration officials who aren't sufficiently zealous on the subject, without having to run the sprawling DHS. Cuccinelli's on the short-list for that gig, too, if it materializes.
Any way you slice it, Cuccinelli is another symbol of the fusion of Trumpism with "movement conservatism," and the extinction of "NeverTrump" ideological ultras. The turn to the right at DHS could help blur or even eliminate the old differences Cuccinelli embodied in 2016, once and for all.