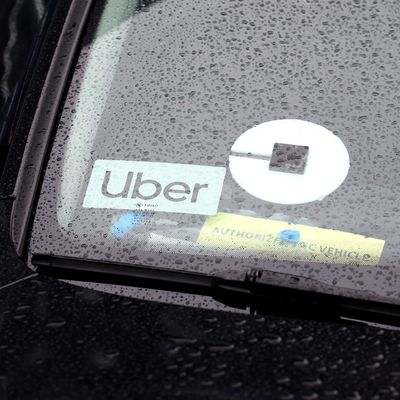 Photo: Justin Sullivan/Getty Images
Rideshare company Uber officially unveiled plans for an initial public offering today, filing its S-1 with the Securities and Exchange Commission. By and large, the document is unsurprising. Just as with Lyft's IPO, Uber wants investors to know that it might never become profitable.
Uber already operates at a substantial loss. In fact, Uber's operating expenses might increase more, should certain factors change. For instance, if the courts decide that Uber drivers have been misclassified as independent contractors, and should actually be employees, Uber then has to rejigger its finances. The list of pending court cases against Uber is substantial.
Unlike Lyft, however, the noose around Uber's neck is its reputation, which has repeatedly affected the company's business, just as harassment scandals and PR mistakes have affected the company. Perhaps the most well-known anti-Uber campaign was #DeleteUber, which went world-wide shortly after President Trump's first Muslim ban went into effect in early 2017. Cab drivers at JFK airport stopped working as a sign of protest, and shortly after, Uber disabled surge pricing — a move that was perceived as a sort of strike-breaking maneuver. Swept up in a wave of anti-Trump solidarity, many users decided to #DeleteUber.
According to Uber's S-1, the loss of users was substantial. "As a result of the #DeleteUber campaign, hundreds of thousands of consumers stopped using the Uber platform within days of the campaign," the company revealed to potential investors. Unlike other tech companies that are reliant on advertisers for revenue, Uber charges its users directly, making its reputation with them more important than, say, Facebook's reputation with its users. Because each user pays money directly to Uber, each one is far more valuable than the comparable user of a free, ad-supported service.
"Later in 2017, allegations of discrimination, harassment, and retaliation in the workplace adversely impacted our reputation and further encouraged platform users to cease use of our offerings," the filing further states, referencing a bruising blog post from former employee Susan Fowler, which set off a wave of reports about aggressive mismanagement by then-CEO Travis Kalanick. "We have been on a new path forward since the hiring of our Chief Executive Officer Dara Khosrowshahi in September 2017," the S-1 promises.
Uber cannot entrench itself as easily as companies like Facebook or Google or Amazon, which rely on their scale to succeed. Sure, it's nice that Uber is available in so many places, but each user doesn't harness the power of the entire network. They just need one car to take them to one place — and that type of business can be replicated relatively easily. That's part of the reason why managing its reputation is so important: Uber has a lot of competition.