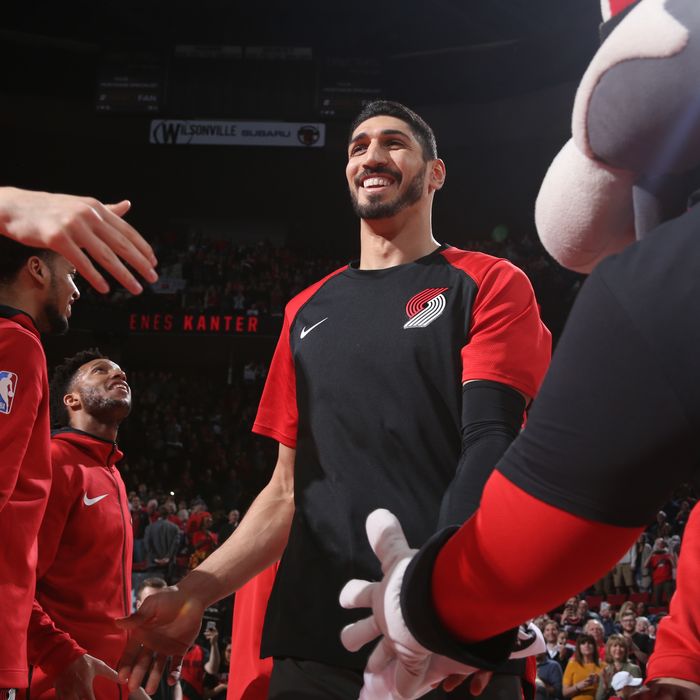 Enes Kanter is introduced before the game against the Memphis Grizzlies on April 3, 2019 at the Moda Center in Portland, Oregon.
Photo: Sam Forencich
It's been a long season for Enes Kanter, one that began in a Knicks jersey and today has him in Portland red, but the friendly giant looks relaxed winding down a recent practice with his new team. He's blending in, launching jumpers, playing the part of an NBA player, which is really all he set out to be.
Yet he knows that blending in is a privilege he loses as soon as he is done shooting. For the past three years, Kanter has waged a media campaign against the president of Turkey, Recep Tayyip Erdoğan, for the dismantling of human rights in his home country. Hardly a week has passed without him appearing on cable news or in the press, hardly a practice without a reporter prompting Kanter to recite the record of Erdoğan's oppression. His efforts to enter Turkey's crisis into the American mainstream have been an astonishing success. But the endeavor has also cost him. His seventh season has been the first in which the specter of the Erdoğan threat has compromised his work on the court.
This was the first year, in other words, that Kanter missed a game out of concern he would be killed — assassinated by Erdoğan's goons or rogue loyalists — if he set foot outside the United States. Turkish courts convicted him in absentia of terrorism in 2017; in advance of the Knicks' trip to London this past January, the country reportedly issued a warrant with Interpol for his arrest. For that game, as well as one against the Toronto Raptors, Kanter stayed in New York.
So, after an occasionally moody stint in New York ended with the last-place Knicks buying out his contract, the brawny seven-footer latched onto the Blazers, a team hurtling toward the postseason with a void at center. (Jusuf Nurkic, who had been a force on the interior, broke his leg in late March.) He's absorbed in the work of fitting in, learning new schemes and new teammates on the fly, removed from the media spotlight and playing meaningful ball again.
"We were thinking about like, if we can get a win or not in New York," he says after shootaround. "Here we're like, let's get in the playoffs. All you think about is get to the playoffs."
The playoff push has allowed Kanter to sideline at least some of his off-court stress. He's fit in with the Blazers roster, a loose bunch he called high-character. But the stress continues to mount anyway: his father, who still lives in Istanbul, will soon be going on trial, and that's weighing on him, too.
"What he's facing is being my dad," he says. "Of course it's always in my head. It's tough to play basketball and think about, My dad might be in jail for 15 years."
Long loath to betray the gravity of his protest, Kanter's eternal sunshine has finally caught a few clouds. He sighs.
In the U.S., Kanter is a lovable galoot, a journeyman center with a penchant for post play and offensive rebounding, known for playful smack talk and fawning teammate PDA. To many in his home country, however, Kanter is part of a conspiracy to overthrow Turkish democracy. Erdoğan claims that Fethullah Gülen, the founder of an Islamic movement called the Hizmet, ordered a coup attempt in 2016 that sent the country into a tailspin. Gülen's influence has loomed over Turkish civic life for decades, and Kanter, an avowed disciple, visits him regularly at his Saylorsburg, Pennsylvania, compound. Though Gülen and Kanter have both condemned the coup attempt, it's their word against the president's in a country without a free press.
In threatening the freedom of Mehmet Kanter, a genetics professor and Kanter's father, Erdoğan deigns to bully his most broadly influential critic into silence. Under a national state of emergency that lasted two years, Erdoğan jailed and/or fired well over 100,000 people suspected of Gülen affiliation on the charge of membership in a terrorist organization — the same charge levied against Kanter and now his father. Erdoğan also closed hundreds of Gülen-affiliated schools across the country and shut down several Hizmet-sympathetic media outlets. Under his watch, Turkey has become the world's leading jailer of journalists; meanwhile, its president has used the American media to lobby for Gülen's extradition.
Still, Kanter's is the rare cause with bipartisan support in Washington; when he visits the Capitol, as he does periodically, he's as likely to take a meeting with Marco Rubio as he is with Ron Wyden. With rhetorical savvy and millennial sangfroid, the 26-year-old has both held the media's eye on Erdoğan and managed to shape American public opinion in the process. It has him toying with the idea of a future in politics once his playing days are over. "I actually started to think about it," he says, brightening. "Because, I mean, if there is no good there, there's bad. I would love to, because all this situation and everything, I know most of this stuff!"
Where Kanter's found the least support in the basketball community has been from his countrymen. Hedo Türkoğlu, a retired NBA foot soldier and current president of the Turkish Basketball Federation, reiterated in a recent interview with ESPN that Kanter was "openly supporting a terrorist leader." Türkoğlu has advised Erdoğan in an official capacity since before the coup, but he is not alone in his suspicion of Kanter. The four other active Turkish NBA players snub him, too.
It couldn't have been Gülen who put the coup attempt in motion, Kanter tells me, because he was scrolling his iPad at Gülen's compound in the Poconos when the news broke. Yes, he was there, in the room, with a central character of the night that changed the course of modern Turkish history. Kanter says all Gülen did that night was sit and pray.
For Kanter, being there was nothing out of the ordinary — he's there all the time. It's how the Trail Blazers' starting center got to be there all the time that takes a bit longer to explain. He would not have even been in touch with Gülen — and thus may never have become a human-rights crusader and outlaw — were it not for a fateful injury that saved his NBA career and turned his life around.
Raised in Istanbul and in the smaller lakeside town of Van, Kanter attended Gülen-affiliated schools in Turkey up to his senior year of high school, when he moved to the U.S. with the intent to play Division I basketball. He first met Gülen around that time — Gülen has been on the lam in Pennsylvania since 1999 — and the movement set him up with a translator who later became his agent. When the Utah Jazz drafted Kanter in 2011, the Hizmet exulted at landing a player at professional basketball's highest level.
But Kanter's off-court exploits during his first two NBA seasons pushed the Gülenists away. He was adored in Salt Lake City, but less for his play than for harmless juvenile high jinks like icing a sprained ankle in a bucket of soggy popcorn. He tweeted open invitations for a blonde woman to give him a massage, then for a brunette to join him at Cheesecake Factory. He posted a picture with Playboy bunnies at Hugh Hefner's mansion on his Instagram. He was making a common mistake among NBA cherubs — trying to keep up with his older teammates in an effort to fit in. There wasn't a formal falling out with the Hizmet, Kanter says, but he knew what he was doing: his own thing.
The gruesome shoulder dislocation in early 2013 — a seven-foot-three opposing player dove on top of him going for a loose ball, kneading Kanter's shoulder into the hardwood; Kanter stood up with his arm bulging out of its socket — cut short his second season but made possible a reckoning. During Kanter's post-surgical overnight at Northwestern, a stranger knocked on his door bearing a bouquet.
The visitor — the head of Chicago's Turkish cultural center, and a Gülen devotee — arrived at a moment when Kanter had already turned against the national team, deciding he wanted to steer clear of Turkish people altogether. The visit was short: He basically dropped off the flowers and left. But Kanter took to him. "I thought, not all Turkish people are bad!" Kanter said. Other Hizmet members rolled through during his recovery, taking Kanter out for Turkish pizza and keeping him company at his hotel. By fall of that year, Kanter was back in the religious fold, tweeting his first potshots at Erdoğan and getting himself booted from the national team for good.
Kanter has forfeited the endorsements, shoe deals, commercials — all the accoutrements of NBA stardom available to players who don't step out of line. His jersey is banned in Turkey. If he had never known the Hizmet, "I'd be two or three times richer than I am now," he says.
To this day, Kanter doesn't know how the emissary learned his location. But the come-to-Gülen moment put him on a happier trajectory. "After my second year in the NBA, my prep years, my college, I hadn't really found myself," he said. "What am I doing, just playing basketball? It was eating at me. Because basketball, you play, you retire, you're done. I wanted to do something more." To Kanter, the Hizmet is about finding common ground, promoting peace and education; it has also, undeniably, put him on the path to the alienation he faces today.
Even with friends in sports, the press corps, even Congress, Kanter's is a lonely defiance, a solo crusade, and one that would not quit him even if he tried to let it go. Besieged by death threats on social media, he never goes anywhere by himself, a paranoia only reinforced by the constant presence of his manager or a bodyguard. Attempts to contact his family could endanger all parties involved. The only time he's by himself, he says, is when he goes to the bathroom.
"It's a sacrifice, man," he says. "I'm 26 years old, I'm not some 43-year-old who's just gonna watch TV all day. Of course I want to go out there, hang out with teammates, hang out with people I love, go to the beach, go hang out! But then I'm thinking about all the people getting tortured in jail. I'm like, I cannot do that.
"I actually tried. My teammate said take a vacation. Go to Hawaii, L.A., just be away from all the drama for just a couple days. So I went to L.A. in the summer. The second day I'm like, what am I doing? I can't do this. Because all my friends, my family, my neighbors, are suffering in jail. I cannot just come here and get tan, and go to the beach and hang out. So it's tough — I wanna do all that stuff, but it's not right. I gotta finish what I started."
Basketball remains his last refuge from the turmoil, and it will last as long as the Blazers do this postseason. "The only time I have fun is when I'm on the court." Kanter sighs. "But you only play 48 minutes, and as soon as you leave the gym, all the drama starts again. It's a sacrifice. I don't know how long it's gonna take — one year, ten years, 15 years — but I cannot stop right now."