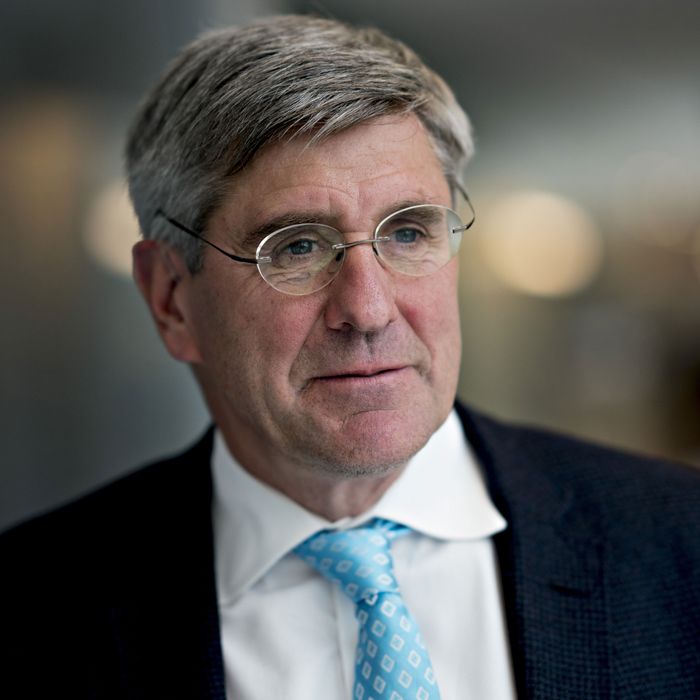 Stephen Moore.
Photo: Andrew Harrer/Bloomberg via Getty Images
A week after CNN unearthed a handful of misogynistic comments from old Stephen Moore columns, the economic analyst's likely nomination to the Federal Reserve appears less certain than ever.
On Monday, the White House said it has undertaken a review of Moore's columns, in which he has written that women should have no involvement in sports unless they're attractive and argued for the repeal of child labor laws.
National Economic Council director Larry Kudlow told reporters that the Trump administration is still behind Moore. "He is going through the process of vetting, and we'll see what happens in that process," Kudlow said. "And hopefully we'll go on to the Senate Banking Committee. There's no change in our position."
But some key Republicans in the Senate, which will vote to confirm Moore once he's formally nominated, seem to be cooling to the man who wrote Trumponomics. "I'm not enthused about supporting him," Republican senator Joni Ernst said this week. "Look at his writings! I'm not enthused. I'm a woman."
Georgia senator Johnny Isakson, whom Moore attacked in a 2004 Senate race, wondered why Moore hadn't reached out. "He hasn't called me, he hasn't asked my opinion," Isakson told the Washington Examiner. "You would think that after he said some of the things he said in the past, he would've if he were really sincere about getting the job."
Among the other Senate Republicans to voice concerns are Utah's Mitt Romney, West Virginia's Shelley Moore Capito, and Alabama's Richard Shelby, who hinted at problems with Moore that go beyond his inflammatory columns. "Taxes, alimony, child support — questions about all this. It doesn't help any," Shelby said.
The Guardian last month reported on Moore's trouble with these issues:
Court records in Virginia obtained by the Guardian show Moore, 59, was reprimanded by a judge in November 2012 for failing to pay Allison Moore more than $300,000 in spousal support, child support and money owed under their divorce settlement.




Moore continued failing to pay, according to the court filings, prompting the judge to order the sale of his house to satisfy the debt in 2013. But this process was halted by his ex-wife after Moore paid her about two-thirds of what he owed, the filings say.
Moore, meanwhile, appeared on ABC's This Week Sunday to apologize. "These articles you're talking about were 17, 18 years ago. They were humor columns, but some of them weren't funny, so I am apologetic," he said.
On Tuesday, Moore went on CNBC and struck a more defiant tone. "I think I'm going to be on the Fed," he said. "By the way, the president and the White House economics team's totally behind me."