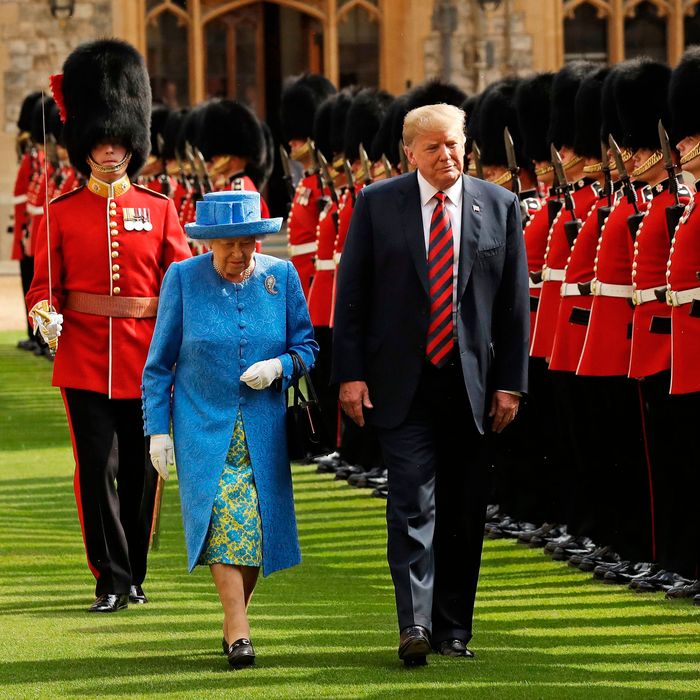 The Queen and Trump in summer 2018.
Photo: Matt Dunham/AFP/Getty Images
On June 3, President Trump will arrive in the United Kingdom for his first state visit, Buckingham Palace announced Tuesday. It's been a long time coming.
Prime Minister Theresa May first extended the invitation in January 2017. It was just days into Trump's presidency and she was at the White House, the first foreign leader to visit Trump after his inauguration. But as the months dragged on, the trip kept getting delayed, in part because of the Finally, last summer, Trump made his way to the U.K. for a "working visit." He sat down with May, met the queen, and inspired protesters to unveil a blimp of Baby Trump.
Here's what to expect for June's trip:
What's on the agenda?
In London, Trump will become the third U.S. president, following George W. Bush and Barack Obama, to be feted by Queen Elizabeth II. It seems likely that he'll take the traditional carriage ride down the Mall, something that Trump has specifically requested, and then enjoy a party in his honor inside of Buckingham Palace.
He'll also participate in a bilateral meeting with Prime Minister May. In a statement, the White House said, "This state visit will reaffirm the steadfast and special relationship between the United States and the United Kingdom."
May put out her own statement praising the "close relationship" between the U.S. and the U.K. It did not mention Trump.
"The UK and United States have a deep and enduring partnership that is rooted in our common history and shared interests.




"We do more together than any two nations in the world and we are both safer and more prosperous because of our cooperation. The state visit is an opportunity to strengthen our already close relationship in areas such as trade, investment, security and defence, and to discuss how we can build on these ties in the years ahead."
After spending three days in the U.K., Trump will travel to Normandy to commemorate the anniversary of D-Day.
How are politicians reacting?
The loudest reaction to Trump's upcoming state visit is coming from members of the Labour Party. They're not happy.
One MP called Trump "a racist, an Islamophobe and a misogynist" and another accused him of "systematically assault[ing] all the shared values that unite our two countries." Trump's opponents in the U.K. generally dislike him for the same reasons his American critics do.
It's not yet clear if Trump will speak to Parliament. In 2017, House of Commons Speaker John Bercow said he was "strongly opposed" to Trump addressing the body. The BBC reports that a spokesperson for the Speaker has said that a request for Trump to address Parliament will be "considered in the usual way." The spokesperson would not say if such a request has been made.
What about the public?
The British public, by and large, does not like Trump. Recent numbers from YouGov show a 21 percent positive opinion of Trump in the U.K., and a 67 percent negative opinion. Many of those who disapprove will be in the streets of London during Trump's visit.
"It's up to us, again, to say Trump is not welcome, and to make his visit as unpleasant as possible," Nick Dearden, who helped organize last summer's protests, told Newsweek. "We're going to aim for maximum disruption."
Leo Murray, the 41-year-old who masterminded the baby Trump blimp, told the Evening Standard, "We're quite sure that all British people of good will are going to be ready to run Trump out of town for a second time."
Demonstrations during Trump's working visit drew an estimated 250,000 people into the streets.
Will Meghan Markle have to meet Trump?