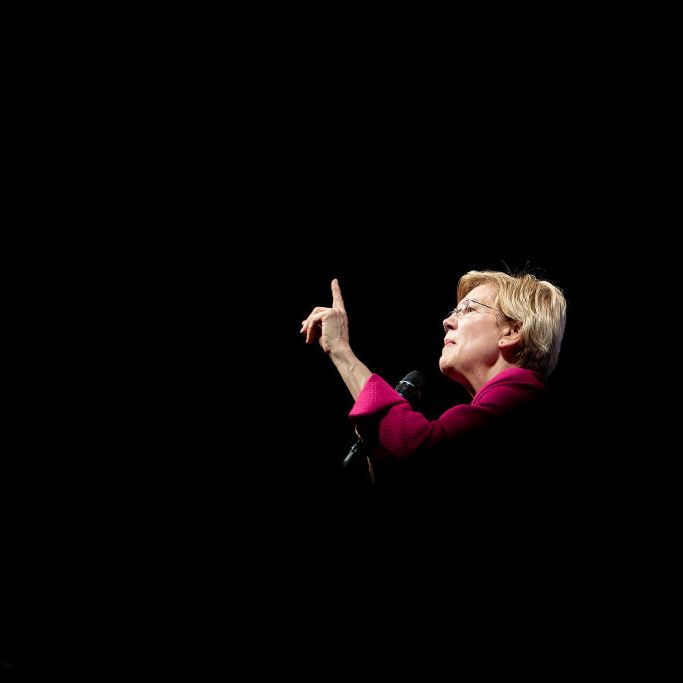 Photo: BRENDAN SMIALOWSKI/AFP/Getty Images
On Monday night, CNN hosted back-to-back town halls with five Democratic-primary contenders: Amy Klobuchar, Elizabeth Warren, Bernie Sanders, Kamala Harris, and Pete Buttigieg. Some of the candidates used the opportunity to double down on campaign policies, as Senator Klobuchar did, while others used their time to come out in favor of new stances, like when Senator Harris and Mayor Buttigieg joined Senator Warren in supporting the impeachment of President Trump. Below, highlights from the marathon in New Hampshire broken down by candidate.
Amy Klobuchar
The Minnesota senator stuck to her staunchly moderate position, hoping to appeal to party centrists who have not been attracted to a Biden run. Klobuchar provided a dissent to Elizabeth Warren's proposed cancellation of student debt and elimination of tuition at public colleges: "I wish I could staple a free college diploma under every one of your chairs," Klobuchar told the crowd. "I do. Don't look. It's not there. I wish I could do that, but I have to be straight with you and tell you the truth." Klobuchar instead suggested an expansion of the Pell Grant program that would allow students to refinance loans.
Klobuchar came out against the impeachment of President Trump, and promoted her record of campaigning "where it's uncomfortable" and winning in Republican districts in Minnesota. It was a prospect that didn't necessarily entice the crowd: "Every single time I have run, I have won every single congressional district in my state, including Michele Bachmann's … That's when you guys are supposed to cheer, okay?"
Elizabeth Warren
Warren's impressive performance demonstrated why she could be a serious contender, despite disappointing early polling: Not only does she have the most robust policies of the primary class, she can back them up with big-picture rationales without getting bogged down in white-paper detail.
The Massachusetts senator defended her ambitious education reform, explaining that an "ultra-millionaire tax" that taxes "two cents on every dollar of the great fortunes above $50 million" would cover her tuition plan and more. "Here's the stunning part," Warren told the crowd. "If we put that two-cent wealth tax in place on the 75,000 largest fortunes in this country — two cents — we can do universal child care for every baby, zero to five, universal pre-K, universal college, and knock back the student loan burden for 95 percent of our students and still have nearly a trillion dollars left over."
Bernie Sanders
At points it seemed Sanders was trying to outflank Warren from the left, like when he upheld his support for giving the vote to incarcerated Americans. When a student asked if the Vermont senator believed the Boston bomber should be enfranchised, Sanders replied that his policy applied "even for terrible people, because once you start chipping away and you say, 'Well, that guy committed a terrible crime; not going to let him vote. Well, that person did that; not going to let that person vote,' you're running down a slippery slope."
Sanders also reiterated his criticism of the Netanyahu government in Israel with a call to change American foreign policy in the region: "I just believe that the United States should deal with the Middle East on a level playing field basis. In other words, the goal must be to try to bring people together and not just support one country, which is now run by a right-wing — dare I say — racist government." He also said he was "rightfully criticized" in the 2016 election for ignoring foreign policy, and suggested 2020 Democrats shouldn't get impeachment tunnel vision, as it could "work to Trump's advantage."
Kamala Harris
Harris announced her support for impeaching the president during Monday night's event. Democrats should be "realistic about what might be the end result," but it doesn't mean "the process shouldn't take place," she said.
Harris also joined Warren, Julián Castro, and Cory Booker in their calls to revisit the debate over reparations: "We should study it and see." Harris also announced a 100-day promise on gun reform: "Upon being elected, I will give the United States Congress 100 days to get their act together and have the courage to pass reasonable gun-safety laws. If they fail to do it, then I will take executive action."
Pete Buttigieg
Buttigieg backed Harris's tentative support for impeachment and countered Sanders on his stance on prisoners voting: "While incarcerated? No, I don't think so." When host Anderson Cooper charged the South Bend mayor with being light on substance thus far, Buttigieg said he didn't want to drown voters in "minutiae," and cited his support of a "Medicare for All Who Want It" system as an example of his policy proposals.
Buttigieg also responded to a controversy in South Bend regarding recordings by police officers allegedly containing racist comments about former police chief Darryl Boykins, who is black. "I was, frankly, a little slow to understand just how much anguish underlay the community's response," Buttigieg said. "It wasn't just about whether we were right or wrong to be concerned about the federal Wiretap Act. It was about whether communities of color could trust that communities had their best interest at heart."