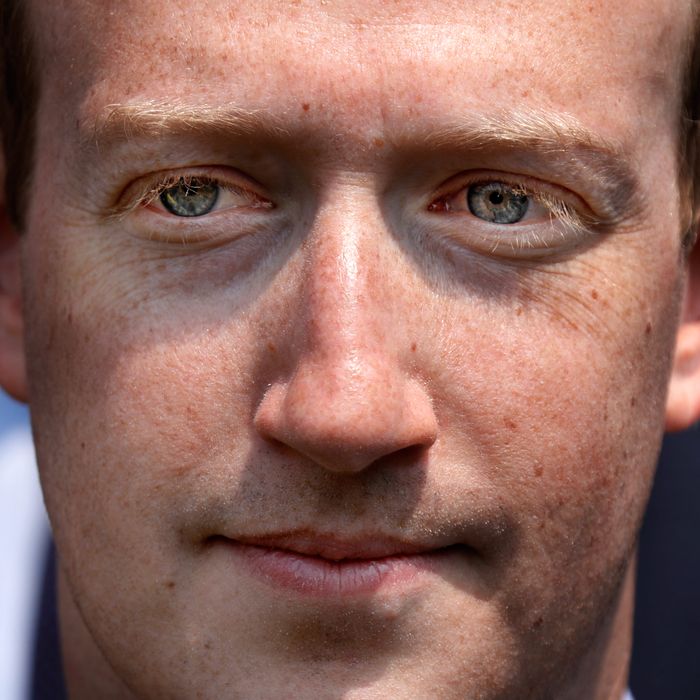 Photo: Charles Platiau/AFP/Getty Images
Would you believe it if I told you Facebook is a fraught as hell company? Of course you would. Rather than waxing poetic, I'll spare you and jump straight to what you're here for: the details. Wired's latest cover story has them. It's long and good and both horrifying and unsurprising. Here are a few of the more insane anecdotes for your speed-reading pleasure.
Facebook Staff Followed Reporters Into the Bathroom
Following the Cambridge Analytica news, Mark Zuckerberg granted an interview with CNN's Laurie Segall. (Wired reports "the communications staff trusted [Segall] to be reasonably kind.") A communications staffer at Facebook said they were required to monitor the news team the entire time, even when they went to the bathroom. Facebook says this is not protocol.
Facebook Only Told the World About Cambridge Analytica to Scoop Reporters
Facebook knew outlets were working on the Cambridge Analytica story February 2018. Certain employees at the company were also previously aware that the data used by Cambridge Analytica could be damning for the company if revealed publicly. Internally, communications staff — headed by Rachel Whetstone, whose previous gig was at Uber — were divided on how to handle the forthcoming stories. They ultimately decided to release the information about the scandal before the reporters working the story could publish theirs. This was a 180 from Facebook's usual strategy "to correct misinformation or errors and spin the company's side of the story." Facebook released the information on its news site late on a Friday night. It was, well, not a great look.
Former Instagram CEO Kevin Systrom Compared Mark Zuckerberg to Trump
Systrom and co-founder Mike Krieger left Instagram in September 2018, eight years after founding the company. Systrom and Zuckerberg (Facebook acquired Instagram two years after it was founded) reportedly clashed in the lead-up to the departure, with Systrom comparing their relationship to Jeff Sessions and Donald Trump. As in, Zuckerberg was making things so untenable for Systrom he had no choice but to leave, a source told Wired.
Employees Weren't Thrilled When Joel Kaplan Was Photographed at Brett Kavanaugh's Testimony
Joel Kaplan, Facebook's vice-president of global public policy, is a longtime friend of now-Supreme Court Justice Brett Kavanaugh. Kaplan was seated just behind him while he testified before the Senate Judiciary Committee. Nobody at Facebook knew he was going to attend, and an all-hands meeting was later called to deal with fallout among employees. "I don't think there was a single male participant, except for Zuckerberg looking down and sad onstage and Kaplan looking dumbfounded on the screen," a source told Wired. Kaplan later threw Kavanaugh a party to celebrate his appointment.