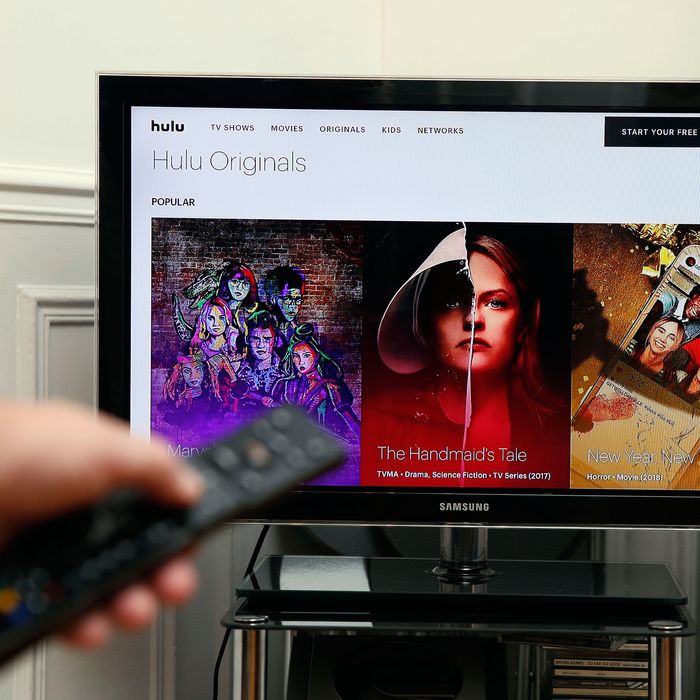 It's actually better than cable.
Photo: Thierry Chesnot/Getty Images
For years, "cord cutting" — dropping your cable television package and watching video content only over the internet — has been discussed as a strategy for saving money. My husband and I cut the cord in April, and we are indeed saving money: about $24 a month.
But that's not the main reason we cut the cord.
We cut the cord because TV through the internet now provides a better user experience than traditional cable television. The interface is simpler and more flexible than what I enjoyed when I got my TV service from Verizon, and for the first time in years, everything I use my television for is fed through a single input and controlled with a single remote.
My experience with cord-cutting has been so good that I see little reason for any household to keep subscribing to traditional cable. We should all cut the cord. But precisely how you should cut the cord depends what you want out of your television.
Most cord-cutting households use subscription video-on-demand (SVOD) services like Hulu and Netflix, and many also have antennas to watch over-the-air broadcast television. This approach saves a lot of money — more than I'm saving — but it's complex and it likely doesn't replace everything you like about the cable experience. For example, this approach means giving up access to most live cable programming.
Another way to cut the cord has gotten much more popular in the last year and a half, and it's what I did: subscribing to a virtual multichannel video programming distributor, or vMVPD for short. These are services that provide a close facsimile to the cable television experience, but with the flexibility of the internet. You can watch dozens of channels of live TV, pause what you're watching, save it to a virtual DVR. You can start on-demand programs anytime you want. You can watch on your television at home, or on a laptop, tablet, or smartphone on the go.
The catch is that this is a lot more expensive than the SVOD approach. In my home, we have subscribed to Hulu Plus Live TV, which costs $44.99 per month. (First, we had tried Sling TV, which is cheaper, but we didn't like the interface and it didn't have most of our local channels, so we canceled it and switched; other options include YouTube TV and DirecTV Now, which each cost $50 per month.) We also added HBO Now to our Amazon Prime account, which is an additional $14.99. So, we're paying for $59.98 in new monthly subscriptions, which eats up most of the $84.08 we are saving by dropping television from our Verizon package and keeping only internet service.
But in addition to the cost saving, this switch has fixed a number of things that used to annoy me about watching television.
First, even before we cut the cord, we already watched a lot of content through SVODs: mostly Netflix, and also sometimes Amazon Prime Video. Switching between these and cable TV meant changing TV inputs. If the SVOD content was coming through an Apple TV box, it also meant changing remote controls.
Now, everything comes through one box and can be controlled with one remote.
On our newer TV, an internet-connected LG smart TV, all content comes straight into the television itself, and we use the LG remote to toggle between the native Hulu, Netflix, and Amazon apps on the television. (To make this one-remote approach work, I found it was important to buy the HBO Now subscription through Amazon, as LG's webOS supports Amazon but does not support the HBO Now app.)
On our older TV, a dumb Samsung TV, all content now comes through an Apple TV, which I control from my smartphone. The only thing my phone can't easily do is turn the TV on and off; I do that by voice with Alexa, through a Logitech Harmony system. I used to use the Logitech Harmony to run the cable box, but now it's mostly vestigial, and sooner or later we'll replace that TV with a smart one and be able to ditch both the Logitech Harmony and the Apple TV, further reducing the number of electronic devices in our home.
That brings me to my second great joy of cutting the cord: No more cable boxes. I hated the space they took up. I hated their clunky interface. I hated how they would sometimes freeze. I resented how Verizon forced me to rent them at a cost of about $30 a month. Now, they are gone. I don't have to use Verizon's phone app anymore either.
My third joy is how simple and intuitive Hulu's interface is. Hulu realizes channels don't need numbers because they have names and can be listed alphabetically. Instead of trying to remember the three-digit code for Bravo, you just find it in the B's. You can also sort live TV programming by type — go to "news" or "sports" and it will show you not channels themed around those concepts but channels that are airing those types of programming right now. When you look up a show, you get a page that offers you what's airing right now, the opportunity to schedule future airings on your DVR, and past episodes you can stream on demand, all in one place.
While many traditional cable providers also now offer a virtual DVR you can watch away from home, the Hulu virtual DVR offering is remarkably seamless. I've easily been able to follow James Holzhauer's incredible Jeopardy! run whether I'm home in New York or at a hotel in Los Angeles. And because you get a separate profile for each member of your household, you don't have to scroll past whatever nonsense your loved ones keep in the virtual DVR.
There are a few limitations to the cord-free life. For one thing, there's no good way to get live PBS programming through a vMVPD, yet. (Talks are ongoing to fix that.) Some of the services also have limited offerings of local television, though Hulu Plus Live TV carries most of the network affiliates in most large- and medium-sized markets, including every New York station I care about except our PBS affiliate. As for cable TV, I now get dozens of channels instead of hundreds, but the only one I miss is Comedy Central.
My expectation is that, over time, these content gaps between vMVPDs and traditional cable will disappear. That's because there's no particular reason why entertainment content should be bundled together with internet service. As more consumers switch to the vMVPDs, the more pressure there will be to make channels available through them.
As of the end of 2018, there were 7.7 million vMVPD subscriptions in the United States, according to Rich Greenfield of BTIG, a boutique investment bank and research firm. That corresponds to such services being used in over 5 percent of television households, and rapidly growing; these services didn't exist at all in 2014.
I believe the main factor that had held back the cord-cutting trend until recently is that people like key parts of the cable-television-watching experience. They like being able to watch a wide variety of channels, on a large-screen television, selectable from within a single channel guide using a single remote control. They also often care about being able to watch programming live — if not for scripted dramas, then for news and sports.
Those desires are reasons I didn't cut the cord for years, even as I saw some friends drop cable to watch only Hulu and Netflix. But now that it is easy to virtually re-create the cable experience, enjoy some additional flexibility and features, and save about $300 a year, I expect consumers widely to make the same choice I did, and cut.