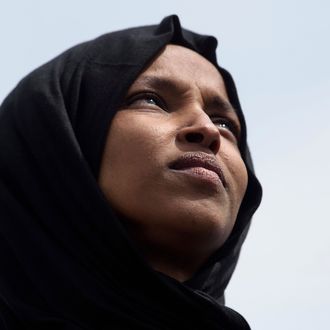 Rep. Ilhan Omar (D-MN)
Photo: Brendan Smialowski/AFP/Getty Images
Representative Ilhan Omar made some anodyne remarks about discrimination targeting Muslims this week. In a speech she gave to a group fighting against anti-Muslim discrimination, she noted that the actions of a few people caused a backlash against the American Muslim community as a whole.
Republican Representative Dan Crenshaw of Texas waxed indignant, pretending Omar was downplaying the attacks:
Fox & Friends host Brian Kilmeade mused, "You have to wonder if she is an American first":
Crenshaw and Kilmeade are obviously underscoring the very bigotry Omar was taking note of in the first place. And if you're missing the irony of Kilmeade's slander, recall that Omar created a firestorm among both parties by questioning the loyalty of American supporters of Israel. But the level of offensiveness she evinced that one time — and for which she was justifiably rebuked — is exceeded by leading Republicans on a near-daily basis.