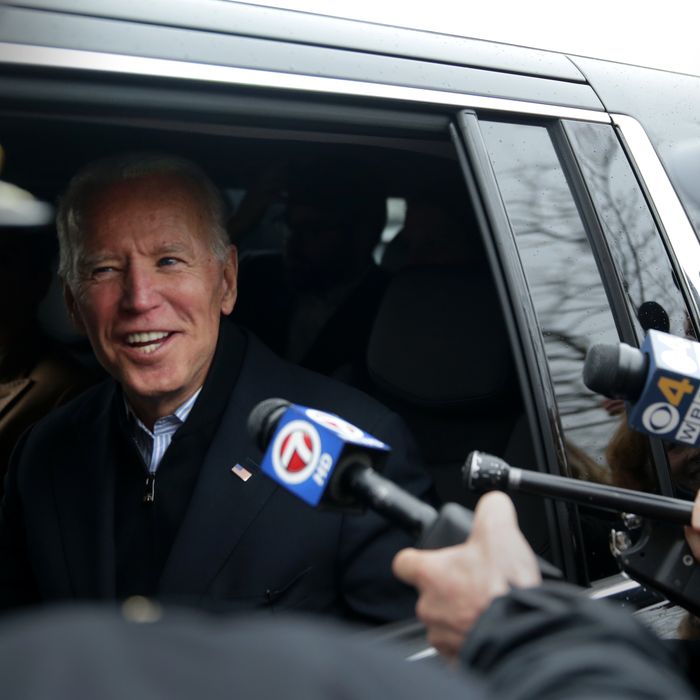 Former Vice President of the United States Joe Biden leaves after addressing striking workers at the Stop & Shop in Boston.
Photo: Jonathan Wiggs/Boston Globe via Getty Images
On Wednesday, former vice-president Joe Biden was expected to announce his candidacy for president with a video shot in his hometown of Scranton, followed by a rally in either Pittsburgh, Philadelphia, or Charlottesville, Virginia. But according to Edward-Isaac Dovere, the Atlantic reporter who initially broke the details of Biden's announcement, the campaign kick-off may be delayed.
The Philadelphia Inquirer also reported on Monday that Biden would not be traveling to Charlottesville on Wednesday, and that "considerations" involving the sites in Philadelphia and Pittsburgh had been "scuttled."
"Things are fluid," a Biden adviser told Time on Friday. Despite that fluidity, Biden is still accepting campaign donations prior to his reportedly pushed-back announcement.
On Tuesday, the Washington Post reported that Biden now intends to announce his candidacy by video on Thursday, with a trip to Pittsburgh following on Monday.
In candid remarks to Time on Friday, a former Biden aide said there's plenty of chaos behind the scenes: "I've never seen anything so half-assed. They're improvising and doing last-minute planning. The guy has been running for president since 1987 and can't figure the basics out, like where to stand on his first day? This should make everyone very nervous."
Politico reports that Biden could announce on Thursday, while noting that the timing is still "in flux." The report also describes a "battle plan" for the former veep, whose campaign intends to secure key union endorsements, like the International Association of Firefighters, and to rely on Biden's support from the party Establishment.
Despite allegations of unwanted physical contact, Biden has led the Democratic field throughout most of the primary race's early months — he's leading with 30 percent in the most current Morning Consult poll, six points ahead of the next contender, Bernie Sanders. But another Biden insider who spoke to Time expects that Biden's lead during his non-campaign will be harder to maintain post-announcement: "This guy's best day is the day he announces. Everything after that gets worse."