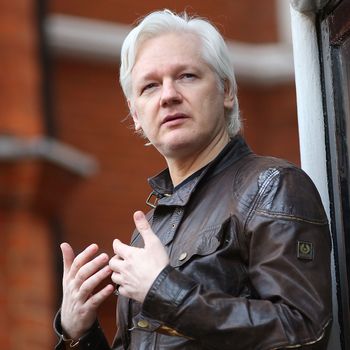 Julian Assange speaks to the media from the balcony of the Embassy of Ecuador on May 19, 2017 in London.
Photo: Jack Taylor/Getty Images
WikiLeaks founder Julian Assange was arrested by British police at the Ecuadorean embassy in London on Thursday, then charged by the United States with one count of conspiracy to hack a computer, related to the 2010 release of a trove of classified documents obtained by Army private Chelsea Manning. The move, which marks the end of a seven-year standoff over Assange's fate, came shortly after Ecuador rescinded his asylum, citing his "discourteous and aggressive behavior." Here's what we know about Assange's arrest, and what happens now.
The Arrest
Assange was taken into custody by British police at around 10:35 a.m. local time, 5:35 a.m. ET. Video shows a bearded Assange being dragged out of the Ecuadorean embassy, with his hands bound in front of him. He can be heard shouting, "U.K. must resist, you can resist!"
Ecuador took Assange in when he was facing a Swedish sexual assault investigation in 2012. On Twitter, President Lenín Moreno of Ecuador said his country decided to revoke Assange's asylum after "his repeated violations to international conventions and daily-life protocols."
Moreno elaborated in a video statement tweeted by Ecuador's communications department, citing WikiLeaks' repeated meddling in international affairs. "Mr. Assange violated, repeatedly, clear-cut provisions of the conventions on diplomatic asylum of Havana and Caracas, despite the fact that he was requested on several occasions to respect and abide by these rules," Moreno said. "He particularly violated the norm of not intervening in the internal affairs of other states. The most recent incident occurred in January 2019 when WikiLeaks leaked Vatican documents."
Shortly after the arrest, British foreign secretary Jeremy Hunt thanked Moreno.
In a statement, London's Metropolitan Police said they were "invited into the embassy by the ambassador, following the Ecuadorian government's withdrawal of asylum." Police later issued an update, saying that in addition to a charge related to his failure to appear in a U.K. court, Assange was "further arrested on behalf of the United States authorities," under "an extradition warrant under Section 73 of the Extradition Act."
During an appearance at Westminster Magistrates' Court on Thursday afternoon, Assange was found guilty of breaking his bail on June 29, 2012. He had pleaded not guilty. Judge Michael Snow reprimanded Assange, saying he had demonstrated "the behavior of a narcissist." Assange will be sentenced for the offense, which carries a penalty of up to 12 months in prison, at a later date.
The Charges
When Assange took refuge in the Ecuadorean embassy in 2012, his immediate aim was to avoid extradition to Sweden, where he faced questioning in a sex crimes inquiry. Assange has denied the allegations of rape and sexual assault, and Sweden rescinded its warrant for Assange in 2017. However, the case could be reinstated and Elisabeth Massi Fritz, who represents Assange's unnamed accuser, told the AP on Thursday that "we are going to do everything" to make sure "Assange can be extradited to Sweden and prosecuted for rape."
Assange's larger fear has long been extradition to the United States. As the Washington Post explained, Assange was charged in secret last year, but at the time the alleged crime was unknown:
It was inadvertently revealed in a court document last year that he had been charged with an unknown crime or crimes by the Justice Department under President Trump. That was big news, given the same Justice Department under President Barack Obama had declined to charge him, citing the difficult First Amendment issues it could raise given WikiLeaks's claim to be a journalism organization.
Hours after Assange was taken into custody on Thursday, it was revealed that the U.S. was indeed behind his arrest, and he's been charged with conspiracy to commit computer intrusion. The penalty is up to five years in prison, far less than he might have faced if the U.S. had decided to charge him with espionage-related offenses.
In 2010, WikiLeaks published 250,000 U.S. diplomatic cables and classified military documents. The material was passed to WikiLeaks by soldier Chelsea Manning, who served seven years of a 35-year prison term before President Obama commuted her sentence in 2017. The Assange indictment, which was filed in March 2018, accuses him of agreeing "to assist Manning in cracking a password stored on United State Department of Defense computers connected to the Secret Internet Protocol Network, a United States government network used for classified documents and communications." This would have allowed Manning to log into the system with a different username, but there's no evidence in the indictment that Assange managed to crack the password.
Prosecutors say there are also communications that show Assange encouraged Manning to obtain more classified information.
"After this upload, that's all I really have got left," Manning told Assange on March 7, 2010, according to the indictment. He replied, "curious eyes never run dry in my experience."
Days before Obama commuted Manning's sentence in 2017, Assange offered to face criminal charges in the U.S. if she was released, but he never followed through. Manning was jailed again last month in Virginia after a judge found her in contempt for refusing to testify before a grand jury that is investigating WikiLeaks.
WikiLeaks has previously claimed that the U.S. is also building a case against Assange for his involvement in the publication of Democratic emails hacked by the Russians during the 2016 presidential campaign.
What Happens Next
Assange will have an opportunity to fight the U.S. extradition request in British courts. As the New York Times reports, "Most people who fight extradition requests argue that the case is politically motivated rather than driven by legitimate legal concerns."
WikiLeaks, which has been fundraising off Assange's arrest on Twitter, painted him as the victim of a sophisticated international effort to discredit and imprison him.
In a previous statement, WikiLeaks said there would be consequences for those targeting Assange: "If President Moreno wants to illegally terminate a refu­gee publisher's asylum to cover up an offshore corruption scandal, history will not be kind."
This is a breaking story. Please check back for updates.