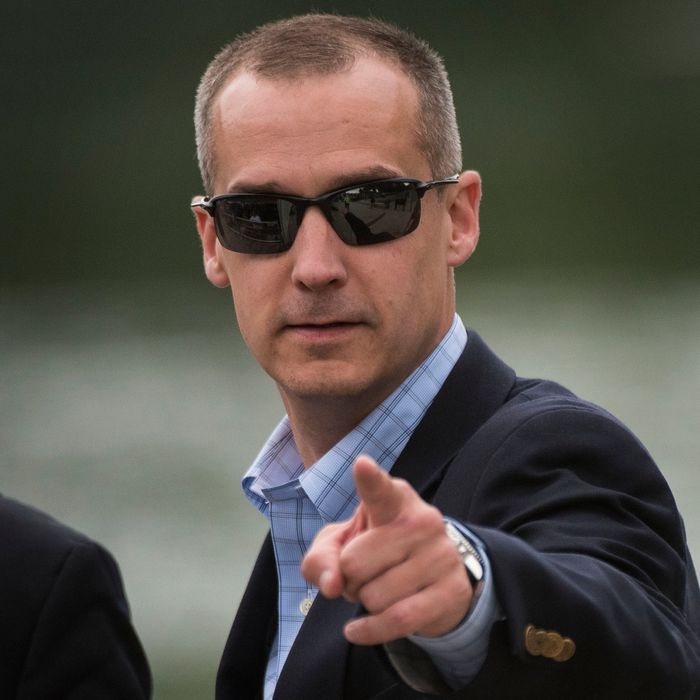 Lewandowski.
Photo: Al Drago/CQ-Roll Call
Corey Lewandowski, Trump's former campaign manager, has been helping Ruth Papazian, a medical journalist who is launching a long-shot challenge to Alexandria Ocasio-Cortez, the first-term Democratic incumbent congresswoman.
Papazian has been telling Republican operatives in New York that Lewandowski has agreed to serve as an unofficial adviser to her. She has been on Fox News and given interviews to the New York Post  and the Daily News since she announced she was going to run on the GOP line against Ocasio-Cortez. When contacted by Intelligencer on Thursday, however, Papazian quickly hung up the phone, then sent a text message reply saying that due to Holy Week beginning in three days, she would be unable to speak until after Easter Monday. Lewandowski could not be reached for comment.
Lewandowski was Trump's original campaign manager, growing close to the president and maintaining his post even after he was charged with battery for grabbing a news reporter who attempted to ask Trump a policy question. He was pushed out of his role in June 2016 after feuding with campaign chairman Paul Manafort, but he has reportedly continued to serve as an informal White House adviser.
Papazian has said she decided to run after Ocasio-Cortez's opposition to the Amazon deal led to the company's decision to cancel its plans to build a second headquarters in New York. "She parachuted into a congressional district she doesn't even represent and led the parade of grandstanding politicians to tank the deal," Papazian told Fox News. "Instead of fighting to keep Amazon out of Queens, she should have been fighting to bring Amazon to the Bronx."
Papazian, who writes for medical trade journals, leads an anti-AOC Facebook group called "Bronx Bolshevik Bulletin" and has written for American Greatness, a pro-Trump political blog best-known for an anonymous post declaring the 2016 race "The Flight 93 Election" that compared the prospect of a Hillary Clinton presidency to armed hijackers flying an airplane: "Charge the cockpit or you die," wrote author Michael Anton, who later went on to serve in the Trump administration.
Papazian's posts are less inflammatory, but in one she did suggest that the "Deep State" was taking its cues from the Netflix television show House of Cards to attempt to undermine the Trump presidency; in another she argued that Americans are now forced to armed themselves because "politicians who take donations from gun control activists have passed unreasonable gun control laws that effectively negate your Second Amendment rights."
A recent Siena poll found that 52 percent of Ocasio-Cortez's constituents have a favorable opinion of the Democrat, even as a larger majority also expressed a desire for Amazon to come to New York City.
Since dethroning Joe Crowley, the head of the Queens County Democratic Party and the Democratic caucus leader in the House of Representatives, Ocasio-Cortez has achieved an unprecedented degree of political stardom for a first-term member of Congress, appearing on the cover of major national magazines and being a near-nightly target for Fox News anchors.
Due in part to her stardom, Ocasio-Cortez is likely to face a number of challengers in both the Democratic primary and in the general election. Any Republican, however, will have a very difficult time defeating her, particularly in a presidential election year, and in a district that stretches from some of the poorest neighborhoods in the Bronx and Queens to wealthier, ultraliberal enclaves like Astoria, Woodside, and Jackson Heights, which Hillary Clinton won by 57 points in 2016.
A spokesperson for Ocasio-Cortez declined to comment.