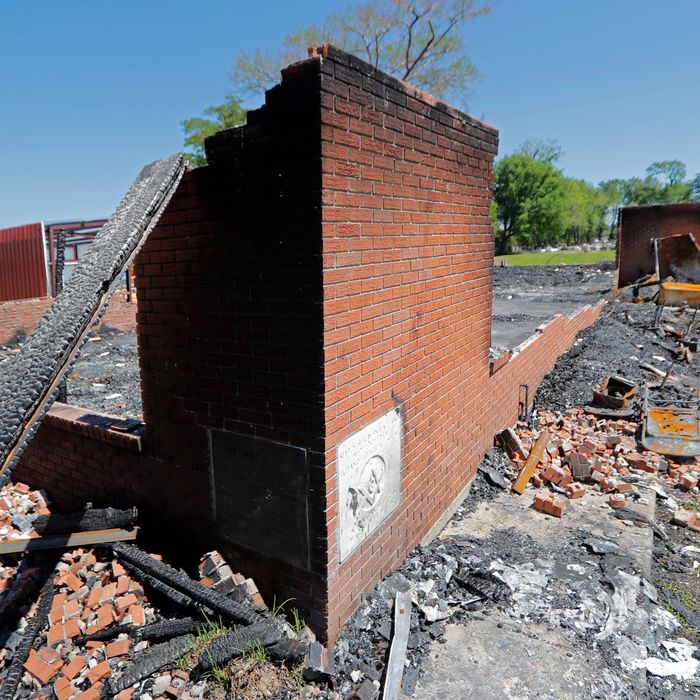 The remains of a burned black church, St. Landry Parish, Louisiana, 2019.
Photo: Gerald Herbert/AP/REX/Shutterstock
Three black churches were intentionally set ablaze in St. Landry Parish, Louisiana, over the course of ten days in late March and early April. Police on Wednesday arrested a suspect: Holden Matthews, a 21-year-old white man and the son of a local sheriff's deputy. Whether racism motivated the arsons remains to be determined, but the possibility has gripped black residents in a state of fear, according to reports.
The attacks marked the latest in a string of such incidents across the Southern United States going back decades. Perhaps the most infamous was the Ku Klux Klan bombing of the 16th Street Baptist Church in Birmingham, Alabama, in 1963. Four young girls were killed. Dylann Roof's murder of nine black parishioners at the Emanuel African Methodist Episcopal Church in Charleston in South Carolina in 2015 was similarly bookended by an arson of the same church, which was co-founded by slave-revolt leader Denmark Vesey, by vengeful whites in 1822. And the week after Roof's attack saw several more black churches burned down, including at least three — in Tennessee, Georgia, and North Carolina — that were ruled arsons but did not result in arrests.
The Louisiana fires allegedly set by Matthews consumed the St. Mary Baptist Church in Port Barre on March 26, and the Greater Union and Mount Pleasant Baptist Churches, both in Opelousas, on April 2 and April 4 respectively. Black churches have been targeted for racist violence throughout history because they were seen as sites where black community was built and resistance to white supremacy was fomented. "Across the diaspora, black spiritual and religious spaces — whether a clearing in the woods or a stone and mortar church — have nurtured rebellion, and that's why they continue to be under siege," J.T. Roane, an assistant professor of Women's, Gender, and Sexuality Studies at the University of Cincinnati who studies religion and black communities, said in 2015.
Speculation surrounding Matthews's motives has ranged from the logical — racist violence — to the hysterical, as with CNN's report that he may have been influenced by "black metal" music. Whatever the impetus, the 21-year-old is charged with three counts of arson of a religious building, each of which carries a maximum penalty of 15 years in prison. Nobody was physically harmed in the fires. And despite the emotional toll, parishioners wasted no time returning to worship. "[They] didn't destroy the church, they destroyed the building," Reverend Gerald Touissant of Mount Pleasant Baptist told local KATC.com. According to the outlet, members of the two Opelousas congregations worshipped with other local churches on the first Sunday after their chapels burned down. "It steals something from you, it robs you but then … right now is the time to find something to pick them up," added Touissant.
Black Christian faith has never been cowed by such attacks, but that has not diminished their threat. HuffPost in 2015 estimated that, since 1956, more than 90 black American churches have been targeted for bombings, arsons, or vandalism meant to intimidate their congregants and broader communities. Nor were these assaults limited to the Jim Crow era, when black political organizing — often based in Southern black churches — threatened for the first time in decades to upend the racist status quo. Dozens occurred in the 1990s. At least ten have occurred since 2004. Echoes of Roof's attack in 2015 reverberated into 2018, when Gregory Bush, who is charged with shooting and killing two black seniors at a Louisville, Kentucky supermarket, began his attack by attempting to break into a black church nearby. The doors were locked, fortunately for the congregants. A witness saw Bush yanking at them aggressively, trying to enter. He soon moved on and killed elsewhere. The security measures may have worked in this instance, but as has been demonstrated, safety for black churches remains as precarious as it is for black people.