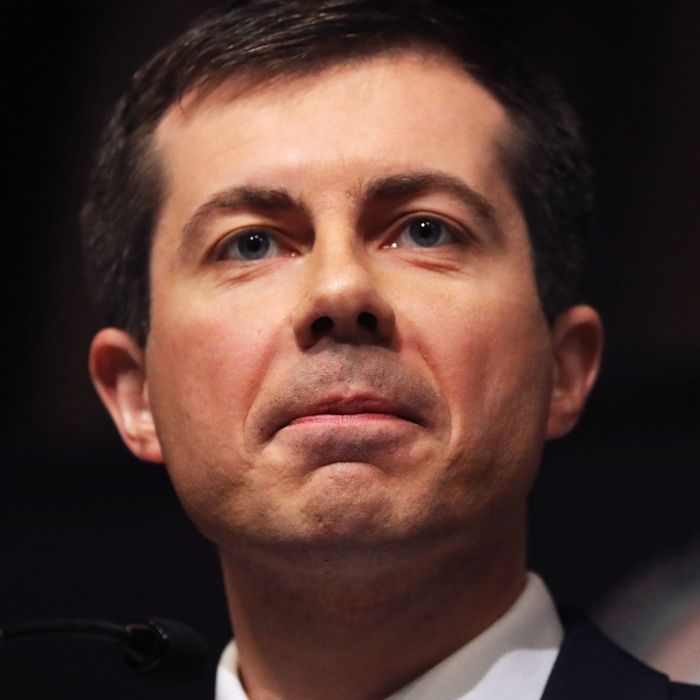 Two Hoosiers with a very different take on Christianity.
Photo: Spencer Platt/Getty Images; Joe Raedle/Getty Images
Pete Buttigieg has already captured a lot more attention than you'd expect from the 37-year-old mayor of a small midwestern city mainly known for hosting big-time college football games. He is, for example, ranked third in a new poll on Democratic presidential candidates in New Hampshire by St. Anselm College. His candidacy could be for real.
But whether or not he winds up on a national ticket, his candidacy is already making history: Buttigieg is openly gay and an observant Christian, which together represent a serious challenge to the doctrinaire homophobia of the powerful Christian Right. The latter's coalition of conservative evangelicals and traditionalist Catholics tend to be fans of the heathenish Donald Trump, as I recently noted:
Pete Buttigieg offers a particularly interesting contrast with the 45th president. Would anyone be confident in accusing this married, churchgoing, Afghanistan veteran of being ethically inferior to Donald Trump? Not without risking hellfire.
On a more basic level, Buttigieg is exposing some beliefs about homosexuality that are (or at least ought to be) embarrassing to conservative Christians, which is probably why they don't really talk much about why their faith compels them to discriminate. Here's Mayor Pete throwing the disdain of such folk, including the vice president of the United States, back in their faces.
Pence refused to address the challenge, quoting some nice things Buttigieg said about his economic development program as governor of Indiana, their shared home-state. But deep down, he knows his national political profile is all about his Christian Right values, from his past championship of a law designed to sanction religious-based discrimination against LGBTQ folk in his state, to his current role as the conservative evangelical validator of Trump's divinely ordained mission to bring back the 1950s.
The plain truth of the matter is that the homophobia of conservative Christians is based on the belief that being gay is a choice made in conscious defiance of God and nature. This once-dominant belief is losing credence every day as straight Americans get to know openly gay people as friends, family members, and compatriots in work and (where it's allowed!) in worship. And as people begin to understand sexual orientation as something that isn't voluntarily determined, the religious implication raised by Buttigieg becomes harder and harder to ignore: It's precisely the conservative refusal to accept the work of the Creator that represents a defiance of God and nature.
If nothing else, Mayor Pete is smoking out the prejudices lurking beneath the banal assertions that Christians need government-sanctioned liberty to discriminate because their faith demands it. Is it really faith, or just a cultural bias based on scientific ignorance that happens — like a lot of sinful things — to have coexisted with religious belief and unbelief alike over the centuries?