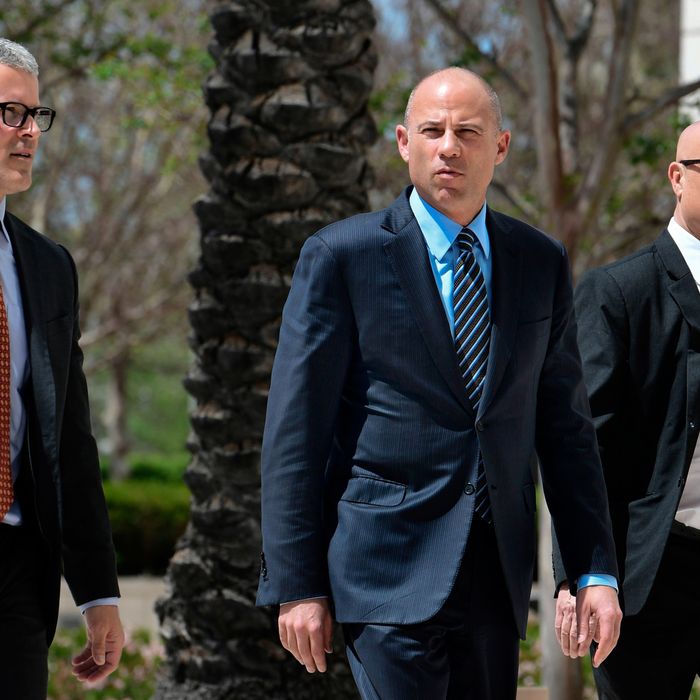 Michael Avenatti arrives at the Ronald Reagan Federal Courthouse in Santa Ana, California on April 1, 2019.
Photo: Frederick J. Brown/AFP/Getty Images
"There are a number of reasons I should be taken seriously," Michael Avenatti told ABC in 2018, about his possible run for president. "For over 18 years, I've been fighting on behalf of Davids versus Goliaths, some of the largest corporations in the world, con men, fraudsters. I've had great success."
Perhaps it takes a fraudster to know one. Roughly three weeks after prosecutors in Los Angeles and New York City charged Michael Avenatti with wire and bank fraud, plus the extortion of Nike, Michael Avenatti faces an additional raft of charges. On Wednesday, a federal grand jury indicted Avenatti on 36 counts of "fraud, perjury, failure to pay taxes, embezzlement and other financial crimes," according to the Los Angeles Times.
As he did in March, after attorneys in two states initially charged him with fraud, Avenatti has proclaimed his innocence on Twitter. The charges, he suggested, stem from his political convictions, and not from any real wrongdoing.
The Santa Ana grand jury accuses him of defrauding those very Davids. According to the Times, Avenatti allegedly "stole millions of dollars from five clients" and hid the funds within a network of shell companies, including the LLC he used to manage his luxury autosports team. While Avenatti enriched himself, his clients received a fraction of the settlements he'd won for them.
One reputed victim is Geoffrey Ernest Johnson, who became paralyzed after he leapt from an upper floor of the Twin Towers Correctional Facility in an attempt to end his life. Los Angeles County paid Avenatti $4 million to settle a lawsuit over Johnson's treatment, but the attorney allegedly spent most of the funds on himself. Johnson received a total of $124,000 in installments spread out over four years. The attorney also made some rent payments to Johnson's assisted living facility, the Times reports. When Johnson asked Avenatti for the full details of the settlement so he could keep receiving disability payments, the attorney refused to comply. As a direct consequence, the U.S. government ended Johnson's disability payments.
Avenatti also faces charges for failing to file personal income taxes in addition to taxes on his businesses. One of his companies, Global Baristas US, allegedly owes the IRS $3.2 million in payroll taxes; the Associated Press says that Avenatti "pocketed" the taxes. Though the attorney is, as he insisted on Twitter, entitled to the presumption of innocence, the sheer breadth of the charges he faces bodes ill for his future.
Update: Josh Robbins, an attorney for Geoffrey Ernest Johnson, sent New York the following statement on Thursday afternoon:
Mr. Johnson is the victim of an appalling fraud perpetrated by the one person who owed him loyalty and honesty most of all: his own lawyer. Mr. Avenatti stole millions of dollars that were meant to compensate Mr. Johnson for a devastating injury, spent it on his own lavish lifestyle, then lied about it to Mr. Johnson for years to cover his tracks. His actions have left Mr. Johnson destitute. Mr. Johnson is cooperating fully with the government's investigation, and hopes that justice will be done in this case. In the meantime, he asks respect for his privacy.