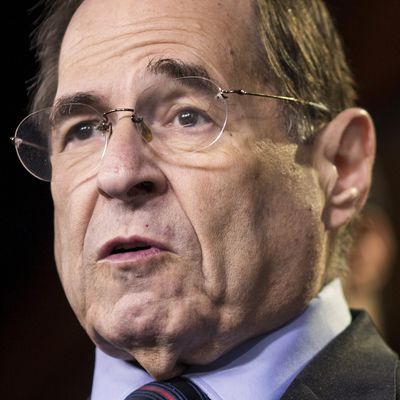 Mueller implicitly says to Judiciary chairman Nadler: "Over to you, Jerry!"
Photo: Getty Images
Anyone carefully parsing the Mueller report today probably figured out at some point that, far from exonerating Donald Trump from obstruction-of-justice allegations, Mueller deemed himself (and, for that matter, William Barr in the hilariously unlikely event he was willing to go there) legally incapable of holding Trump criminally liable because of DOJ policies against charging a sitting president. He suggested indirectly but distinctly that Congress might be the only institution left that could deal with the presidential conduct that he documented but could not pursue with an indictment.
As Yoni Applebaum put it bluntly: "The Mueller report, in short, is an impeachment referral."
And that is why, in the howls of outrage and new determination to get to the bottom of Trump's misconduct that you heard today from Democrats, you might have heard a quiet sigh of exasperation from House Speaker Nancy Pelosi, whose troops would be the ones to undertake the articles of impeachment.
Yes, of course, Pelosi signed a joint statement with Senate Democratic leader Chuck Schumer pointing out that Mueller had strengthened the case for finding Trump guilty of obstruction of justice. But she has long argued, against considerable sentiment among some of her rank-and-file members and from progressive activists at the grassroots level, that impeachment proceedings were a bad idea until and unless public support for them was so overwhelming that the Senate Republicans who would be expected to save Trump's bacon were convinced to dump him. Mueller likely hasn't changed the political logic of her position. Indeed, since she most clearly articulated it in March, we have gotten that much deeper into the active presidential election cycle, which makes any impeachment effort vulnerable to charges of being a partisan campaign stunt.
But make no mistake, the Mueller findings and the disgraceful manner in which Barr and the Justice Department handled them will ratchet up support for using impeachment proceedings to pick up the banner the special counsel handed them. The House leader who would presumably be in charge of impeachment proceedings, Judiciary Committee Chairman Jerrold Nadler, has been as cool to that extreme measure as Pelosi, as Roll Call reported last month:
The New York Democrat has said that while he believes the president may have committed high crimes and obstructed subsequent investigations into them, his assessment of the facts isn't the one that ultimately matters …




"If you're serious about removing a president from office, what you're really doing is overturning the result of the last election," Nadler told Roll Call in November. "You don't want to have a situation where you tear this country apart, and for the next 30 years half the country's saying, 'We won the election, you stole it.'"
Today Nadler struck a different tone, as Fox News reported:
"The attorney general deciding to withhold the full report from Congress is regrettable but not surprising," Nadler said during a press conference. "Even in its incomplete form, the Mueller report shows disturbing evidence that President Trump obstructed justice …"




Nadler would not speculate on whether or not congressional Democrats would file articles of impeachment against Trump, but added that he was not taking the option off the table.




"Congress must get the full, unredacted report along with all the underlying materials from Special Counsel Mueller," Nadler said. "We have to get to the bottom of this and we'll see what happens."
But Pelosi's chief lieutenant, Steny Hoyer, was already pouring cold water on newly boiling impeachment sentiment, as The Hill reported:
House Majority Leader Steny Hoyer (D-Md.) said Thursday that nothing he saw in special counsel Robert Mueller's report would make seeking to impeach President Trump a "worthwhile" effort "at this point" …




"Based on what we have seen to date, going forward on impeachment is not worthwhile at this point," Hoyer told CNN. "Very frankly, there is an election in 18 months and the American people will make a judgment."
You can expect this sort of dismissal to rekindle some progressive hostility to the House Democratic leadership, already pretty high over the disrespect many believe is being shown to Alexandria Ocasio-Cortez and Ilhan Omar. The Intercept's Mehdi Hasan is having none of it:
Dear House Democrats,




You told us to be patient. You told us to be cautious. You told us to wait for Robert Mueller.




Well, the time for waiting is over. And the moment for impeachment hearings has arrived …




This is your duty — your obligation! You must restore some sense of honor and integrity to the office of the presidency.
At a minimum, impeachment zealots might want to wait a few days to see how the public is processing the Mueller report and its findings and consider whether there are less drastic (and ultimately futile) avenues for exploring and publicize them. Trump may well deserve impeachment, but ejecting him from office at the ballot box just over 18 months from now might be the more effective, if boringly conventional, way to proceed.