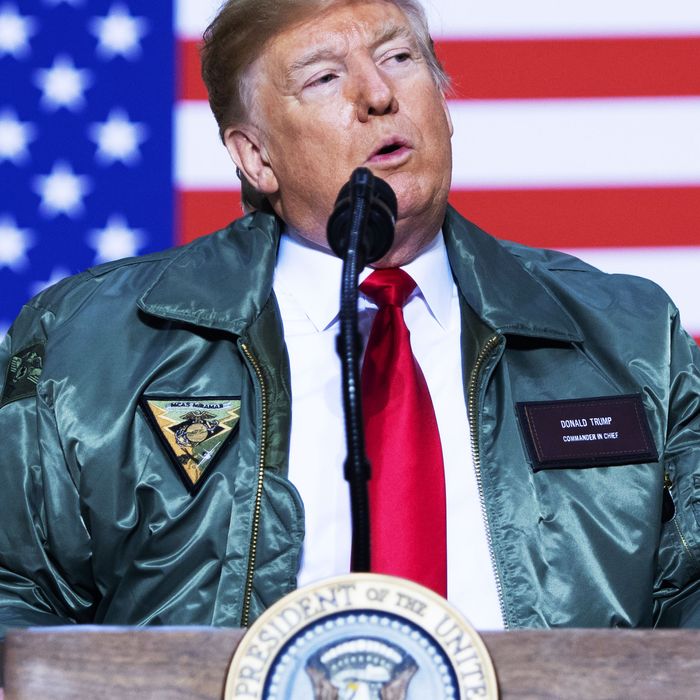 Trump's actions will only embolden Russia.
Photo: Saul Loeb/AFP/Getty Images
The most important line in the Mueller report appears in the introduction to Volume I: "The Russian government interfered with the 2016 election in sweeping and systematic fashion." Our president's response has fallen woefully short. And now we know why.
As with all things, Donald Trump made the investigation by special counsel Robert Mueller all about him. But it is about so much more: our national security and the future of our democracy. Trump's failure to protect our country from future attacks is his biggest betrayal.
Mueller has published a detailed accounting of Russia's attack on our presidential election. His report describes how Russia conducted a social-media disinformation campaign and weaponized email messages to sabotage the election. Mueller's description of the Russia attack makes it clear that information warfare is the new battleground.
And yet Trump continues to minimize the threat to our national security. Concerned more about the legitimacy of his presidency than the integrity of future elections, Trump still downplays the Russian attack.
The Mueller report offers insights into Trump's thinking: "Several advisors recalled that the President-Elect viewed stories about his Russian connections, the Russia investigations, and the intelligence community assessment of Russian interference as a threat to the legitimacy of his electoral victory." Former communications director Hope Hicks said that Trump "viewed the intelligence community assessment as his 'Achilles heel' because, even if Russia had no impact on the election, people would think Russia helped him win, taking away from what he had accomplished." Her predecessor, Sean Spicer, "recalled that the President thought the Russia story was developed to undermine the legitimacy of his election." Former deputy campaign chairman Richard Gates "said the President viewed the Russia investigation as an attack on the legitimacy of his win." White House chief of staff Reince Priebus "recalled that when the intelligence assessment came out, the President-Elect was concerned people would question the legitimacy of his win."
In other words, Trump was more concerned about appearing to have won a decisive victory in the election than about acknowledging and addressing an attack on our country by a foreign adversary.
Trump's receptiveness to Russia's overtures may even have encouraged the attacks. Despite Attorney General William Barr's characterization that Mueller found no collusion, Mueller's report tells a different story. Mueller says that the evidence was not sufficient to charge any member of the Trump campaign with conspiring with representatives of the Russian government to interfere in the 2016 election. But "the investigation identified numerous links between individuals with ties to the Russian government and individuals associated with the Trump campaign."
Trump's denials of Russian interference date back to the campaign. In July 2016, the Democratic National Committee announced that it had been hacked by Russian government actors. Rather than denouncing the attack, Trump playfully encouraged Russia interference, at one point publicly asking, "Russia, if you're listening, I hope you're able to find the 30,000 emails that are missing." According to Mueller's report, within five hours, Russian hackers tried to hack Hillary Clinton's personal email. While the episode was not part of a formal agreement to interfere with the election, it was the kind of mutually beneficial conduct that encouraged Russia to continue its aggression.
During his first debate with Hillary Clinton, Trump deflected blame from Russia, when he famously said, "I don't think anybody knows it was Russia that broke into the DNC … I mean, it could be Russia, but it could also be China. It could also be lots of other people. It also could be somebody sitting on their bed that weighs 400 pounds, okay?"
Even after winning the election and becoming president, Trump continued to shift blame from Russia. In June 2017, Trump tweeted that Russian hacking was a "big Dem HOAX," asking " … Why did the DNC REFUSE to turn over its Server to the FBI, and still hasn't? It's all a big Dem scam and excuse for losing the election!"
Then last July, Trump stood next to Russian president Vladimir Putin in Helsinki and outraged many American government officials when he indicated that he believed Putin when he said that it was not Russia who had interfered with the election, despite such a finding by the U.S. intelligence community.
Now we know why Trump continues to minimize Russia's role. Trump's narcissism about the legitimacy of his election has prevented him from publicly acknowledging Russia's attack and providing the leadership necessary to protect us from more. A president whose focus was on leading our nation would eagerly provide deterrence to Russia in the form of sanctions and retaliation for election hacking. (While the U.S. has imposed new sanctions, at times Trump has resisted congressional efforts to punish Russia.) In addition, a responsible president would make cybersecurity a top priority of the Department of Homeland Security. Instead, Trump sows discord in our country by making immigration enforcement his prime focus.
Trump's reaction to Russia interference will only embolden our adversary for future attacks. His self-absorption prevents him from fulfilling his duty that the laws be faithfully executed. Now that the Mueller investigation is over, and Trump's motives have been exposed, staffers and Congress must play a stronger role in pushing Trump to the side and hardening our election system against attacks.