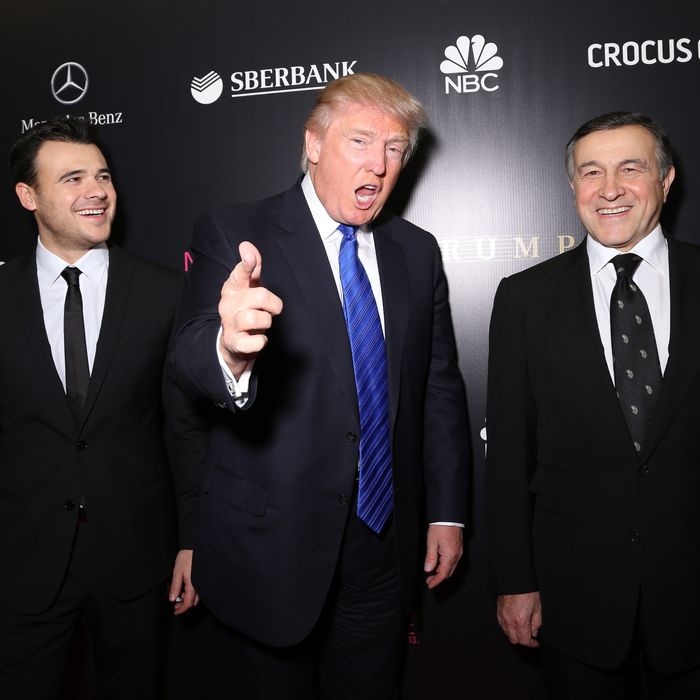 Donald Trump in Moscow in 2013.
Photo: Victor Boyko/Getty Images
On Thursday morning in very normal America, Attorney General William Barr held a press conference where he, once again, told the world the Mueller report found no evidence of Trump colluding with Russia. You can now read the report in full yourself. It's two volumes and over 400 pages, but before you wade in, if you just do a "command+F" search for "pee tape," you're going to be disappointed. (It's a PDF, so this wouldn't work even if the phrase "pee tape" was in the report.) Which is why we're here. To do the old-school version of "command+F" — I think this is called … reading? — and tell you what you want to know about the much-discussed possible footage of Donald Trump watching two prostitutes pee on a bed in Moscow's Ritz-Carlton Hotel where the Obamas reportedly once slept.
The act was, as the story goes, filmed by Russian government cameras hidden in the hotel where Trump was staying while attending the Miss Universe pageant in 2013 — perfect for potentially blackmailing Donald Trump. Former MI6 operative and Russia specialist Christopher Steele later noted Trump's "(perverted) conduct" in a dossier compiled at the request of the Democratic National Committee and the Hillary Clinton campaign to investigate Trump's possible ties to Russia. (You can read the dossier here.) After that, James Comey would stir things up further when he said it was "possible" the tapes were real.
But you already know all this. That's not why you're here. I'll get right to it. Compromising Trump tapes? Team Trump thought they existed, according to the Mueller report. But it appears they weren't real.
What?
Let's take a trip, and a magnifying glass, to the footnotes on pages 27 and 28 of the report's second volume, shall we? During the 2016 campaign, Trump's attorney, Michael Cohen, got a text from Giorgi Rtskhiladze, a Russian businessman, the Mueller report explains. "Stopped flow of tapes from Russia but not sure if there's anything else. Just so you know," Rtskhiladze told Cohen. "Rtskhiladze said 'tapes' referred to compromising tapes of Trump rumored to be held by persons associated with the Russian real estate conglomerate Crocus Group, which had helped host the 2013 Miss Universe Pageant in Russia," the footnote explains. "Rtskhiladze said he was told the tapes were fake, but he did not communicate that to Cohen."
Again, what?
What we're getting here is that in January 2017, Comey briefed Donald Trump on the Steele dossier and told him about the "sensitive material" it purportedly contained. But the timing of those texts between Rtskhiladze and Cohen indicate it's possible Trump had already been briefed similarly a year earlier by Cohen.
Right, right. But the tapes?
There's some wiggle room here. Rtskhiladze told Cohen he'd stopped the tapes from — I'm sorry — leaking, but the report also notes that he knew the tapes were fake and never provided Cohen with this detail. The report offers no conclusive answer about whether or not the tapes the two men texted about were, in fact, the pee tapes, and whether or not they ever actually existed. Vive la pee tape!