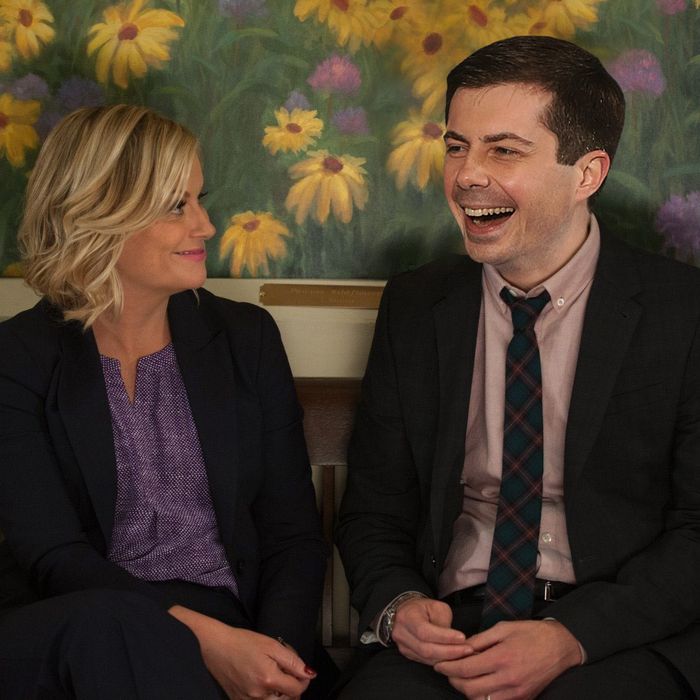 Photo-Illustration: Intelligencer; Photos: NBC; Getty Images
It's a question worthy of FBI agent Burt Macklin himself: Why does Democratic presidential candidate Pete Buttigieg seem so familiar? America, after all, has never seen a 37-year-old, multilingual, Harvard- and Oxford-educated, married, gay veteran and small-city mayor run for president before. But viewers of the sitcom Parks and Recreation, which ran for seven seasons on NBC, have noticed some striking similarities between the South Bend, Indiana, mayor and the fictional Ben Wyatt, a nerdy state auditor who makes his home in Pawnee, Indiana. Below, we examine the evidence that Mayor Pete is the real-life incarnation of the fictional Leslie Knope–loving mayor turned possible U.S. president.
They Were Both Elected Mayor of Their Hometown at a Young Age
As Wyatt explained: "When I was 18, I ran for mayor of my small town and won … Here's the thing, though, about 18-year-olds. They're idiots. So I pretty much ran the place into the ground and after two months got impeached."
At 29, Buttigieg was sworn in as mayor of his hometown. He has not, as of this writing, bankrupted South Bend by building a winter sports complex.
They Both Have Leslie Knope's Political Endorsement
It's not as stirring as Knope's speech endorsing her husband's congressional campaign, but Buttigieg still deserves the Indiana Organization of Women's coveted "Woman of the Year" award for letting Poehler speak her mind.
They've Both Made Friends in the Parks and Recreation Department
As Buttigieg pointed out, he's been recognized by the Indiana Parks and Recreation Association.
And Wyatt's been embraced by his wife's co-workers in the Pawnee Department of Parks and Recreation (well, sort of).
They're Both Board-Game Enthusiasts
During his two bouts of unemployment, Ben Wyatt produced one five-second claymation video and the Cones of Dunshire, a board game so popular that people have played it in real life.
Buttigieg has yet to produce his own multiplayer, figurine-based, strategy-fantasy game, but his love of board games — particularly those with "punishingly intricate" rules — is well documented.
In other words, Buttigieg is not a guy who's going to forget about the essence of the game.
They're Both Married to Waffle Lovers
Okay, did Chasten Buttigieg ever launch a campaign to save his favorite diner? Not that we're aware of. Has he ever told a waitress he'll need "two hours worth of waffles"? Probably not. Did he serve waffles at his wedding? No, but in a Knopian move, the reception was catered by a variety of local food vendors. And Chasten appears to be a man who appreciates the joy and healing properties of breakfast foods.
They've Both Earned Ron Swanson's Admiration
Last month, Mayor Pete brought tears to Nick Offerman's eyes with a letter expressing support for South Bend's Muslim community:
While Ben Wyatt had Ron Swanson at "we're going to gut the town's budget with a machete."
Chasten Buttigieg Confirmed It
A December Buttigieg profile in Indianapolis Monthly revealed there's more Mayor Pete–Ben Wyatt crossover:
Like the fictional Wyatt, Buttigieg is a fan of HBO's Game of Thrones. He also enjoys listening to Radiohead and has a self-aware sense of humor. 
Even more significantly, Chasten confirmed that his husband is Ben Wyatt … or someone from Pawnee:
"He's in on the joke just enough," Buttigieg says of the character. I asked his husband, Chasten, to confirm this comparison. "I'm offended he doesn't immediately associate me with Leslie," he says. "He is the Ben to my Leslie. He is also like Ron."
It's unclear what this means. Is Mayor Pete good at woodworking? Has he converted his savings to gold and buried it around South Bend? Does he secretly think the government is inefficient and should be dissolved? Hopefully Chasten will elaborate someday, preferably by compiling a color-coded binder.