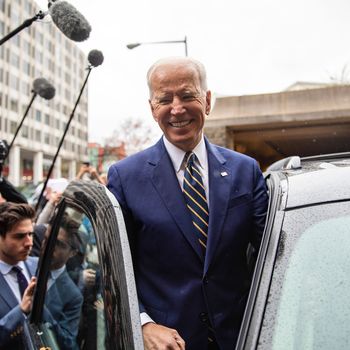 Biden abiding.
Photo: Tasos Katopodis/Getty Images
The Democratic Party has never been more reliant on the votes of nonwhites, feminists, millennials, and self-professed liberals — or more committed to equity in representation. It's never been more progressive on criminal justice (marijuana legalization and reducing incarceration are now centrist positions on the left side of the aisle). Never in its modern history has Team Blue been less reliant on the finance industry's cash, or more eager to defend consumers against the predations of concentrated capital. And it certainly hasn't ever taken sexual harassment more seriously.
It has also never been more likely to nominate Joe Biden — a 76-year-old white guy who brags about his warm relations with segregationist senators, championed mandatory-minimum sentences for nonviolent drug offenders, voted for the war in Iraq, sided with credit-card companies in their conflicts with the working poor, gave approximately 5 million nonconsensual shoulder rubs during a five-decade-long spree, and undermined Anita Hill's historic testimony on sexual harassment before the Senate — as its standard-bearer.
The fact that Biden is a living embodiment of all that "extremely online" Democrats wish to reject — combined with Uncle Joe's perfect record of running abysmal, gaffe-laden presidential campaigns — led many pundits to deem him an irrelevance: All those polls showing the former vice-president with a comfortable lead over the field were merely reflections of name recognition and an Obama nostalgia that was sure to migrate to either Kamala Harris (the history-making, historically charismatic candidate of the cycle) or Beto O'Rourke (this year's young, handsome blank screen on which to project all your audacious hopes for change).
But in the weeks after their launches, Harris and O'Rourke fizzled faster than pop rocks. Meanwhile, a weeklong national news story about how Joe Biden is a handsy old man who makes women uncomfortable failed to put a dent in the former vice-president's support. Last Thursday, Biden finally made his candidacy official, and proceeded to post the largest first-day fundraising total of any candidate in the race. Now, the first polls featuring Biden as a declared candidate have been taken; and depending which one you believe, his lead has either grown significantly, or massively.
Morning Consult's weekly tracking poll shows Biden's support growing by 6 points to 36 percent since his announcement, leaving him 14 points ahead of his closest competitor, Vermont senator Bernie Sanders. CNN, meanwhile, has Biden gaining 11 points since Thursday. Now, per the network's survey, Biden boasts the backing of 39 percent of Democratic voters, while Sanders commands a mere 15. And Quinnipiac University paints a similar picture: Its new survey puts Biden's support at 38 percent, up from 29 percent at the end of March. (Notably, that poll actually has Elizabeth Warren in second at 12 percent.)
Further, viewed from certain angles, Biden's position looks even stronger than these topline numbers suggest. For one thing, he's by far the most popular second choice among supporters of other Democratic candidates, including backers of ideologically disparate figures like Bernie Sanders. For another, in both polls, Biden's closest rivals are Sanders and Pete Buttigieg. To a significant contingent of Democratic donors and Establishment officials, neither the socialist independent nor the mayor of South Bend are suitable standard-bearers for Team Blue. If Harris and O'Rourke fail to catch fire, there's a decent chance a flood of money and endorsements will flow Biden's way.
It is profoundly early. The Iowa caucuses are nearly a year away. The debates haven't even begun. And critically, in the early states — where candidates have actually been campaigning, and thus, pure name recognition plays a smaller role in polling — Biden's advantage appears much less commanding. There's plenty of time for Biden to cough up some fatal gaffe, or undermine the aura of electability that's powering much of his support. Bernie Sanders's fundraising remains extraordinary, and his following's youth, energy, and passion could allow it to punch far above its apparent weight. If you squint, you can sort of see Elizabeth Warren inching up in the polls (and she continues to impress party activists in in-person settings). Right now, CNN has Harris's nonwhite support at just 4 percent. That could mean she's going nowhere. But it could also mean that once her name recognition grows — and she proves her "electability" with a strong showing in California — her support will soar as a large contingent of African-American voters line up behind her.
All this said, it just might be later than it looks. Donald Trump's presidency has inspired a level of sustained public interest in politics and political media without precedent in the modern era. Around this time in 2015, 22 percent of voters told CNN they were "extremely enthusiastic" about voting in the next year's presidential election; that figure is now 45 percent. In April 2015, the major cable networks weren't scoring huge ratings wins by airing presidential town halls.
Biden's current advantage should be taken with many grains of salt. But it shouldn't be written off. He may not be the hero Democrats deserve, but he's the one they want right now.