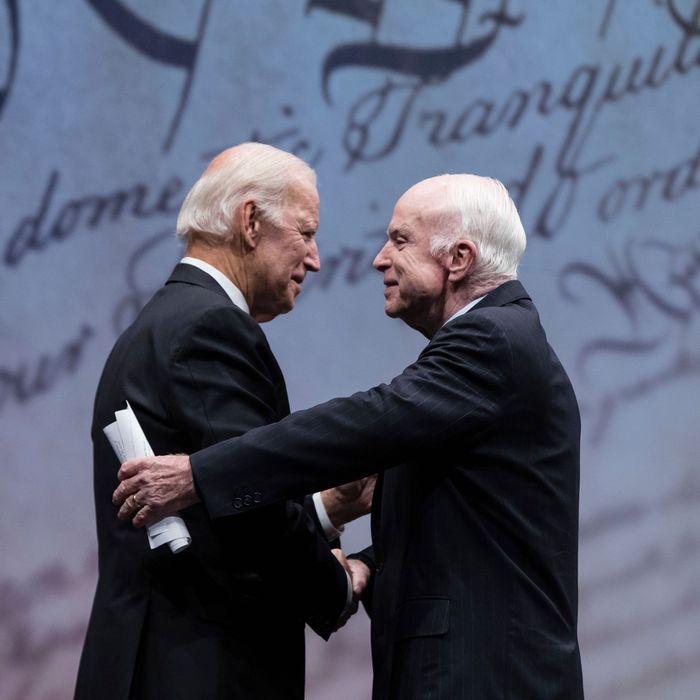 John McCain and Joe Biden in 2017.
Photo: AP/REX/Shutterstock/AP/REX/Shutterstock
As Joe Biden prepares to enter the crowded Democratic presidential primary, he's already got one key, and somewhat surprising, endorsement lined up. According to the Washington Examiner, the family of the late John McCain, a longtime Senate colleague of Biden's, will back him in both the Democratic primary and, assuming he wins that contest, the general election against Donald Trump.
Sources close to both Biden's presidential campaign and the McCains said that at some point during the White House race, McCain's widow Cindy, 64, and daughter Meghan, 34, a host on "The View," will offer their public support in the hope of removing Trump from office in 2020.
In a tweet posted after the Examiner story, Cindy McCain denied that she'll be "getting involved in presidential politics."
The Examiner says it's unclear at what point the McCains will offer their support for the former vice-president, who was on the ticket in 2008 when Barack Obama defeated McCain for the presidency. Part of the calculation is the potential that their support will hurt Biden with Democratic voters during the primary.
"I'm just not sure how much that helps in a primary where the party is constantly moving towards the left," a former McCain aide told the Examiner.
But Biden is also sure to run a primary campaign that emphasizes a perceived ability to pull moderate Republicans away from Trump in the general election. One way to convince Democratic voters that he really can do that would be to roll out the endorsement of one of the country's most prominent Republican families.