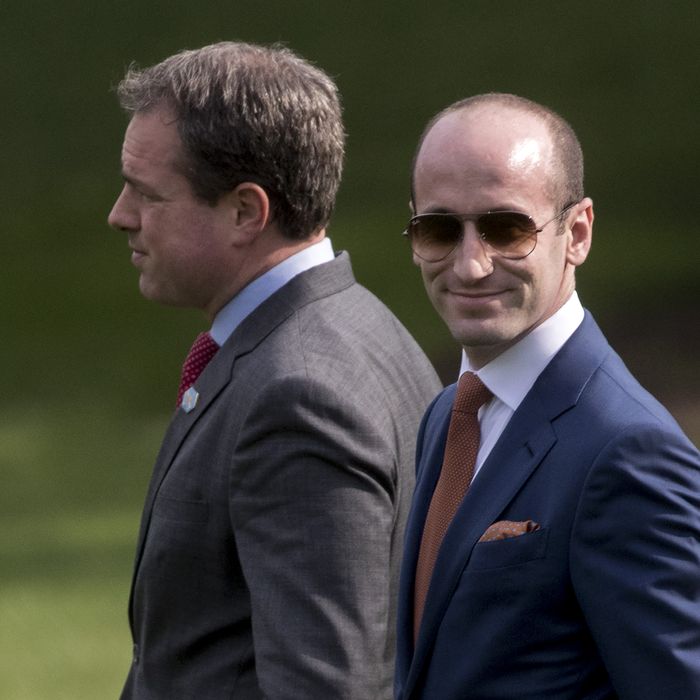 Stephen Miller.
Photo: Andrew Harrer/Bloomberg via Getty Images
Earlier in April, reports emerged that White House senior aide Stephen Miller is the primary driver of the top-down reform at the Department of Homeland Security — if one could call gutting the DHS executive suite in favor of officials who would be willing to break the law "reform." Now it appears that Miller is intervening in DHS matters with a bottom-up approach as well.
According to Politico, Stephen Miller, who wrote the first draft of Trump's travel ban, has interjected himself into the cases of individual migrants, even doing so in his downtime while traveling with the president to Paris in 2017:
As the Trump officials soaked up a July evening along the banks of the Seine, one stepped away to take a phone call from the U.S. It was Stephen Miller, the president's then 31-year-old chief policy adviser, speechwriter and hardline immigration policy advocate.




As the other officials looked on, Miller spent several minutes loudly pressing administration officials on the other end of the line to deport an individual who had been detained by immigration authorities.
Miller is also reportedly pushing to violate the privacy rights of detained migrants by demanding that ICE officials include identifying details in the press releases they issue about detained immigrants. "At one point, he wanted us to be releasing press releases every day about the people we had detained and their criminal status," a former DHS official told Politico. "We were constantly doing a dance just to remain in a legal place."
The White House senior aide — whom New York's Eric Levitz described as "personally responsible for the most xenophobic policies of the most xenophobic presidency in modern American history" — has reportedly lobbied for the practice since the early days of the administration. Prior to January 2017, it would have been illegal for DHS officials to broadcast tattoos and partial pictures of a detainee's face — as ICE did in a July 2017 press briefing. But an executive order issued shortly after Trump's inauguration required federal agencies to rewrite laws to "exclude persons who are not United States citizens or lawful permanent residents" from federal privacy legislation.
Miller's interference in DHS matters has become so intense that "mid- and low-level bureaucrats" have reportedly developed an unofficial protocol for dealing with the White House senior aide. "We tried to protect as many people from Miller and his requests as possible," a former DHS official told Politico. "When he started going lower and calling random career officials, we would have to go and say, 'If Stephen calls you, elevate it immediately and do not answer.'"