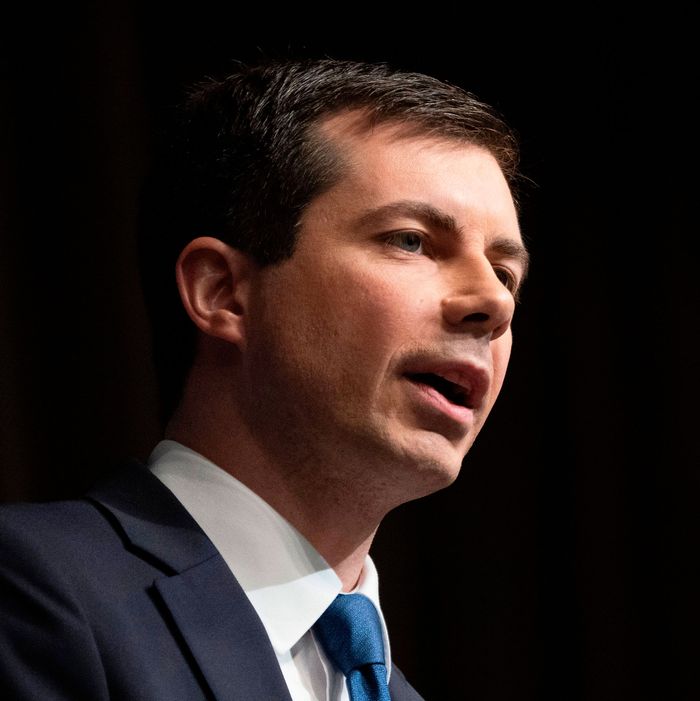 Democratic presidential candidate Pete Buttigieg.
Photo: Don Emmert/AFP/Getty Images
A 19-year-old college student is accusing right-wing troll Jacob Wohl and lobbyist Jack Burkman of using his name and image to level a false sexual-assault accusation against Pete Buttigieg. The claim was published on Medium on Monday afternoon but has since been deleted.
In a Facebook post on Monday, Ferris State University student Hunter Kelly wrote that he was "approached by a political figure to come to DC to discuss political situations from the standpoint of a gay Republican." He told The Advocate that he was flown to Washington, D.C., on Sunday night and picked up at the airport by Wohl and Burkman. During the ride to Burkman's home, the two men discussed how they must stop Buttigieg. Kelly says he slept over at Burkman's house, and when he woke up at 11 a.m., he learned they'd used him name to falsely accuse Buttigieg of assault.
Later, on Facebook, Kelly wrote, "I WAS NOT SEXUALLY ASSAULTED. It's important for everyone to know that I was not sexually assaulted and would never falsely accuse anyone." After Burkman tweeted a photo of Kelly and a statement he had signed, Kelly told The Advocate that he was forced to sign the document and take the picture. "I had no say in either. In the photo you can clearly see I had been crying," he said.
Buttigieg told the Daily Beast that the accusation against him was fake. "It's not going to throw us," he said. "Politics can be ugly sometimes, but you have to face that when you're in presidential politics." The site reported that Kelly was not the only man Wohl and Burkman approached with the idea of accusing the South Bend mayor. One man, who provided an audio record of his meeting with Wohl, told the site that the duo wanted him to accuse Buttigieg "of engaging him sexually while he was too drunk to consent."
He described their pitch to the The Daily Beast:
The pitch by Wohl and Burkman wasn't detailed, the source said, but it resembled past attempts by the duo to peddle dubious sexual assault allegations against perceived political foes. It would involve the accuser giving a press conference where he would publicly make his accusations about Buttigieg. The source said Wohl and Burkman seemed to want him to figure out many of the details, including a window of time during which he and Buttigieg were both in Washington, when the fabricated offense may have occurred.
This would not be the first time Wohl has been accused of duping someone into being the face of sexual-assault allegations. Last fall, a woman told USA Today that Wohl "needed a credible female to put on the line" for false accusations against Robert Mueller. So he used hers.