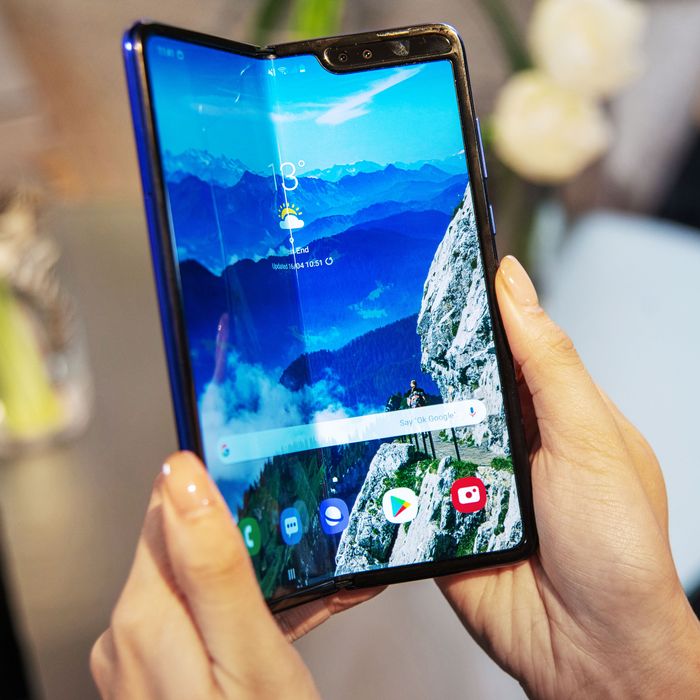 Photo: Simon Nagel/picture alliance via Getty Image
Last week, Samsung hit a slight snafu in the rollout of its Galaxy Fold smartphone: It was breaking. The first phone with a foldable screen was marred by a handful of reports from those who had received review units that the phone's screens were on the fritz.
Some of that might've had to do with reviewers accidentally removing a vital screen protector from the device, but Samsung has been mostly tight-lipped, theorizing that the damage stemmed from "impact on the top and bottom exposed areas of the hinge."
The bad word of mouth is still potentially damaging enough that Samsung has delayed the release of the phone, which was supposed to become available this Friday. In addition, according to Reuters, the company is recalling all of the devices it had already sent to journalists and media members for coverage.
Reuters also noted that "a person with direct knowledge of the supply chain said KH Vatec [the hinge supplier] conducted an internal review of hinges used in the Galaxy Fold and found no defects."
The $1,980 phone was never supposed to anchor the company's device sales this year, and it anticipated selling only 1 million of them. According to Samsung's marketing materials, the phone was supposed to be able to withstand at least 200,000 folds. The new launch date has not been set, as Samsung continues to reevaluate, but the company said it would update customers who had already preordered in the next couple of weeks.