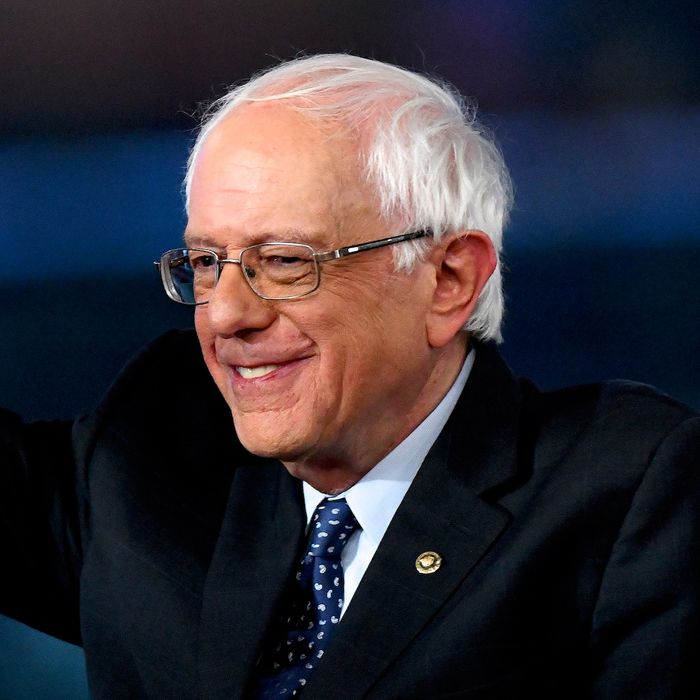 The candidate many feared might be divisive, Bernie Sanders, was the first onboard with a pledge of unity.
Photo: Mark Makela/Getty Images
Yesterday I wrote an appreciation of the grassroots progressive group Indivisible's "unity pledge," an effort to keep the 2020 Democratic presidential nomination contest from what Barack Obama warned might become "a circular firing squad." It was pretty simple, committing candidates to a positive campaign respecting their rivals' sincerity, an immediate endorsement of the winner, and a strong common effort to beat Trump. But simple as it was, it seemed necessary given the competitive pressures of a huge field representing quite different ideological and strategic views. I went so far as to argue that voters consider their own pledge not to support those refusing to sign the pledge.
A day later, the pledge campaign is off to a good start, with five candidates having already signed it (in alphabetical order): Cory Booker, Pete Buttigieg, Julian Castro, Jay Inslee, and Bernie Sanders.
It's significant that Sanders was the first to sign the pledge:
As Ruby Cramer noted yesterday, the pledge was in no small part motivated by bad memories of discord during and after the 2016 primary fight between Sanders and Hillary Clinton — less between the candidates than between their fiercest supporters:
The "2020 Candidate Pledge," posted online on Tuesday, sprang out of discussions among prominent Democratic organizations about a unity pledge in the weeks after Bernie Sanders accused the "political establishment" of "plotting" to undermine his presidential campaign, reflecting a field that remains fractured after the bitter primary fight three years ago.
Perhaps Sanders's leadership here will help inspire the rest of the field to sign on to the pledge quickly, the first and essential step toward making it stick.