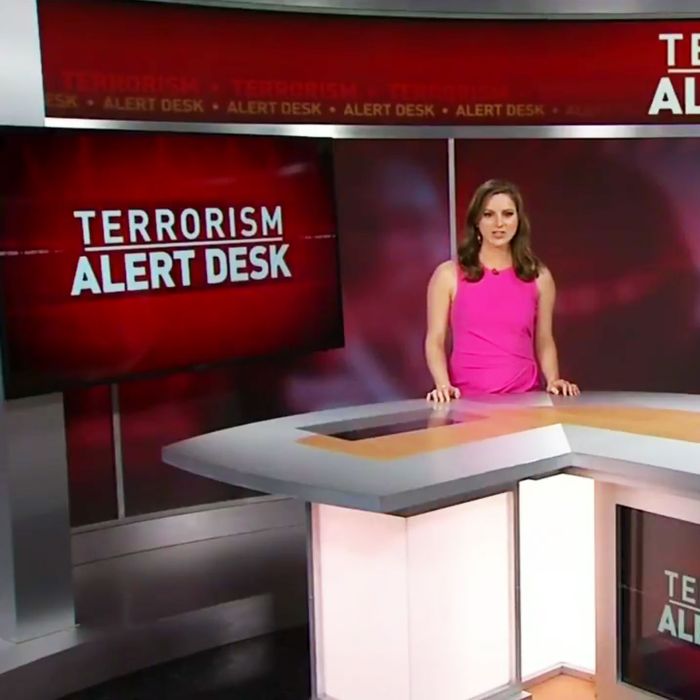 There's nothing to fear but the Terrorism Alert Desk itself.
Photo: Screenshot via YouTube
Sinclair Broadcasting Group is the largest owner of local television news stations in the United States. It currently airs original programming on 193 channels throughout the country, enough to reach 39 percent of all American homes.
The company is also owned by a longtime Republican donor, and proudly operates as a platform for conservative propaganda. Sinclair formally promised to provide favorable coverage to Donald Trump's 2016 campaign (in exchange for access to the GOP nominee). Since the mogul's election, the media giant has ordered all of its affiliates to air commentary that advances White House talking points, and coerced their own anchors into personally reporting that the mainstream news media is biased against the president.
Given the warm relations between Sinclair and the Trump administration, many observers expected the FCC to rubber-stamp the broadcaster's proposed purchase of Tribune media last year — a merger that would have enabled Sinclair to broadcast local news to 72 percent of American households. But then Sinclair tried to subvert the lenient ownership rules that the administration had set for it, and, in a rare outburst scrupulous governance, FCC chair Ajit Pai flagged the issue, and the deal ended up falling through.
But Sinclair never gave up on its dreams of expansion. Earlier this year, it launched an ad-free streaming channel called STIRR that aims to deliver local TV news and other entertainment to cord-cutters coast to coast. The broadcaster proceeded to stock up on the best damaged-goods conservatives cable news had to offer — hiring former Fox News anchors Eric Bolling and James Rosen (both of whom left Fox amid allegations of sexual harassment), along with Sebastian Gorka and former CBS News anchor Lara Logan. These heavyweights will ostensibly produce conservative agit-prop for syndication on Sinclair's local news channels and STIRR. Meanwhile, Sinclair also bought itself a piece of YES, the New York Yankees broadcast network, and is currently the top bidder for a package of regional sports networks that the Walt Disney Company is auctioning off.
It is unclear whether Sinclair will force regional baseball announcers to deliver "terrorism alerts"  between batters. But even if the broadcaster leaves its sports stations well enough alone, those stations should still provide Sinclair with a healthy source of revenue for funding its propaganda operations; Wall Street analysts are bullish on SBG's stock.
And that's probably bad news for Democrats. It is hard to overstate how much the conservative movement has benefited from its associated billionaires' investments in mass media. A 2017 study from researchers at Emory and Stanford estimated that Fox News increased the Republican Party's share of the two-party vote in 2004 and 2008 by 3.59 and 6.34 percentage points respectively. Just this month, a study using the same methodology found that counties where Fox News has a low channel number (and thus, slightly higher viewership) tend to have more conservative fiscal policies as a result.
If liberal billionaires like Tom Steyer want to get more bang for their political bucks, they should consider taking a note from Rupert Murdoch and friends: Buying up media outlets and then sprinkling ideological propaganda into their regular programming is an effective way to influence political outcomes while turning a profit!
If the left had a better class of ideological billionaires,  "Here's How Republicans Are Trying to Poison Your Children to Please Their Corporate Overlords This Week" segments would already be a staple of local TV news.