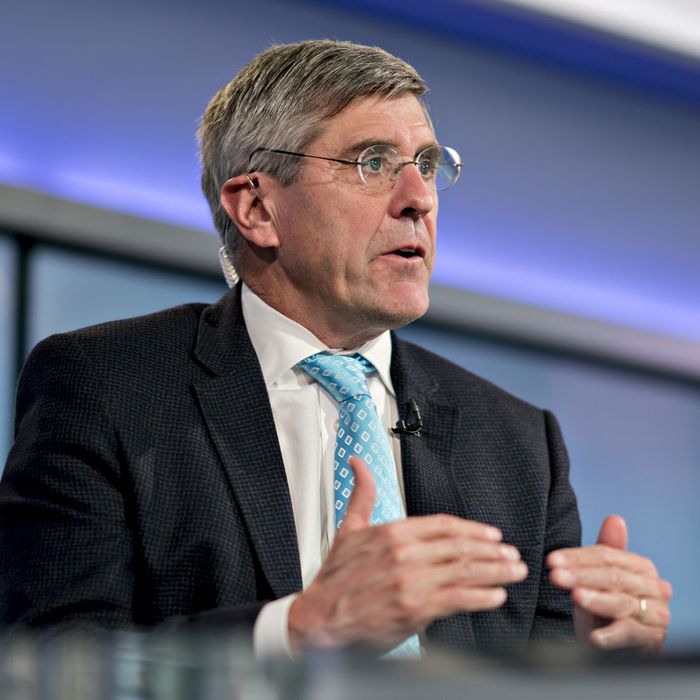 Stephen Moore wants to keep women away from sports.
Photo: Andrew Harrer/Bloomberg via Getty Images
Stephen Moore, the ardent supply-sider tapped by President Trump to serve on the Federal Reserve board, has had to defend his qualifications for the job in the past couple of weeks. Today he may be wishing people were more focused on his lack of fitness for the Fed: Thanks to a new report from CNN, Moore is in the news instead for his misogynistic ramblings about women in sports.
In columns from 2001, 2002, and 2003, Moore wrote that women working as referees in men's college-basketball games is an "obscenity" and that women playing pickup basketball with men is a "travesty." In one column, he wondered, "Is there no area in life where men can take a vacation from women?"
Moore continued:
Here's the rule change I propose: No more women refs, no women announcers, no women beer vendors, no women anything. There is, of course, an exception to this rule. Women are permitted to participate, if and only if, they look like Bonnie Bernstein. The fact that Bonnie knows nothing about basketball is entirely irrelevant.
Noting that Bernstein, a former sideline reporter for CBS, "should wear a halter top," he added, "This is a no-brainer, CBS. What in the world are you waiting for?"
Writing about women announcers in a 2001 column, Moore wrote, "Is nothing sacred? This is like having wives attend a bachelor party."
In another column, Moore criticized female professional tennis players for making more money than amateur male players who, he wrote, "could beat them handily."
Venus Williams is a multi-millionaire not in spite of the fact that she is a woman but precisely because she's a woman. She receives much higher pay than an equally skilled man. Isn't that precisely the opposite of what is meant by pay equity?
Moore's defense? "This was a spoof. I have a sense of humor," he told CNN. But the "just joking" excuse doesn't hold up to scrutiny, considering the long history of misogyny in Moore's writing.