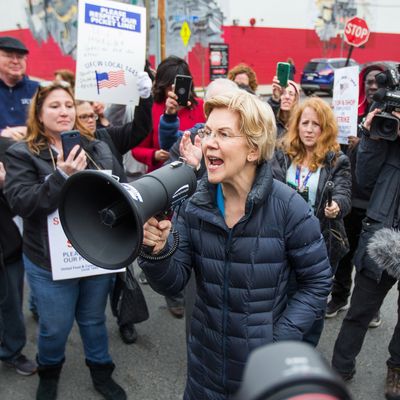 Senator Elizabeth Warren addresses striking Stop & Shop workers on April 12, 2019 in Somerville, Massachusetts.
Photo: Scott Eisen/Getty Images
Organized labor is already poised to play a significant role in the Democratic primary. But now Stop & Shop workers have raised the stakes to new heights, launching the largest private-sector strike since 2016. On Friday, 31,000 workers in Massachusetts, Rhode Island, and Connecticut are on strike for a second day. A speedy resolution appears unlikely, and some 2020 candidates are already wading into the dispute.
Workers, who are represented by the United Food and Commercial Workers, initially authorized a strike in March, as negotiations with Stop & Shop began to falter; they've been working without a contract since the end of February. A press release on the union's website outlines its opposition to the grocery chain's latest contract proposal, which would require full-time employees to pay an additional $893 for their health-care premiums over the next three years. Part-time employees would have to pay $603 more for their employee-only health coverage. According to Boston.com, the union also opposes plans to reduce the number of working cashiers and offset the difference with self-checkout lanes. In a statement emailed to New York on Friday afternoon, a representative for Stop & Shop said the chain is "disappointed that the UFCW chose to order a work stoppage in an attempt to disrupt service at our stores," and said it has "contingency plans in place." The company noted that its proposal did not contain pay cuts and argued that "the unions proposed a contract that would increase the company's costs. This would make our company less competitive in the mostly non-union New England food retail marketplace."
A handful of Democratic candidates responded swiftly to news of the strike. As of Friday afternoon, Senators Cory Booker, Kamala Harris, Kirsten Gillibrand, and Bernie Sanders had all tweeted support for striking workers. And Senator Elizabeth Warren, who represents many of the workers, walked a picket line in Somerville, Massachusetts.
For primary candidates, the Stop & Shop strike doesn't change the dynamics of the race so much as it amplifies them. The nation was already gripped by an ongoing national strike wave. Data released by the Bureau of Labor Statistics in February depicts an escalating number of work stoppages, defined as strikes or walkouts. More workers walked off the job in 2018 than they have since 1986, according to Time magazine; the actual number of stoppages was the highest it had been since 2007. Organized labor wasn't dormant before 2018, but as educators and flight attendants and domestic workers make new strides, they keep labor power — and the notion of the strike itself — firmly in the public square.
Unions aren't rushing to formally anoint a chosen candidate; they've unveiled more incremental endorsement processes instead, as the American Federation of Teachers told New York last month. It's likely that some, if not most, will wait to endorse until the Democratic National Convention nears. They may even wait to endorse until after the party has chosen a candidate.
Meanwhile, the strike wave looks set to continue. Chalkbeat reported on Wednesday that educators employed by five charter school networks have voted to authorize a collective strike. In New York City, some pre-K teachers have authorized a one-day strike on May 2. Flight attendants for Air Wisconsin may also go on strike soon; a representative for AFA-CWA, which represents the flight attendants, told the Appleton Post-Crescent their members only make $15,000 a year. In this climate, candidates must work for labor's vote. Support for striking workers may well come to distinguish the field's furthest-left counterparts from their moderate and conservative competitors — though it's an open question if candidates who send pro-labor tweets will follow through with pro-labor policy proposals.
This post has been updated.