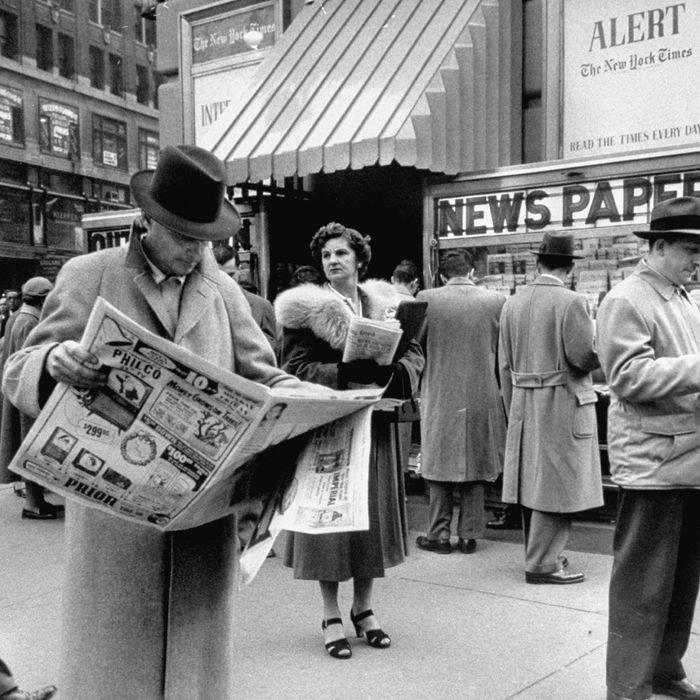 Photo: Ralph Morse/The LIFE Picture Collection/Getty Images
The Robert Mueller prayer candles are objectively horrific, but if Mark Zuckerberg chose to light one, no one could blame him. The Mueller report must feel like, well, a godsend to the beleaguered Facebook founder. His company chose today of all days to announce that it had "harvested" the email contacts of 1.5 million users, according to an initial report in Business Insider. The actual number of people affected by the privacy breach may climb. "While 1.5 million people's contact books were directly harvested by Facebook, the total number of people whose contact information was improperly obtained by Facebook may well be in the dozens or even hundreds of millions, as people sometimes have hundreds of contacts stored on their email accounts," according to the Business Insider report.
Facebook isn't the only entity to sneak its bad news into today's dumpster of a news cycle. Here are some other stories whose subjects are probably happy to be overlooked:
More People Are Uninsured Now, Congressional Budget Office Admits
On Thursday afternoon, the Congressional Budget Office finally released long-awaited information about the way it models rates of health insurance coverage in the U.S. The news is bad, and it should not get buried by the Mueller avalanche. As Larry Levitt of the nonpartisan Kaiser Family Health Foundation noted on Twitter, coverage rates have declined during Donald Trump's time in office:
The CBO doesn't offer reasons for the trend, but we already knew that the uninsured rate had hit a four-year high during the Trump presidency, thanks, perhaps, to some recent developments. At Vox, Sarah Kliff noted that Affordable Care Act premiums had risen, and some states had begun to require Medicaid beneficiaries to work, which in Arkansas alone cost thousands of people their health-care coverage.
That Massive Stop & Shop Strike Is Still Going On
Thousands of Stop & Shop workers in Massachusetts, Connecticut, and Rhode Island entered day eight of their strike on Thursday. Represented by the United Food and Commercial Workers, striking workers are protesting the grocery chain's contract proposals, which would raise employee contributions to their health-insurance plans and reduce benefits and compensation for future employees, in addition to "benefit reductions for non-vested employees," Boston.com reported. The chain, for its part, says that some cuts are necessary for it to remain competitive with nonunionized grocery stores.
Negotiations continue, but the strike has already driven business to other local grocery stores, New England Public Radio reported on Thursday. Some local rabbis have announced that goods purchased by crossing a picket line are not kosher, and truck drivers who belong to the Teamsters are refusing to cross picket lines. Democratic candidates, meanwhile, are using the strike to signal support for organized labor. Senator Elizabeth Warren had already traveled to Massachusetts to join workers on the picket line. Former Vice-President Joe Biden, who has not declared his candidacy but is likely to do so shortly, rallied with workers on Thursday. Other candidates, like Senator Bernie Sanders, have released public statements support striking workers. For Stop & Shop, meanwhile, the strike is proving painful. It's Holy Week and Passover is approaching — not a time when any grocery chain can afford to lose shoppers. One analyst told the Boston Globe that in "nearly 30 years, we haven't seen a strike as effective and devastating as this one."
Terry McAuliffe Isn't Running for President
The former governor of Virginia waited until Wednesday evening to announce that he would not pursue a rumored run for president. Instead, he's sticking with Virginia, and said that he plans to assist the state's beleaguered Democratic Party. Democrats Ralph Northam, Justin Fairfax, and Mark Herring remain in the state's top-three executive offices, though Northam and Herring are weathering blackface scandals. Fairfax, meanwhile, faces sexual-assault allegations from two credible sources, Dr. Vanessa Tyson and Meredith Watson. Democrats have upcoming state elections to win, and while the scandals aren't likely to push the party's base into the arms of the GOP, they could dampen crucial voter enthusiasm. Thus, TMac decided his talents are better put to local use. "They're desperate down there," McAuliffe astutely noted in an interview with the New York Times. Northam, he added, only raised $2,500 last fiscal quarter. McAuliffe has a better chance of winning a second term as governor than he did as president; his entry into a field crowded with other centrist, white hopefuls never made a great deal of political sense.
The National Enquirer Is Being Sold for $100 Million
Trump's tabloid of choice has been sold for a reported $100 million to James Cohen, the head of Hudson News, a major operator of airport and rail station newsstands. American Media Inc., the holding company for the National Enquirer, has been struggling with profound debt problems. The sale, which also includes the tabloids the Globe and National Examiner, will cut AMI's debt to just $355 million. Readership of the paper has been down since 2014, when it sold an average of 516,000 copies per issue. By December 2018, that number had dropped to 218,000.
Earlier in April, the Washington Post reported that AMI wanted to sell the National Enquirer because Anthony Melchiorre, the hedge-fund manager whose firm runs AMI, was "disgusted" with the Enquirer's practices. In 2018, reports emerged that the tabloid had engaged in "catch and kill" tactics in order to protect publisher David Pecker's friend Donald Trump; the Enquirer had the story that Trump paid off Stormy Daniels in the fall of 2016, but chose to bury it. The tabloid also reported on details of Jeff Bezos's alleged extramarital affair in a manner that federal prosecutors reviewed as a potential act of extortion.
Sears Claims Former CEO Stripped $2 Billion From Company
On Thursday, Sears filed a lawsuit against its former CEO and chairman Edward Lampert, claiming that he and his hedge fund gutted $2 billion from the company as it rocketed toward bankruptcy. As the Chicago Tribune puts it:
Lampert and his investors instead systematically picked off the retailing giant's most valuable and enduring assets as the company's losses deepened, the lawsuit asserts. Ultimately, the company was forced into bankruptcy — after Lampert and his investors benefited at the company and creditors' expense, the lawsuit says.
Lampert is also known for his 2008 effort to Ayn Rand-ify a private corporation, when he split up Sears into 30 units with their own management, measuring each one on its individual profit performance. Hoping to spur competition within the company, the process caused units to prioritize their own profit growth at the expense of Sears as a whole. Turns out, the invisible hand of the market couldn't stop smacking itself.