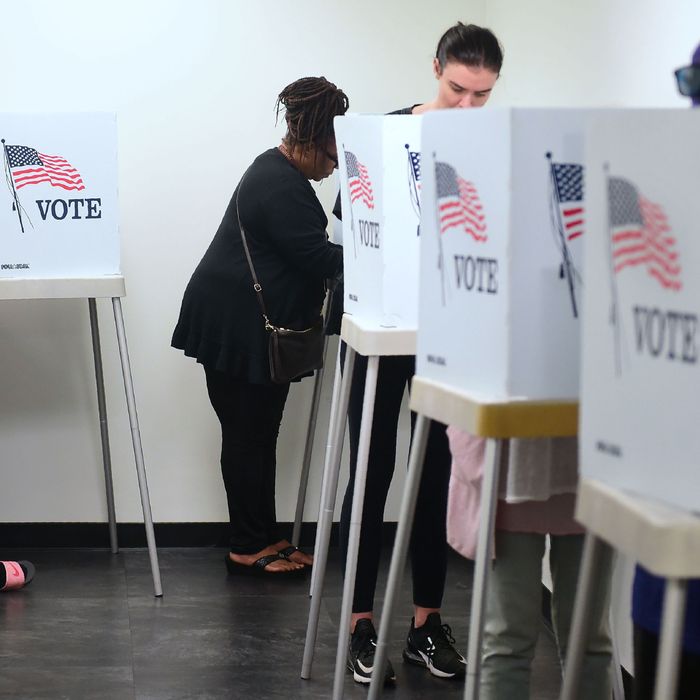 Voter turnout spiked in 2018 and should stay high next year.
Photo: Frederick J. Brown/AFP/Getty Images
As you have probably heard, voter turnout in the 2018 midterm elections was by historical standards very high — higher than in any midterm since 1914, as a matter of fact. Since turnout in the previous midterm, in 2014, was the lowest since 1942, it was quite the turnaround. Recently compiled Census data are making the dimensions of the 2018 spike clearer, as the Washington Post explains:
Census Bureau data released Tuesday finds turnout rates jumped across nearly all groups, but the shift was particularly notable among young adults who typically stay home in nonpresidential years …




The Census found that 36 percent of citizens ages 18–29 reported voting in last year's midterm elections, jumping 16 percentage points since 2014 (when turnout was 20 percent) and easily surpassing any midterm election since the 1980s. Turnout also increased sharply among adults ages 30–44, rising from 36 percent in 2014 to 49 percent in 2018. While turnout among younger adults still lags that of their elders, last year's election marked a clear break from the past two decades of anemic turnout among the youngest citizens.
Other elements of the electorate that are trending Democratic also turned out at robust rates not often seen in midterms:
Hispanic and Asian citizens have historically voted at far lower rates than whites and blacks, but turnout grew in 2018 to record midterm highs for both groups. Hispanic turnout rose from 27 percent in 2014 to 40 percent last year, while Asian turnout increased from 27 percent to 41 percent …




A 74 percent majority of citizens with postgraduate degrees turned out to vote last year, up 12 points from 2014. And 59 percent of those with either a bachelor's degree or some college education voted, up 13 points from the previous midterm …




The largest turnout shifts were among groups that favored Democratic congressional candidates as a whole, fueling the party's 8.6-point victory in overall congressional support. Roughly 6 in 10 college graduates favored Democrats, according to network exit polling, and Democrats won even larger majorities among Hispanic and Asian voters.
Turnout is invariably larger in presidential than in midterm elections — and, relatively speaking, is usually higher in the former than in the latter among pro-Democratic demographics. That augurs well for total turnout in 2020 and for a continued Democratic edge, all other things being equal.
Another straw in the wind in turnout figures was explained recently in an analysis by Michael McDonald's U.S. Elections Project and Nonprofit VOTE.
Even states without competitive statewide elections saw record turnout, which makes clear that national factors, including support and opposition to the Trump presidency, were driving voters to the polls. 
With Trump himself on the ballot, any boost he provided to midterm turnout should continue, if not intensify, in 2020.
But as the same report showed, another factor that apparently helped improve turnout in 2018 should do the same in 2020 — the steady spread of reforms making it easier to register to vote and to cast votes from home:
Despite the nationwide surge in voting, vast turnout differences between states remain. Election policies that made it harder or easier to vote were a major factor in those turnout differences, even more than political competition.




• Seven of the top ten states with the highest turnout offer Same Day Registration (SDR).

• In contrast, eight of the bottom ten states in turnout cut off voter registration four weeks before the election.

• States with SDR policies had turnout rates seven percentage points higher than non-SDR states.

• Three of the four Vote at Home states — Colorado, Oregon, and Washington — ranked in the top ten in turnout. These states send all registered voters their ballot two or more weeks in advance and provide secure and convenient options to return it.

• Utah, the fourth and newest state to implement Vote at Home statewide, led the nation in voter-turnout growth over 2014.

• Since 2016, 17 states and the District of Columbia have enacted automatic voter-registration policies.

• The five states that reported their AVR registration data saw their state's list of registered voters increase on average four times more over 2014 than 22 states without AVR or SDR policy.
Census data show that early voting from home (i.e., by mail) or in person at early polling places has been increasing steadily; it has more than doubled since 2006, from 19.5 percent of the vote to 39.8 percent in 2018. Again, it's unlikely that fewer states will make these opportunities available in 2020, so the upward trajectory in turnout may continue.
All of these considerations are separate from the effect of both parties and the news media beating on voters with big sticks to convince them that the 2018 and 2020 elections matter more than any in living memory. Since that has the added virtue of probably being true, 2020 should see spectacular turnout.