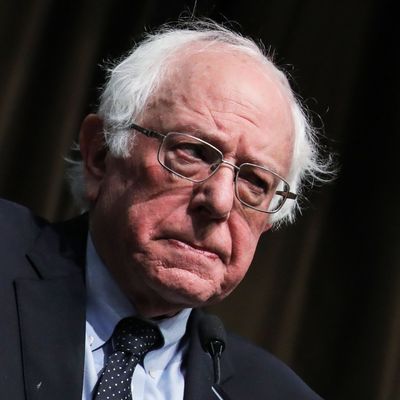 An early gut-check moment for Bernie Sanders.
Photo: Drew Angerer/Getty Images
The surge in polling results for Joe Biden after officially announcing his 2020 campaign represents a big surprise to those of us in the chattering class who thought his earlier poll numbers were a tad inflated, and/or thought his mishandling of communications with Anita Hill had stepped on his launch in a damaging manner. It looks like he's doing fine at present.
As my colleague Eric Levitz observed, the new polls are particularly unwelcome news to two candidates with earlier booms in support who expected to cut into Biden's support: Kamala Harris and Beto O'Rourke, who, as Levitz put it, have "fizzled faster than pop rocks." In a new national poll from CNN, Biden has leapt 11 points and leads the field with 39 percent, while O'Rourke is at 6 percent and Harris has dropped all the way to a shocking 5 percent. Similarly, Quinnipiac shows Biden gaining nine points since its last survey, placing him at 38 percent, with Harris staying even at 8 percent and O'Rourke dropping from 12 percent to a mere 5 percent. Morning Consult's weekly tracking poll gives Biden a six-point boost to 36 percent among likely voters, with Harris and O'Rourke now fifth and sixth, respectively, and in the mid-single digits. Pete Buttigieg is still doing pretty well with 7 percent in the CNN survey, 10 percent at Q-Pac, and 8 percent at Morning Consult. And Elizabeth Warren is suddenly in third place in the CNN and Morning Consult polls and in second place per Quinnipiac.
Aside from Harris and O'Rourke, the candidate who should be most alarmed by these and other findings is Bernie Sanders. Biden and Sanders were often viewed as co-front-runners; now Biden's opening up a substantial lead on him in national polls. Even worse, a new Boston Globe/Suffolk poll of New Hampshire shows Biden leading Sanders there 20/12, with Mayor Pete tied with Bernie in second place. New Hampshire was generally assumed to be Sanders Country, in no small part because he trounced Hillary Clinton there (by a 60/38 margin) in 2016. It's as close to a "must-win" state for Sanders as you could identify.
Beyond the numbers, the dynamics of this still-very-early race could be changing in dangerous ways for Sanders. The constant pounding Biden received over his past positions and inappropriate touching of women in the weeks before he joined the contest called into question his positioning as a consensus or "unity" candidate who might either overwhelm the field or gain strength late in the contest if no one else emerged as a star. Now Biden seems to have gotten some of that mojo back, which could paint Sanders into a factional corner as the candidate of progressive young voters but not much of anyone else. It has been an important token of Biden's party-unifying potential that he's consistently been (according to Morning Consult) the top second choice of Sanders supporters. This may well help explain why Sanders is very quickly differentiating his record on certain hot-button issues from that of the former veep, as CNN reports:
Sen. Bernie Sanders compared his record with Joe Biden's on trade and foreign policy on Monday, attempting to draw sharp contrasts between himself and the former vice president as the two lead the Democratic presidential pack …




"I think when people take a look at my record versus Vice President Biden's record — I helped lead the fight against (North American Free Trade Agreement); he voted for NAFTA," Sanders said on "Anderson Cooper 360."




"I helped lead the fight against (permanent normal trade relations) with China; he voted for it. I strongly opposed the Trans-Pacific Partnership; he supported it. I voted against the war in Iraq; he voted for it."
Aside from drawing attention to his own positions that were and are popular among progressives, Sanders is trying to depict Biden as the candidate of the centrist Democrats whose power in the party has steadily declined after Hillary Clinton's shocking 2016 loss to Trump.
But Warren's upward movement in the polls should be equally troubling to Sanders, since she entered the contest as the primary challenger to her Vermont colleague for the mantle of progressive, anti-corporate champion. For a while, it looked like the puzzling, likely sexist undervaluing of Warren in public opinion polls would doom her candidacy. And her support now is only rising gradually; she's taking advantage of a fall-off in support for others, including the aforementioned Harris and O'Rourke. But whether it's attributable to the grudging, party-wide respect she's gained for her policy portfolio, or a reaction to her post-Mueller shift to support impeachment (which Bernie Sanders most definitely still opposes), she's back in the thick of the contest. Given her heavy investment in early-state organizational efforts (especially in Iowa), she could be ready to make some serious waves, beginning with the upcoming candidate debates.
Obviously Bernie Sanders has some enduring assets that will keep his candidacy formidable through thick and thin: his own solid organization, his unequaled small-dollar fundraising prowess, and a core of supporters who won't defect no matter what. His own coalition-building powers shouldn't be underestimated, either: He's the second choice of both Biden and Warren supporters in that Morning Consult tracking poll.
The next phase of the "invisible primary" preceding the actual voting events next year will involve some intensive repositioning and sharpening (if still civil) competition.