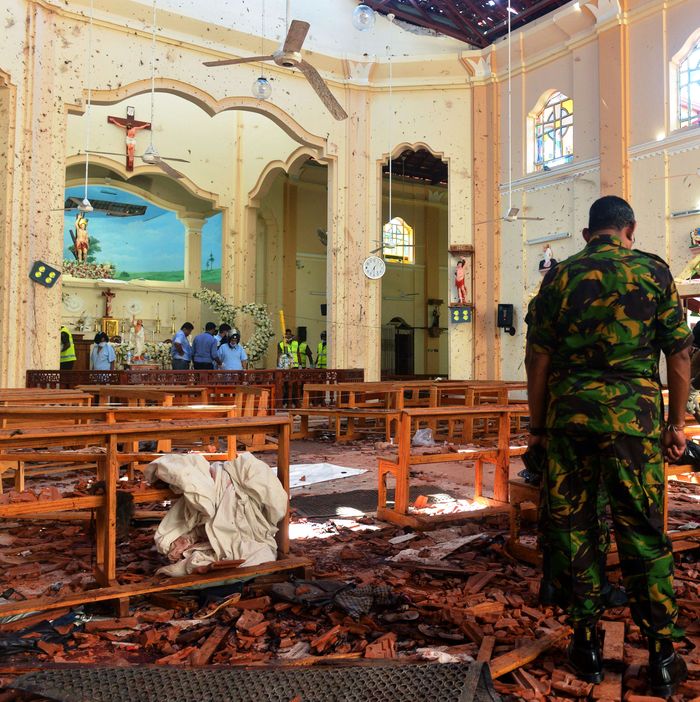 Security personnel inspect the interior of St. Sebastian's Church in Negombo on April 22, 2019.
Photo: Ishara S. Kodikara /AFP/Getty Images
Yesterday the Islamic State claimed responsibility for Sunday's devastating series of coordinated suicide bombings at churches and hotels throughout Sri Lanka, which killed more than 300 people and injured hundreds more. On its online "news agency" Amaq, the terror group issued a statement celebrating the attacks and identifying seven men it claimed were the bombers; it also published a video of eight men, including the bombings' suspected mastermind, swearing fealty to ISIS and its leader Abu Bakr al-Baghdadi.
ISIS does not usually wait two days to claim an attack, as it did in this case, and observers were not sure what to make of the delay. The group often claims acts merely inspired by its call to global jihad and has been known to take credit for terrorist attacks in which it had no real involvement; it typically waits longer to claim incidents where the links to its ideology are more tenuous. The use of pseudonyms to describe the suspected attackers, plus the video of them swearing allegiance, suggest a somewhat stronger connection here. Still, the nature and degree of the terror group's involvement in the bombings remains unclear.
The man showing his face in the Amaq video is Mohammed Zaharan, also known as Zahran Hashim and by other names, a radical preacher who led a small local Islamist outfit called the National Thowheeth Jama'ath. Sri Lankan authorities had already attributed the attacks to his organization and suspected him of being one of the bombers. Prior to Sunday, Zaharan's group had accomplished little more than defacing a few Buddhist statues, so counterterrorism experts doubt they could have pulled off such a sophisticated attack without outside help.
Zaharan's kill-the-infidels style of preaching had a hard time getting off the ground in his hometown of Kattankudy in eastern Sri Lanka, but he had become more active online in recent years and was attracting more followers, leading Sri Lankan Muslim community leaders to warn the authorities about the growing threat of National Thowheeth Jama'ath three years ago. This warning went unheeded in just one of a series of massive intelligence failures that enabled Sunday's devastation and will now spark firings in the country's security and intelligence leadership. Indian intelligence had also warned their Sri Lankan counterparts about Zaharan after uncovering an Islamic State cell in southern India, some members of which had been influenced by his videos.
The statement carried on Amaq did not substantiate previous statements by Sri Lankan officials that the bombings were carried out as retaliation for the mass shooting of worshippers at mosques in Christchurch, New Zealand, by a white supremacist last month. Although the group had called for retaliation in the wake of the Christchurch massacre, Tuesday's communiqué merely cast the attacks as part of its ongoing global war against Christians and allies of the United States, though some ISIS supporters described the bombings as revenge for attacks on mosques and Muslims in online messages. New Zealand prime minister Jacinda Ardern's office also said her country currently had no intelligence linking Sunday's atrocity to the shootings at the two mosques on March 15. Analysts say the attack probably could not have been planned in such a short time and thus was already in the works when the New Zealand attacks occurred.
While investigations into Sunday's attacks are not yet far along enough to make any conclusions about how they were orchestrated, the scale and coordination of the bombings suggest that Zaharan's organization could not have pulled them off without expert help from abroad. "The Sri Lanka blasts were both sophisticated and well coordinated, making it very likely that the attackers received some sort of training and assistance from ISIS — possibly from one of the group's bases in the Philippines or elsewhere in the region," Rita Katz, director of the SITE Intelligence Group, told the Washington Post.
Another question going forward is how National Thowheeth Jama'ath got support from the Islamic State, if it did. Other ISIS-linked attacks in countries outside the Middle East have been plotted by foreign fighters who traveled to Iraq and Syria to join ISIS in its ground war there, then managed to slink back into their home countries undetected by authorities. The number of foreign fighters known to have returned to Sri Lanka is low, but Amarnath Amarasingam, a senior research fellow at the Institute for Strategic Dialogue, noted in comments to the Post that if foreign fighters were indeed behind Sunday's bombings, "it would be the largest attack carried out by ISIS returnees anywhere." Furthermore, Brookings senior fellow Daniel Byman points out that Sri Lankan intelligence authorities' attention has been focused more on threats from Tamil separatists than Islamic extremists, so they may not know how many ISIS volunteers are actually on the ground in the country.
Yet ISIS could also have helped organize this attack without any Syria-trained members on the ground in Sri Lanka at all. The group's global, decentralized, online presence gives it the ability to remotely provide technical expertise and material assistance to local militant organizations in carrying out attacks in their countries. The assistance Zaharan and his co-conspirators would have needed for this attack, like bomb-making lessons or help with smuggling explosives, could easily have been provided through digital networks.
That's why it's premature to celebrate ISIS's defeat, as President Donald Trump did at the beginning of March when U.S.-backed forces drove the Islamic State out of its last enclave in Syria, effectively dissolving the territorial "caliphate" the group had maintained in the Syrian–Iraqi desert since 2013. Indeed, ISIS-linked propaganda sites and online forums made this point explicitly in their messages celebrating the carnage in Sri Lanka.
The group's statelike presence in the Islamic heartland was always an opportunistic event, the product of a significant number of well-armed and organized militants in loosely governed areas of extremely fragile states. Al-Baghdadi likely never expected to hold onto that land for long, but in that time he did, ISIS used it to provide thousands of young male recruits from around the world with a radicalizing education, combat training and experience, and a taste for rape, ultraviolence, and martyrdom.
The danger these recruits pose did not end — was never intended to end — when they left Syria or even when the "caliphate" was inevitably destroyed. The threat of terrorist violence by returnees from Syria, local terrorist groups the affiliate themselves with ISIS, or from individuals radicalized online by the group's slick jihadist propaganda will remain a generational problem around the world. The group's global footprint is expanding: On top of the Sri Lanka bombings, ISIS claimed its first attack in the Democratic Republic of Congo last week. Over the weekend, it claimed responsibility for a suicide bombing in Afghanistan and an attempted attack in Saudi Arabia; other recent ISIS-linked bombings and kidnappings have taken place in Egypt and the Philippines.
Whatever specific role ISIS played in this horrific act of violence against Sri Lanka's Christian community, it could not fail to endorse a crime that aligns so perfectly with its stated goal of stoking and fighting a global religious war. The ISIS communiqué on Tuesday characterized Sunday's victims as "Christian combatants" and "citizens of the Crusader coalition," while the celebratory messages in online jihadist forums called for more attacks in the near future, one mentioning Indonesia specifically as a target.
Beyond the violence itself is ISIS's nihilistic goal of dividing religiously mixed societies among themselves: Sri Lanka has seen more than its fair share of civil conflict, but the 26-year-long civil war that formally ended in 2009 was driven by ethno-nationalist tensions between the Sinhalese majority and separatists within the minority Tamil community. The country's religious makeup is around 70 percent Buddhist and 13 percent Hindu; Muslims and Christians are both smaller minorities. Recent years have seen occasional eruptions of religious strife, but the country does not have a significant history of Islamic extremism; indeed, Sri Lankan Muslims have been more often the victims of religious violence than the perpetrators.
If Sunday's bombings inflame religious tensions in Sri Lanka, sow distrust among its faith communities, and destabilize the country's politics, that very much suits ISIS's purposes. The Christian community can't be blamed if it loses faith in the government's ability to keep them safe, nor can Muslims necessarily expect much protection from retaliatory violence. As the Sri Lankan government scrambles to root out other individuals linked to the bombings and crack down on extremists, it may engage in torture and other human-rights abuses, which will serve as fodder to radicalize future terrorists and help jihadist ideology take root in a place where it had little purchase before.