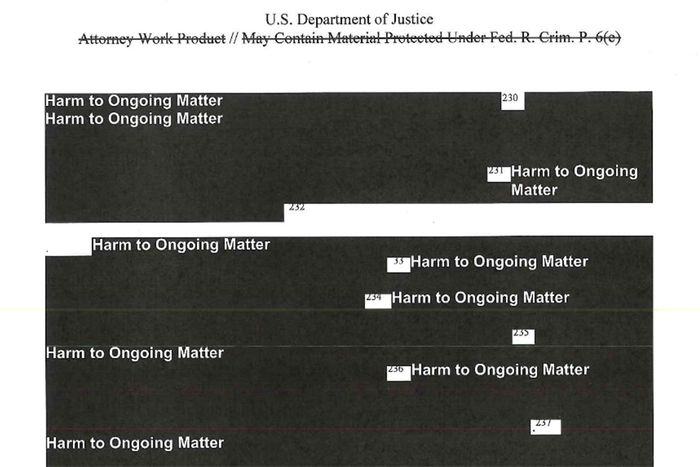 Photo: U.S. Department of Justice
On Thursday morning, the Mueller report arrived after almost two years of waiting and counterintelligence tea-leaf reading. Well, most of the Mueller report arrived: Significant entries in the 448-page document are obscured by big black blocks of redacted material.
Somewhere between releasing his four-page non-exoneration of the president in March and holding a coverage-skewing press conference prior to the report's release on Thursday, Attorney General Bill Barr redacted major passages from the public Mueller report. The most common rationale is "harm to ongoing matter," a panacea that takes up whole pages of the report. Others include "personal privacy" for non-indicted individuals, "grand jury" material, and "investigative technique." The effect is frustrating, in paragraphs like:
According to [Rick] Gates, by the late summer of 2016, the Trump Campaign was planning a press strategy, a communications campaign, and messaging based on the possible release of Clinton emails by WikiLeaks. [Harm to ongoing matter.] [Harm to ongoing matter] while Trump and Gates were driving to LaGuardia Airport. [Harm to ongoing matter], shortly after the call candidate Trump told Gates that more releases of damaging information would be coming.
For those who are interested in a less-redacted version of the report, there is hope. Select members of Congress will see a version of the report "without certain redactions," meaning it's possible that parts of Congress's account could leak. For now, we'll have to settle for what we know we don't know — which is a lot.
Trump Campaign and the Dissemination of Hacked Materials
Even in the glossary, parts of these crucial findings are blocked out, citing harm to ongoing matter. The section begins: "The Trump Campaign showed interest in WikiLeaks's releases of hacked material throughout the summer and fall of 2016." And the rest is pretty much blocked out.
The Internet Research Agency
Thirteen members of the St. Petersburg—based hacking group with close ties to Putin were indicted for interfering "with U.S. elections and political processes," much of which equates to trolling voters on Facebook in an attempt to sway them toward a Trump vote. The section on the "Structure of the Internet Research Agency" is almost entirely redacted.
Russian Hacking and Dumping Operations
Whole pages regarding Russian military intelligence officers' efforts to hack into the Clinton campaign, DNC, and DCCC are redacted, citing harm to ongoing matter and personal privacy.
The Seychelles Meeting
Much of the information about the January 11, 2017, meeting between Trump surrogate (and Betsy DeVos's brother) Erik Prince and UAE crown prince Mohammed bin Zayed Al Nahyan (better known as MBZ) is redacted. In the transition-era meeting, the two reportedly discussed setting up a back channel between Trump and Putin.
Individuals Who Potentially Obstructed Justice
In the list of who potentially obstructed the special counsel investigation and how they did so, the evidence and names of several Trump affiliates are redacted, citing harm to ongoing matter. George Papadopoulos, Michael Flynn, Michael Cohen, and Jeff Sessions are named, two other individuals are redacted, citing personal privacy and harm to ongoing matter.
"Application to [Harm to Ongoing Matter]" "Questions Over [Harm to Ongoing Matter" and "Analysis as to [HOM]"
Well, that's not very helpful. On pages 188 through 190, regarding the campaign's "Russian Government Outreach and Contacts," even the subheaders are too harmful for public consumption.