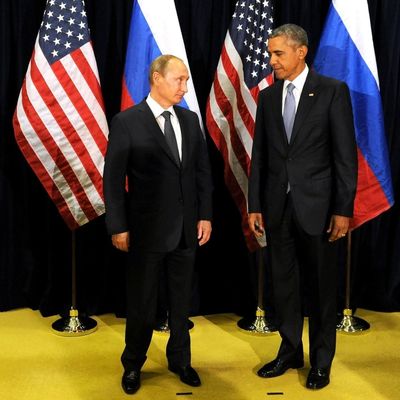 Photo: Anadolu Agency/Getty Images
On Thursday afternoon, reporters expected President Trump to give remarks on the redacted Mueller findings on his way to board Marine One. Instead, he and Melania strolled across the South Lawn of the White House to their helicopter without taking questions or providing any comments on the 448-page investigation into campaign contacts with Russia. A tweet would suffice:
There's a certain futility in fact-checking a president who has no working relationship with facts, but indulge us for a second. Sentence one ignores the transition team's contacts with Russia, which included an attempt to establish a Trump-Putin back channel, and Michael Flynn's conversations with the Russian ambassador, about which he caught a felony for lying to the FBI. Sentence three is also a bit off: It's difficult to determine how many sympathetic Facebook users were pushed toward the Trump ticket, considering the enormity of Russian misinformation and posts on the platform.
In addition to being a bold claim — my sworn political enemy is responsible for my campaign's Russian contacts — the second sentence is the most egregious misstatement. By September 2016, Obama was sure of Russian efforts to skew the election, and took his intelligence to the Gang of Eight to cook up a bipartisan statement informing the public. Obama reportedly felt that bipartisanship in this moment was essential, as his veep explains: "Can you imagine if the president called a press conference in October … and said, 'Tell you what: Russians are trying to interfere in our elections and we have to do something about it.'" Joe Biden continued: "What do you think would have happened? Would things have gotten better, or would it further look like we were trying to delegitimize the electoral process, because of our opponent?" All members of the Gang of Eight agreed to a statement, except for Mitch McConnell, who balked, claiming he doubted the intel. And so the Senate majority leader silenced the president.
Elsewhere, Republicans had less controversial responses to the Mueller report — even if they were a little premature. Most of the party leaders' responses were issued prior to the actual public release of the findings. "Democrats want to keep searching for imaginary evidence that supports their claims, but it is simply not there," said House Minority Leader Kevin McCarthy. House Minority Whip Steve Scalise suggested Democrats "apologize to the American people."