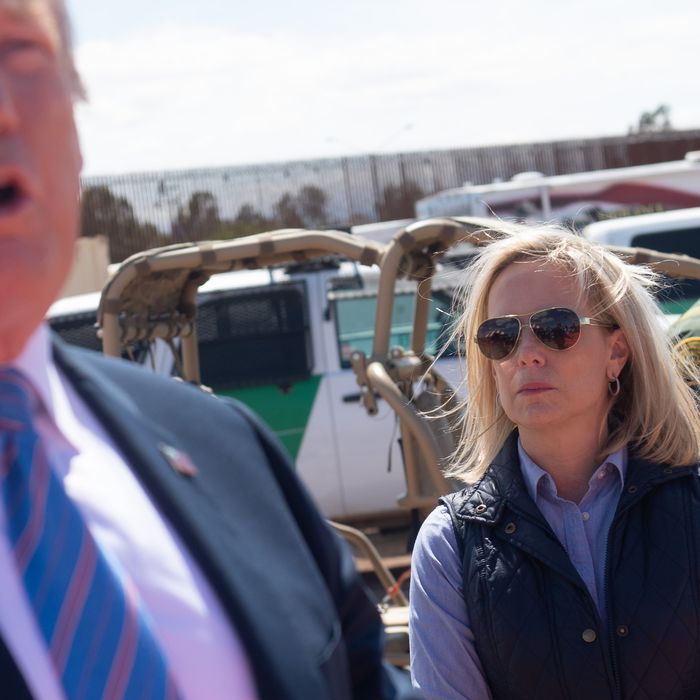 Former Secretary of Homeland Security Kirstjen Nielsen stands alongside President Trump as he tours the border wall between the United States and Mexico in Calexico, California, on Friday.
Photo: Saul Loeb/AFP/Getty Images
Homeland Security Secretary Kirstjen Nielsen tendered her resignation on Sunday, joining a long line of top officials who have departed the Trump administration. Nielsen, who took over the department after former DHS head John Kelly left to become President Trump's chief of staff in July of 2017, had been a regular target of criticism from the president, who once berated her so badly at a Cabinet meeting that she reportedly drafted a resignation letter. On Sunday, facing escalating pressure from Trump, she went all the way.
The change happened amid a worsening humanitarian crisis along parts of the southern U.S. border after waves of Central American migrants, fleeing violence and poor economic conditions, travelled north seeking entry to the U.S. That surge has overwhelmed U.S. authorities at the border.
Nielsen had set up a meeting with Trump on Sunday. According to the New York Times, "three people familiar with the meeting said Ms. Nielsen had requested it to plan "a way forward" at the border, in part thinking she could have a reasoned conversation with Mr. Trump about her role."
In a statement announcing her decision after that meeting, Nielsen said she had determined that it was "the right time" for her to move on and hoped that "the next secretary will have the support of Congress and the courts in fixing the laws which have impeded our ability to fully secure America's borders and which have contributed to discord in our nation's discourse."
Many had expected Trump to fire Nielsen, but rather than deploy his famous Apprentice catchphrase, the president seems to have decided to force her to quit instead. Among recent moves to marginalize Nielsen, Trump cut U.S. aid to El Salvador, Guatemala, and Honduras the day after she signed a regional compact with officials from the countries. (He had previously told her to cut the aid, not understanding that the State Department was responsible for foreign aid.) He also recently floated the idea of naming an "immigration czar" who would essentially take over parts of her job. By Sunday, Nielsen had apparently had enough.
Kevin McAleenan, who is currently the commissioner of the Customs and Border Protection agency, will replace Nielsen as acting head of the agency, Trump announced in a tweet. That makes McAleenan the fourth acting head atop the Trump administration. Other acting heads — who have not been confirmed by the Senate — are already in place as Defense secretary, Interior secretary, and White House chief of staff.
In what was likely a related move on Friday, President Trump withdrew his nominee to head the Immigration and Customs Enforcement agency, Ron Vitiello, citing the need to "go in a tougher direction." Nielsen reportedly supported Vitiello.
According to CNN, Trump's desire for a "tougher direction" came from Stephen Miller, the nativist policy adviser who is the architect of the Trump administration's (anti-)immigration policies. The Times points out that Miller regularly complained about Nielsen, too.
Miller and Trump apparently blamed Nielsen for not finding more ways to to secure the border, though it's not clear what non-border wall ideas the men had themselves. For her part, Nielsen was reportedly frustrated with the lack of support she received from other agencies to handle the migrants trying to enter the U.S. Per the Times, "the president berated Ms. Nielsen regularly, calling her at home early in the mornings to demand that she take action to stop immigrants from entering the country, including doing things that were clearly illegal, like blocking all immigrants from seeking asylum."
She apparently responded with attempts to explain the rule of law, which undoubtedly enraged the authoritarian-minded president further still.
As Vox's Dara Lind points out, Nielsen — who presided over the Trump administration's objectively cruel policy of separating migrant families — was already arguably the most aggressive DHS head in the agency's history, but it wasn't enough for Trump, who seems to have blamed her for the reality of migration itself.
The president's infamous tirade at Nielsen was reportedly over her refusal to close the border. Trump has repeatedly threatened to close the border, but the logistical and economic ramifications of doing so make it effectively impossible. Since Nielsen was undoubtedly one of the main administration officials who attempted to explain to Trump why he could not do something impossible, it was only a matter of time until he'd seek to replace her.
Whether McAleenan, a longtime border officer, will take a more hardline approach than Nielsen— if that's even possible — remains unclear. He also might not hold the position for very long himself.
This post has updated throughout to reflect new information about a breaking news story. The headline originally stated that Nielsen had been fired, but she later said she had resigned.