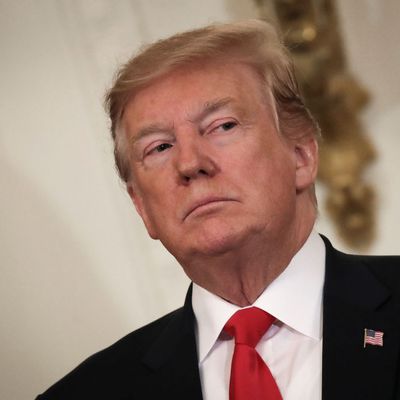 Photo: Drew Angerer/Getty Images
As if the president's contempt of House Democrats' regulatory power wasn't apparent enough, in a Tuesday interview with the Washington Post Trump said that he has "no reason" to cooperate with Congressional investigations into his campaign's contacts with Russia after the release of the Mueller report. "There is no reason to go any further and especially in Congress where it's very partisan — obviously very partisan," Trump said.
The president's comments came after two White House officials announced that the administration would fight a subpoena issued by the House Judiciary for ex-White House counsel Don McGahn. The redacted Mueller report released last week contained several new exchanges between the president and his former lawyer, including two instances in which McGahn told investigators that Trump directed him to fire the special counsel. The White House will attempt to block the McGahn subpoena by "asserting executive privilege over his testimony," according to the Washington Post.
Trump also told the Post that he had not made a "final, final decision" about the use of executive privilege to block McGahn's testimony. But it sounds like the plan is a go, judging from the Post's reporting on White House lawyers' "plan to tell attorneys for administration witnesses called by the House that they will be asserting executive privilege over their testimony."
The plan, like so many emitting from the White House, may not be thoroughly thought out. "It seems to me executive privilege was waived when McGahn was permitted to give testimony and to be interviewed by special counsel Mueller," former Watergate prosecutor Richard Ben-Veniste told the Post. "I don't see how the White House can assert executive privilege with something that has already been revealed. To use the Watergate expression, 'You can't put the toothpaste back in the tube.'"
Elsewhere this week, the Trump administration defied House Democrats requests to hand over the president's tax returns, and directed former White House personnel security director Carl Kline to ignore a subpoena from the House Oversight Committee, resulting in a contempt of Congress charge for Kline. In this context, it appears that Trump's open admission that he intends to stymie Congress wasn't given with controversial intent — at this point, denying the House its regulatory purview is just White House operating procedure.