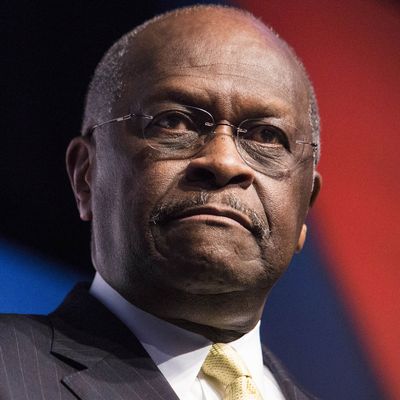 Cain changed his mind, or had it changed for him.
Photo: Drew Angerer/EPA/REX/Shutterstock
It's been obvious since at least April 11 that Trump's interest in placing Herman Cain — former pizza chain executive, right-wing radio gabber, and 2012 presidential candidate — on the Federal Reserve Board was waning. That's when four Republican senators, enough to sink any confirmation, signaled it was a bad idea.
But last week Cain himself, apparently annoyed at the resuscitation of one of the sexual-misconduct allegations that helped sink his White House run, reiterated his determination to push for a spot on the monetary policy-setting body:
Ginger White first asserted she'd had a 13-year affair with Cain back in 2011, when he was running for president. Cain was also accused of sexual harassment by several other women during his campaign. He's repeatedly denied the allegations. 




But on Thursday, White called on Cain in a press conference to withdraw his name from consideration from the Federal Reserve Board. White's lawyer said her client is ready to testify before the Senate Banking Committee if Cain is formally nominated. 




Cain responded by saying, "I am not going to drop out because they are recycling the unfounded accusations."
Either he changed his mind, or had it changed for him:
It's pretty likely that the people around Trump — and their allies in the Senate — made it plain that theirs is an administration that just doesn't need additional association with allegations of male sexual entitlement. The New York Times reported some sub-rosa Republican groans of exasperation when Cain's name first came up:
A day after Mr. Trump made the choice of Mr. Cain official, Senate Republicans expressed quiet anxiety over the prospect of another #MeToo minefield even as the White House exalted the decision.




"President Trump's statement that Herman Cain is 'a truly outstanding individual' is a message that the president of the United States is willing to ignore the allegations of a number of women who alleged that Herman Cain either sexually harassed them or had an affair with them," said Gloria Allred, a lawyer who represented two of Mr. Cain's accusers. "This message is an insult to women and should be condemned by the Republican Party and all those who care about respect and dignity for women."
The complaints finally sank in, and thus Herman Cain will not be able to pursue his eccentric ideas on the Fed. As my colleague Jonathan Chait observed recently, he was a strange choice for a president who allegedly fears tight-money policies on the Fed:
Cain has advocated hard-money views that occupy a different universe than anything Federal Reserve board members have advocated, or probably even consider sane. Cain assailed the "politicized" Federal Reserve for "inflat[ing] our currency" in 2011, and calling for a return to the gold standard in 2012. The gold standard is an extreme deflationary policy favored by right-wing cranks, which would make it impossible to lower interest rates during recessions. The gold standard is a policy for people who object to the entire purpose of the Federal Reserve.
So Trump will have to look for a different media personality to fill Cain's abandoned spot. But he's got enough trouble with the Fed prospect he hasn't bagged so far, Stephen Moore, who has his own problems.