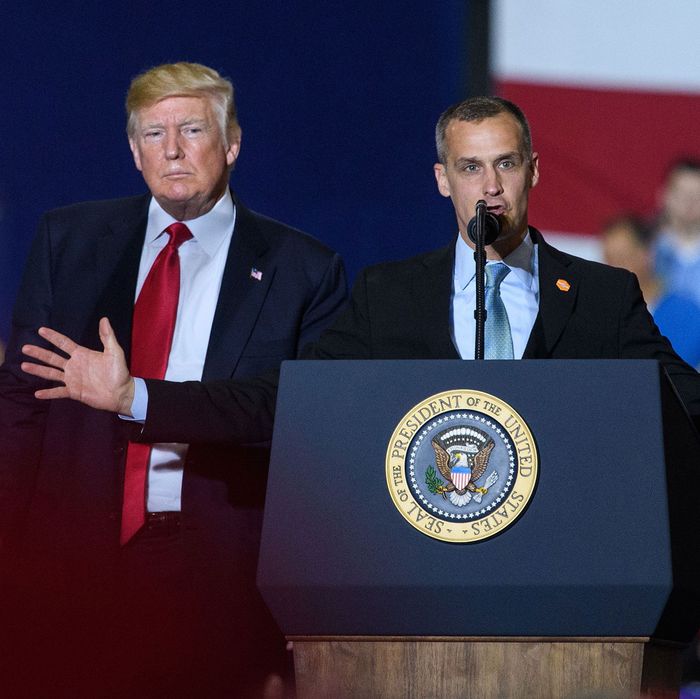 Corey Lewandowski and his former boss.
Photo: Mandel Ngan/AFP/Getty Images
In the summer of 2017, President Trump told Corey Lewandowski, his former campaign manager, to have then-Attorney General Jeff Sessions thwart Robert Mueller's investigation, according to the special counsel's report. Trump also told Lewandowski to fire Sessions if he refused a meeting to talk about the issue, the report says.
The report details a meeting between Trump and Lewandowski, which came just two days after Trump met with former White House counsel Don McGahn and asked him to have Mueller removed. In the meeting, Trump "brought up Sessions and criticized his recusal from the Russia investigation," the report says.
He then asked Lewandowski to deliver a message to Sessions. The attorney general, Trump told Lewandowski, should give a speech saying the following:
I know that I recused myself from certain things having to do with specific areas. But our POTUS … is being treated very unfairly. He shouldn't have a Special Prosecutor/Counsel b/c he hasn't done anything wrong. I was on the campaign w/ him for nine months, there were no Russians involved with him. I know it for a fact b/c I was there. He didn't do anything wrong except he ran the greatest campaign in American history.
Trump then wanted Sessions to say that he would limit the special counsel's investigation to future election interference. All this, despite Sessions's recusal from the investigation.
Lewandowski was careful about getting this message to Sessions, according to the report. He didn't want to do it over the phone or in person at the Justice Department. So he set up a meeting with Sessions, but it never happened.
Roughly a month later, Lewandowski was back in the Oval Office. Trump asked him about getting the message to Sessions and Lewandowski told him it would happen soon. Lewandowski had set up a meeting between Sessions and Rick Dearborn, the former White House deputy chief of staff, whom Lewandowski was entrusting with passing along Trump's message.
In that meeting, Lewandowski remembers Trump telling him that he should tell Sessions he'd be fired if Sessions did not agree to meet with him. After the meeting, Lewandowski ran into Dearborn and gave him the message that was meant to be delivered to Sessions. But Dearborn didn't like what he saw on the typed note. He would later tell Lewandowski "that he had handled the situation," though the message was never actually delivered.