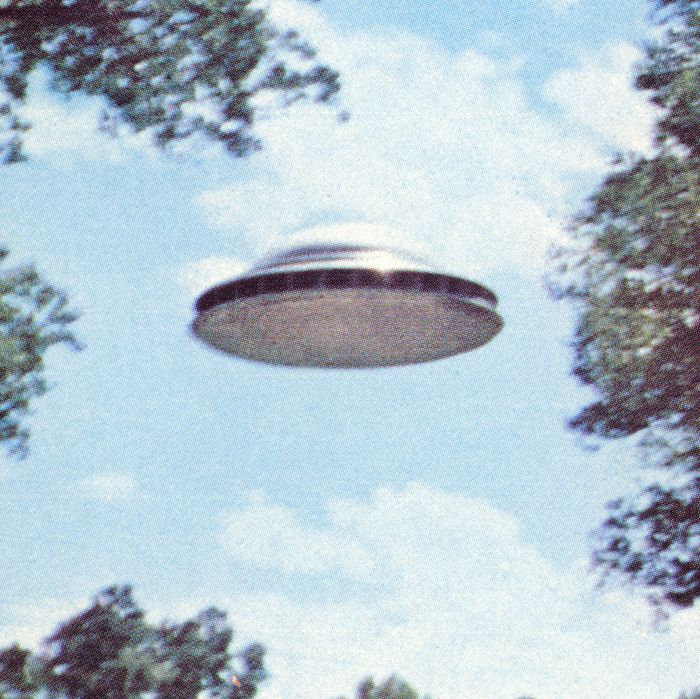 Photo: Found Image Holdings Inc/Corbis via Getty Images
The Trump presidency has been a golden age for hard news — but often hard times for offbeat reporting. When each day brings a new avalanche of major headlines, it's easy for quirky profiles and deep dives into subjects other than Beltway politics to get buried. And this past week was no exception. While news junkies fixed their eyes on the launch of Joe Biden's 2020 campaign, the fallout from Robert Mueller's report — and Donald Trump's many tweet storms — a bevy of fascinating features (largely) escaped their view.
Take the Washington Post's "How angry pilots got the Navy to stop dismissing UFO sightings." The paper's esoteric exposé explains how a resilient band of patriots persuaded the armed forces to make a formal record every time an unidentifiable, futuristic aircraft zooms through military-designated airspace — a phenomenon that has "been happening on a regular basis since 2014." As the Post's Deanna Paul writes:
In some cases, pilots — many of whom are engineers and academy graduates — claimed to observe small spherical objects flying in formation. Others say they've seen white, Tic Tac-shaped vehicles. Aside from drones, all engines rely on burning fuel to generate power, but these vehicles all had no air intake, no wind and no exhaust.




"It's very mysterious, and they still seem to exceed our aircraft in speed," [former deputy assistant secretary of defense for intelligence Chris Mellon] said, calling it a "truly radical technology."
On first brush, this subject matter might look dull compared to, say, the latest developments with the White House Correspondents' Dinner. But Paul's taut prose turns a controversy over naval record-keeping protocols into the stuff of high drama.
And hers was far from the only diverting feature to fall through the cracks this week. Here are four other excellent pieces of journalism that didn't quite penetrate the news cycle:
Drill or Be Drilled? Faced With Texas-Size Asteroid, NASA Seeks Help From Unlikely Hero (The New Yorker)
Rachel Aviv's profile of Harry Stamper, a renowned deep-sea oil driller — and soon-to-be astronaut — reads like three fine pieces rolled into one. It is a comedy of manners, charting a blue-collar roughneck's awkward adjustment to his new role in America's most highly educated bureaucracy. It's a tender portrait of a fraught — though loving — father-daughter relationship. But, above all, it is a clarion call about an unsexy but important issue: the 260,000-square-mile asteroid that is poised to plunge into the Pacific Ocean in 18 days.
In Surprise for Fans of Fast-Casual Dining, Chipotle Reveals Barbacoa Is People (Grub Street)
If you're like me, you've found both the new crop of meat substitutes – and the journalism about those products — dry and overhyped. But Grub Street's Chris Crowley has finally found a story about "the future of meat" that's actually appetizing (intellectually, anyway). After the 2015 E. coli outbreak took a bite out of its share price, the Mexican chain cooked up a muy picante plan for reestablishing its relevance. While other fast-casual restaurants looked to vendors like Beyond Meat to satisfy the rising demand for "green" eats, Chipotle sought to derive cheap, ecofriendly protein from a very different source — America's burgeoning retirement crisis.
As Armies of the Undead Descend on Shopping Malls, Investors Warn of 'Retail Apocalypse' (Bloomberg Businessweek)
Just a few months ago, reports of "the death of retail" looked to have been greatly exaggerated. Despite years of doomsaying from market analysts and reporters, store openings actually outpaced closings in 2018 by nearly 4,000. Conventional wisdom began to revise itself. Sure, Amazon's dominance was likely to grow — but with a wide variety of products, there simply was no substitute for in-person browsing (and touching, and trying on).
But as a team of reporters document in the latest issue of Bloomberg Businessweek, the rise of the living dead has fatally undermined the outlook for brick and mortar. So long as brain-hungry, reanimated corpses remain a fixture of America's shopping centers, commerce is expected to shift ever-more rapidly out of "meat space." And that seems like a safe bet, given how little interest cable news or Congress has taken in the zombie crisis. For its part, Businessweek offers few insights into the origins of the epidemic, but sheds a great deal of light on its grisly implications: When a recession finally puts an end to this recovery, expect it to take a hefty chunk of service-sector employment down with it.
Sharp Rise in Arctic Temperatures Now Inevitable — U.N.
Finally, in the Guardian, Fiona Harvey analyzes a new report from the United Nations, which finds that "potentially devastating temperature rises of 3C to 5C in the Arctic are now inevitable even if the world succeeds in cutting greenhouse gas emissions in line with the Paris agreement." Such warming could be sufficient to "trigger a climate 'tipping point' as melting permafrost releases the powerful greenhouse gas methane into the atmosphere, which in turn could create a runaway warming effect." (The world has not been cutting greenhouse-gas emissions at a pace in line with the commitments made under the Paris agreement, and there is no sign that it will begin doing so anytime soon).
Harvey's report gets into the weeds; some readers will doubtlessly find parts of it a tad abstruse. And certainly, long-term temperature change in the Arctic can seem irrelevant when compared with say, Nate Silver's case for why Pete Buttigieg is now a "tier 1b" candidate. But sometimes, the stories that fail to catch our eye catch up to us in the end.