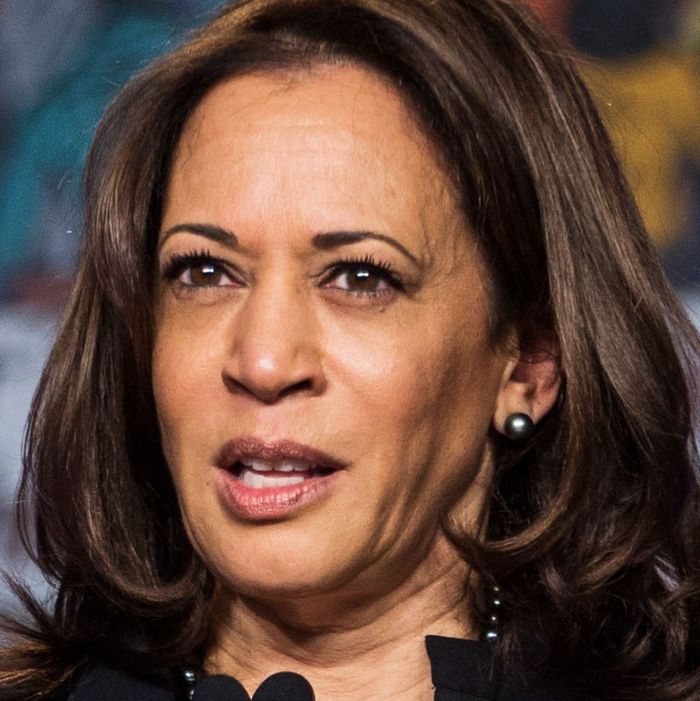 Warren led on impeachment and Harris quickly followed.
Photo: Zach Gibson/Getty Images
Last week Elizabeth Warren became the first major 2020 Democratic presidential candidate to leap squarely onto the bullet train of a call for Trump's impeachment:
At the time, I thought her action might cancel out its strategic value for her by beginning an avalanche of other candidates moving in the same direction:
For the moment, her stance creates a strong likelihood that other candidates could follow; there could perhaps even be a stampede that eliminates Warren's tactical advantage while confirming her status as a party trendsetter. And if she and other presidential candidates create a wave of support for impeachment that breaks down Pelosi & Co.'s resistance, Warren may have to deal with the ironic consequences of a development that blots out the sky and reduces the attention her policy proposals will receive.
But that hasn't really happened. Yes, one major rival, Senator Kamala Harris, took the same leap last night, as the Cut's Amanda Arnold noted:
During a CNN town hall on Monday, a member of the audience asked the Democratic senator whether she thought that the president ought to be impeached over the findings in special counsel Robert Mueller's investigation into Russian interference in the 2016 election. Harris replied that anyone who's seen the report can see that there's a lot of evidence pointing toward obstruction of justice.




"I believe that we need to get rid of this president," Harris said, nodding to her own presidential run before concluding that she believes "Congress should take the steps towards impeachment."
It didn't get much attention, but Seth Moulton came out for impeachment today. Others have inched in that direction. Julián Castro said impeachment would be "perfectly reasonable" post-Mueller, even before Warren's announcement. Pete Buttigieg says Trump deserved to be impeached, but left it up to Congress to decide whether to go in that direction. Cory Booker, Kirsten Gillibrand, and John Hickenlooper are basically saying impeachment is premature but may eventually prove necessary. Amy Klobuchar cites the possibility that she might serve as a "juror" in a Senate impeachment trial as grounds for refusing to comment on its advisability.
Several candidates are still pretty negative on the whole impeachment proposition. One of them is co-front-runner Bernie Sanders, who said this at a town hall session last night:
If for the next year, year-and-a-half, going right into the heart of the election, all that the Congress is talking about is impeaching Trump and Trump, Trump, Trump, and Mueller, Mueller, Mueller, and we're not talking about health care, we're not talking about raising the minimum wage to a living wage, we're not talking about combating climate change, we're not talking about sexism and racism and homophobia, and all of the issues that concern ordinary Americans, what I worry about is that works to Trump's advantage.
Beto O'Rourke thinks impeachment might take too long to take down Trump. Joe Biden hasn't been pinned down on the subject, but if he announces his candidacy this week as planned, he'll have to formulate a position.
If the candidates more or less stand by their current positions (or lack thereof) on impeachment, the impact on the race may largely depend on what happens in the U.S. House. If House leaders succumb to impeachment fever at some near point in the future, Warren (and to a lesser extent Harris) may get credit for getting out in front of the parade, and the candidates who held back may lose some Fighting Progressive street cred. If the House does not take the fateful step, then impeachment could become a serious issue in the nominating contest itself, particularly among voters and activists who become angry about Congress's inaction. In that case, pressure on the field to follow Warren will intensify. It would create a particularly interesting challenge for Bernie Sanders, currently one of the more adamantly anti-impeachment candidates. Warren is already rolling out enough audacious policy proposals to threaten Sanders's left flank. If she's vocally for impeachment and he's vocally opposed, it could begin to matter to voters, particularly those who think failing to pursue impeachment represents the kind of cowardice for which people like Bernie used to criticize the party Establishment.
All in all, Warren's impeachment gambit could work out well for a candidate who was perceived as struggling not that very long ago.