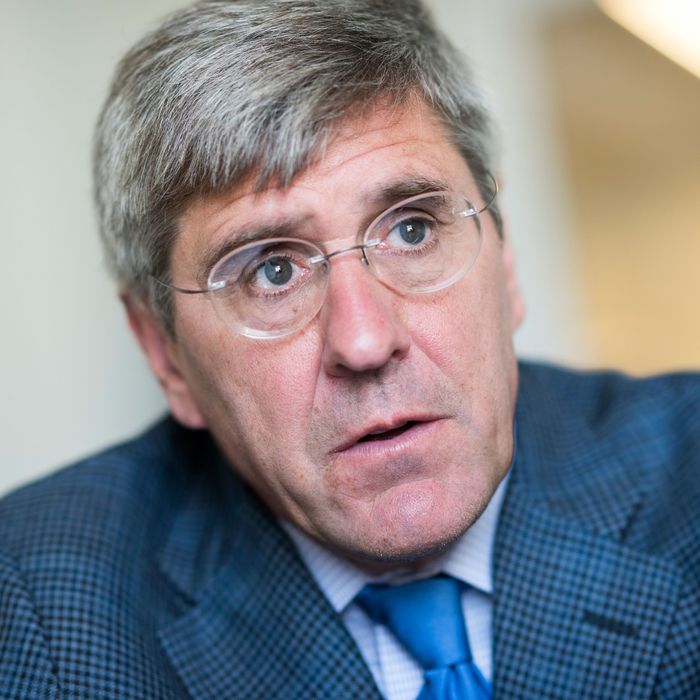 Photo: Tom Williams/CQ-Roll Call,Inc.
As Republican senators begin to sour on the idea of nominating gold-standard enthusiast and prolific misogynist Stephen Moore to the board of the Federal Reserve, Trump's nominee appeared on Firing Line With Margaret Hoover. If Moore is hoping to assure the president that he's still the supply-sider for the job — the White House announced Monday that it is reviewing Moore's columns for further moments of bigotry — the PBS interview certainly didn't help his cause.
Hoover asked Moore about past comments that were neither appropriate at the time nor have aged well. In a 2000 appearance on C-SPAN, he stated that the rise of black female income was a negative influence on the family unit: "It's not a good thing that black women are making more than black men today. In fact, the male needs to be the breadwinner of the family, and one of the reasons I think you've seen the decline of the family, not just in the black community, but also it's happening now in the white community as well, is because women are more economically self-sufficient. So, I would like to see an increase in black earnings because black men have not closed the gap as much as black women have." Moore reworded that position on Tuesday:
Moore also provided some clarity about an extremely questionable joke he made in a speech on health care given shortly after the election of Donald Trump: "By the way, did you see, there's that great cartoon going along? A New York Times headline: 'First Thing Donald Trump Does As President Is Kick a Black Family Out of Public Housing,' and it has Obama leaving the White House. I mean, I just love that one. Just a great one." Moore did his best to defend the quote, which was issued less than three years ago:
Moore added that "there should be a statute of limitations on saying stupid things," claiming that "times have changed a lot" since he made the comments regarding female income in 2000. (Hoover then reminded Moore that he had made similar comments in 2014.) It appears that statute of limitations would need to be just seconds long to do Moore any good.