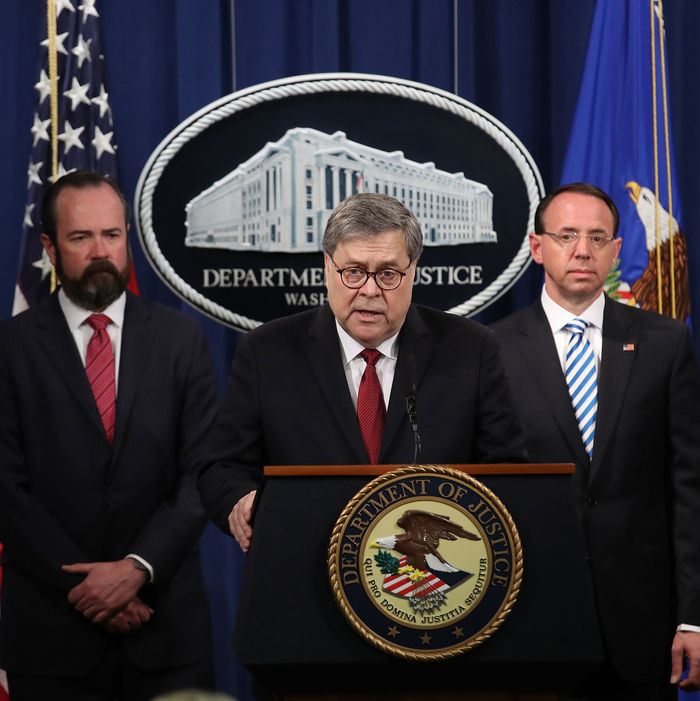 Attorney General William Barr speaking about the Mueller report.
Photo: Win McNamee/Getty Images
Ninety minutes before a redacted version of the Mueller report was set to be delivered to Congress, Attorney General William Barr held a press conference to discuss Mueller's investigation into Russian election interference and, once again, offer his own summary of the special counsel's report.
Barr said he will deliver a copy of the "public" version of the report to Congressional leaders at 11 a.m. A copy of the report will be posted to the Justice Department's website shortly thereafter.
Barr began the presser by summarizing the Mueller report. While Russia sought to interfere in the 2016 presidential election, he said, they did "not have the cooperation of President Trump or the Trump campaign."
He then moved to obstruction of justice. The report, Barr said, included ten potential incidents of obstruction. He and Deputy Attorney General Rod Rosenstein, Barr said, determined that there was not enough evidence to establish obstruction.
Barr also seemed to be defending Trump's lashing out at the investigation as a rational response to a president who felt under fire.
He added that because there was no collusion, Trump could not have obstructed justice.
Barr discussed the process of preparing the report for the public and said no parts were being redacted based on White House invocation of executive privilege. He also revealed something new: Trump's lawyers were given a copy of the redacted report earlier this week.
Democrats took issue with the timing of Barr's presser. In a press conference Wednesday evening, House Judiciary Committee chairman Jerrold Nadler accused Barr of "waging a media campaign on behalf of President Trump."
"Rather than letting the facts of the report speak for themselves, the attorney general has taken unprecedented steps to spin Mueller's nearly two-year investigation," Nadler said.
This post has been updated throughout.