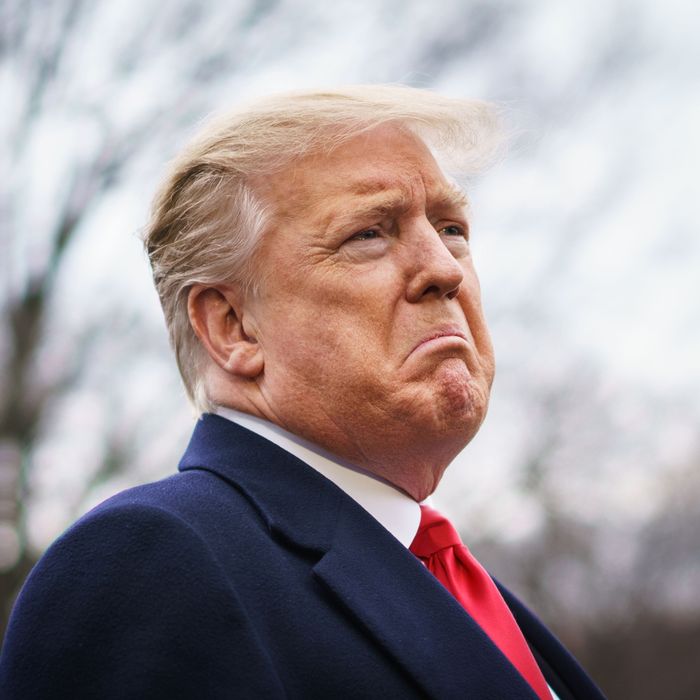 What, me obstruct?
Photo: Mandel Ngan/AFP/Getty Images
Renato Mariotti, a former federal prosecutor who has written extensively about the Mueller investigation, spoke with Intelligencer to offer his initial thoughts on the redacted report — specifically the question of why special counsel Robert Mueller chose not to charge President Trump with obstruction, despite ample evidence pointing to the president's culpability.
What is your first-blush takeaway on the matter of obstruction of justice as laid out in the report?
There are some extraordinary revelations. The first is that Mueller's decision not to reach traditional prosecutorial judgment regarding obstruction of justice was due to the fact that he was prevented under Department of Justice policy from charging the president while he's in office. What that meant, in his mind, was that if he had reached a conclusion regarding the president's criminality, the president could not challenge it in court — he'd have no opportunity to rebut the charges.
That leads me to a couple of other conclusions. First of all, Attorney General Barr engaged in highly deceptive and misleading conduct in both his letter and in his press conference today, when he suggested that Mueller's decision not to reach a traditional judgment on obstruction of justice was due to "difficult questions of law and fact." Instead, it was due to Mueller's sense of fairness based on the Justice Department's policy that a sitting president can't be indicted.
A reporter at the Barr press conference asked him if the DOJs policy regarding indicting a sitting president was the cause of Mueller's nondecision, and Barr, in response, recounted a private conversation with Mueller in which Mueller said it wasn't. But if you read the report, it's very clear that it's due to concerns that arise from that policy. That's why he didn't reach a conclusion. And indeed, Mueller also rejected Barr's views regarding the law and obstruction of justice, and said that Congress could enforce an obstruction of justice statute against a president who was corruptly using his presidential powers. It strongly suggests that he intended for that decision to be made by Congress, not Barr — calling further into question Barr's decision to insert himself between Mueller and Congress and make his own determination regarding obstruction of justice while simultaneously keeping the report from Congress.
Do you think Mueller made the right call in his reasoning on obstruction of justice?
It's hard for me to see someone reading this and concluding that Trump did not obstruct justice. It would be very hard to defend that case to a jury. What Mueller did in failing to reach a conclusion reflected a sense of fair play and humility that is truly extraordinary. In the face of hateful rhetoric from President Trump, he was concerned about procedural fairness to the man. And I will never criticize a prosecutor for being fair and showing humility — never. But it is extraordinary to me that in the face of such humility and fair play on the part of Robert Mueller, we now see such a lack of judgment by Bill Barr, in order to try to distort the conclusions — and lack thereof — that Robert Mueller reached.
Right, we have an attorney general basically acting as the president's defense attorney. How much of a blow to the rule of law is that, in your view?
What Mueller said in his report was that if the corrupt abuse of a president's authority could not be considered by Congress, the president would be above the law. So therefore, it's up to Congress to act to ensure that the president is not abusing his power. For Bill Barr to distort Mueller's findings to the public and ultimately, therefore, to Congress, is an effort to place the president above the law.
This interview has been edited for length and clarity.