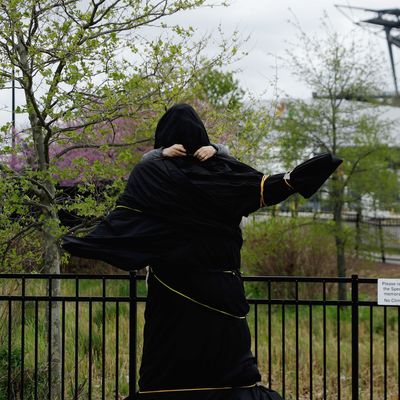 A worker covers a statue of singer Kate Smith in Philadelphia.
Photo: Matt Slocum/AP/REX/Shutterstock
Nearly a decade ago now, I sat in the Upper West Side study of Irish tenor Ronan Tynan, who had risen to fame by singing "God Bless America" at the seventh-inning stretch of Yankees games in the months and years after September 11. (Tynan would later sing at the funerals of Presidents Reagan and Bush Sr.) When I was with Tynan, though, he wept, because it had all fallen apart. An incident in his apartment building in October 2009 in which a neighbor accused him of making an "anti-Semetic slur" (Tynan claimed it was a misunderstanding) that ended up pasting his face across the tabloids, and it had, to Tynan's great misery, caused the Yankees to fire him from his "God Bless America" gig. "At this stage, all I want to do is get on the next plane to Ireland and never come back," Tynan told me then. Tynan had, in parlance we weren't using at the time, been canceled.
Tynan claimed that the incident was a misunderstanding, but the problem was that he was expendable, and the controversy, fair or not, was more trouble than he was worth. The job of Seventh Inning Singer, particularly as we got farther away from September 11 and those who understood the emotions at Yankee Stadium during that time, was just not important enough to defend against bad press. In 2010, it was Ronan Tynan. Today, it is Kate Smith.
Last week, the Yankees announced that they will no longer be playing Smith's recorded version of "God Bless America" at the stretch, and the Philadelphia Flyers will be taking down a statue of Smith, which stood outside their arena. (Smith sang "God Bless America" before the Flyers won the 1974 Stanley Cup Finals and had been treated as, as NPR put it, a "talisman" ever since.) The reason? Recently discovered recordings of Smith (who died in 1986) singing racially insensitive songs "That's Why Darkies Were Born" and "Pickaninny Heaven." Flyers team president Paul Holmgren released a statement saying, "We cannot stand idle while material from another era gets in the way of who we are today."
And just like that: Sports has its first Confederate Monuments controversy.
Well, that's not entirely true: Penn State is still having daily fights about its Joe Paterno statue, but that remains a fresh wound that the entire campus (and sports community) is still cauterizing and suturing. The Smith statue is more related to the Jefferson Davis and Robert E. Lee statues issues, or at least has fired up the same culture-war battles that those monument fights did, with the predictable raised hackles from the people who use phrases like "virtue signaling" and "easily offended," from Fox's Jason Whitlock (who, inevitably, compared Smith to Dr. Dre lyrics) to ESPN's Will Cain, who argued that "there will always be an offended party." (From this perspective, it always seems that party is Jason Whitlock or Will Cain.) The Federalist, equally inevitably, argued, satirically, that the Yankees themselves should be forced to disband because of their own issues with race; after all, they didn't have any black players for the first half of the 20th century. "Let's end the Yankees. Please sign my petition," the piece ends, and it is not difficult to imagine the author high-fiving everyone in sight to honor his killer kicker.
But, hidden in all the snickering, there is a valid point: Where do sports teams get off picking and choosing which parts of their history they want to honor and which ones they want to make disappear? Kate Smith is an easy target, having been dead for 33 years and (more important) being someone that Yankees and Flyers fans don't really care about, but, well, if sport teams want to start tearing down statues of people because of their problematic pasts, they have no shortage of opportunities. Jane Leavy's biography of Mickey Mantle, The Last Boy, is full of stories of Mantle doing and saying far worse things than Kate Smith, including once responding to a hotel hostess's request for an autograph for her son by grabbing her breasts; his bust in center field is one of the proudest in Monument Park. Tino Martinez, also out there, was forced out of baseball over accusations he abused players. And don't get me started on George Steinbrenner.
If teams are going to start taking down statues, well, the Cardinals have one of Rogers Hornsby outside Busch Stadium, and he once told a writer he was a proud member of the KKK. Ty Cobb, as ornery and repugnant as anyone in sports history, still has his outside Comerica Park in Detroit. The Braves put up a brand-new statue of former manager Bobby Cox outside their new SunTrust park two years ago despite a particularly ugly domestic-violence incident. Speaking of which: You can still go see O.J. Simpson's bust at Canton anytime you wish.
Heck, as Gizmodo Media Group editor (and former Deadspin boss) Tim Marchman pointed out, Kate Smith isn't even the most offensive part of "God Bless America": that would be songwriter Irving Berlin, who also wrote a song with the lyrics, "Latins, they don't play baseball / They're not so good with a rake or a plow / They're not experts at making money / But when it comes to making love / A Latin knows how." The difference, of course, is that getting Kate Smith and Ronan Tynan out of sports is easy; getting rid of "God Bless America" is a whole other kielbasa.
The entire foundation of American sports is built on the back on racism and sexism and loathsome behavior. If you wanted to watch gentlemen on Sunday, you'd go to church, but the sinners, they provide more entertainment bang for your buck. To see sports starting to reckon with the problematic nature of so many of their old symbols and icons is actually sort of encouraging, even if it's so far rather empty and ineffectual. The Yankees can survive just fine with Kate Smith hagiography; it'll be when they reckon with Steinbrenner that I'll really buy it. And that's where Whitlock and Cain & Co. have it wrong. The inconsistency of ejecting Kate Smith from sports and letting other icons like Steinbrenner stand isn't a reason to reverse course and bring back Kate Smith. It's a reason to go after Steinbrenner, and all the rest of them. Maybe that's exactly what they're most worried about.
Will Leitch's Games column runs weekly. Email him at will.leitch@nymag.com.