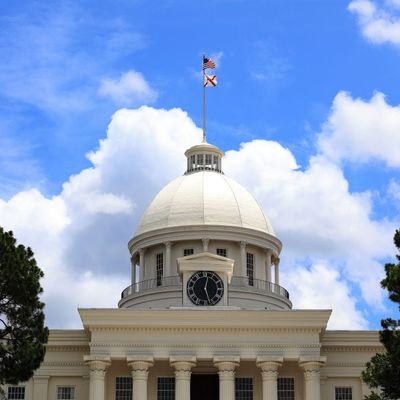 Photo: Raymond Boyd/Getty Images
On Tuesday, the state Senate in Alabama passed the most restrictive abortion bill in the nation. It is a near-total ban, with no exceptions for rape or incest. The legislation — passed by 25 men in a state Senate featuring just three women — criminalizes the procedure for doctors, who would be charged with a felony and up to 99 years in prison. Physicians would also face a ten-year sentence for attempting to perform an abortion. Women who seek out the procedure would not be prosecuted under the bill.
Immediately upon its passage, Democrats and abortion rights advocates condemned Alabaman lawmakers. "Today is a dark day for women in Alabama and across this country," said Staci Fox, the head of Planned Parenthood Southeast Advocates. "Banning abortion is bad enough. Imprisoning doctors for providing care goes beyond the brink. Alabama politicians will forever live in infamy for this vote and we will make sure that every woman knows who to hold accountable."
Here are some of the responses:
The bill will now head to Republican Governor Kay Ivey, who is expected to sign it into law. From there, the path forward is uncertain: Even supporters of the bill do not expect it to survive the review of a lower court.
But that's more or less the point. The architect of the bill, founder of the Alabama Pro-Life Coalition Eric Johnston, wants to give the conservative-leaning Supreme Court an opportunity to overturn Roe v. Wade. According to the New York Times, Johnston hopes that his bill will find itself in front of the Court instead of one of the six-week abortion bans that passed in Georgia, Mississippi, or Ohio, so that if the Alabama bill is upheld, it would represent an all-but-complete overturn of Roe. "Why not go all the way?" Johnston asked.