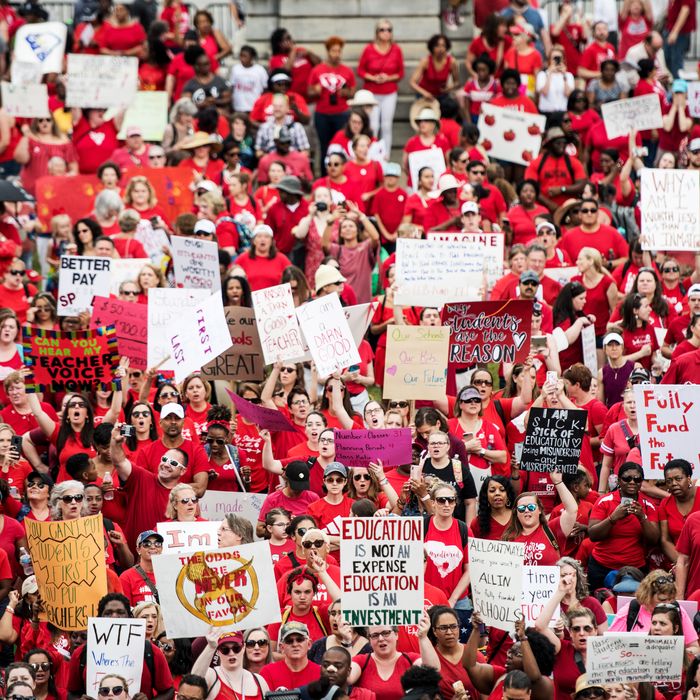 Teachers and their supporters rally at the South Carolina State House on May Day.
Photo: Sean Rayford/Getty Images
The first of May is International Workers' Day for the labor movement and the left. Though the day has origins in the mid-to-late-19th-century movement for an eight-hour workday, it's also come to commemorate the Haymarket riots in Chicago, which followed the murders of picketing workers by police on May 3, 1886. Seven policemen and four workers died in riots the following day. Eight anarchists were later tried, and four hanged, for their alleged involvement in the use of a bomb during the riots, but there was little-to-no evidence connecting any of them to the crime.
Over 130 years later, International Workers' Day has become a world holiday, though it's not formally recognized as such in the U.S. The day remains a flashpoint for labor action and for celebratory demonstrations of worker solidarity, and this year, the RedforEd movement left a definitive mark on the holiday. Around 10,000 public educators in South Carolina marched in the state capital today, demanding smaller class sizes, higher pay, and reduced standardized testing. Clad in the now-familiar red shirts of the RedforEd movement, they sang "We're Not Gonna Take It" in front of the state Department of Education.
On Twitter, high-profile Democratic candidates for president expressed support for South Carolina educators and, more broadly, for International Workers' Day:
South Carolina educators weren't the only educators to stage May Day demonstrations. In North Carolina, some teachers walked out of school for the second year in a row to demand Medicaid expansion, the hiring of more school support staff like nurses and counselors, and a $15 minimum wage for all education workers, among other issues. Last month, the Raleigh News & Observer reported that the four largest school districts in North Carolina had preemptively canceled classes for May 1; on the same date in 2018, teachers successfully shut down 42 school districts with a similar walkout. In Chicago, meanwhile, the Chicago Teachers Union is preparing for what it's calling the nation's first-ever multi-employer charter-school strike. "More unionized charter schools could join the strike in the coming days if progress is not made at the bargaining table," the union announced in a press release. At 5 p.m. CST, American Federation of Teachers president Randi Weingarten will join educators and union leaders at the ChiArts school to kick off the union's latest strike. Chicago was also the scene of the nation's first-ever charter-school strike, which affected Acero charter schools in December.
At Harvard University, graduate-student workers are holding their own May Day protest. The students, who are members of the United Automobile Workers, have occupied University Hall to draw attention to what they say is the university's failure to "to provide student workers with key protections from harassment and discrimination following a series of troubling, high-profile incidents and a reported 55 percent increase in harassment complaints on campus." Though graduate students voted to unionize in April 2018, the union says on its website that Harvard's administration did not "adequately meet" with its bargaining committee until October. Student workers still have no union contract. "We are exercising our rights as workers to demand protections for harassment and discrimination because, while Harvard is a world class institution, it has a world class #MeToo problem," Sophie Hill, a graduate student in government, said in a press release issued by the union. "Right now, my colleagues inside University Hall are not being allowed to go to the bathroom, but we are standing strong. The Administration needs to provide a contract now."
At least one union is holding off on strike plans for now. District Council 1707 AFSCME, which represents some preschool educators in New York City, told the press on Wednesday that it has "agreed to call off the strike and rally scheduled for Thursday, May 2, and agreed to refrain from striking while the discussions are ongoing." Both of the union's locals had previously voted to authorize a one-day strike over pay parity; educators in community-run preschools said they are paid far less than their colleagues in public schools, despite their inclusion in Mayor Bill de Blasio's universal pre-K program.