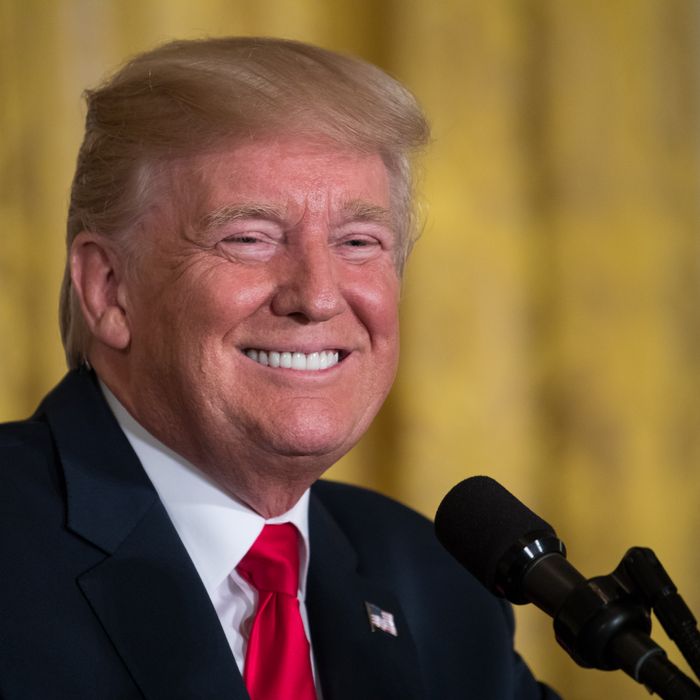 Photo: Cheriss May/NurPhoto via Getty Images
Sleepy Joe. One Percent Joe. SleepyCreepy Joe. If there's a Trump insult primary, former Vice-President Biden is well ahead of the pack — just as he is in actual polling. But the president's excess of bad nicknames has a strategic downside, according to Republican operatives who spoke with the New York Times; they worry that Trump's spotlight on Biden is helping him stand out in a crowded Democratic primary class.
"In a Democratic primary, attacks from President Trump are the best thing that can happen to you," Republican campaign strategist Matt Gorman told the Times. "It elevates you, gives you a huge fundraising boost and sucks the oxygen from your competitors." Chris LaCivita, another strategist, said he would prefer the president to pick a Democratic candidate whose platform would be easier to disparage among the Republican base. "Bernie Sanders is the perfect guy for us," LaCivita said. "He looks like the professor out of Back to the Future and is a hardcore socialist." Senior Trump campaign aides have reportedly told GOP officials they'd prefer to face a non-Biden candidate in the general.
Some Democrats also think that the Trump insults are playing to Biden's favor. "It just shows everybody that the vice president is the candidate Trump is most concerned about," Louisiana Representative Cedric Richmond told the Times. It's a theory made more convincing by this month's early morning, 60-tweet tirade after the International Association of Fire Fighters endorsed Biden.
"He just can't help himself during executive time," added Richmond, referring to the huge, unstructured swaths on the president's schedule, much of which is reportedly spent watching television. Republicans close to the president agree. According to the Times, Trump has been "consuming cable news coverage about Mr. Biden, and firing off tweets based on the coverage and polling on the Democratic race he hears about on the air."
Campaign aides and allies have reportedly told the president that he should stop drawing attention toward the current Democratic frontrunner, who enjoys an advantage over Trump in a survey of seven polls. But it appears that the president isn't absorbing the advice. Though Trump was surprised by Rudy Giuliani's now-cancelled trip to Ukraine to encourage prosecutors to investigate Biden's son Hunter's business contacts in the country, he said last week that a potential Justice Department investigation into the dealings "would be an appropriate thing" to discuss with his Attorney General.