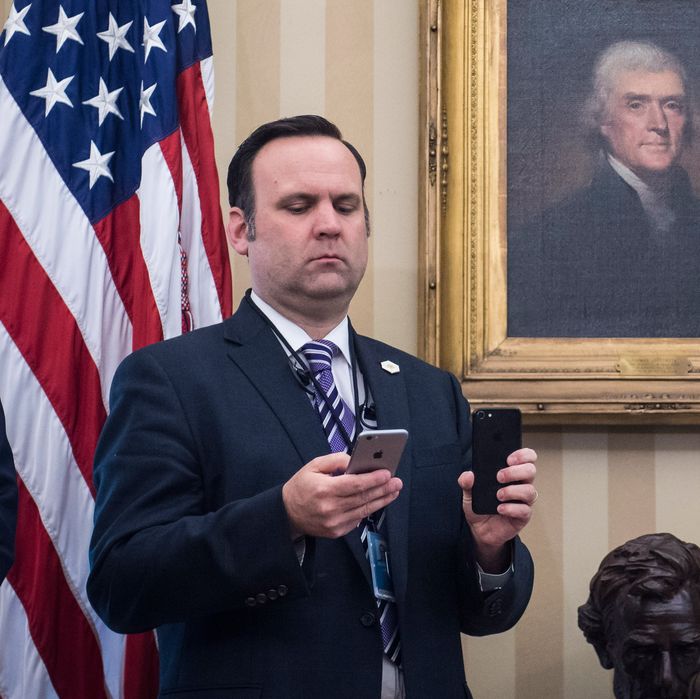 Trump's social media guru, Dan Scavino.
Photo: Jabin Botsford/The Washington Post/Getty Images
Politico published a profile of Dan Scavino, Donald Trump's social media guy, on Thursday that included all the usual nonsense we've become inured to in the past two years. Like the fact that Scavino, who's one of Trump's closest confidants, is a lurker on /r/The_Donald.
But there's one revelation in the piece that's actually worth dwelling on — Trump apparently uses social media metrics to influence policy. And Scavino is the guy who helps him do it.
The article's opening anecdote shows how this plays out. Trump was meeting with lawmakers after he announced that the U.S. would pull out of Syria. Like his former Defense Secretary, who quit over the decision, the members of Congress were trying to convince Trump to change his mind. But Trump was more interested in how the decision was playing on Twitter than on Capitol Hill or at the Pentagon. So he called Scavino into the meeting:
"Tell them how popular my policy is," Trump instructed Scavino, who, according to two people with knowledge of the exchange, proceeded to walk lawmakers through the positive reaction he had picked up on social media about Trump's Syria decision.




The sudden pivot from geostrategy to retweets and likes surprised the lawmakers.
The article adds that Trump relies on Scavino for "affirmation and advice about how his most sensitive policies will be received." Forget Congress, forget the Defense Secretary, forget the top American general in the Middle East — if the #MAGA crowd likes it, then so does Trump.