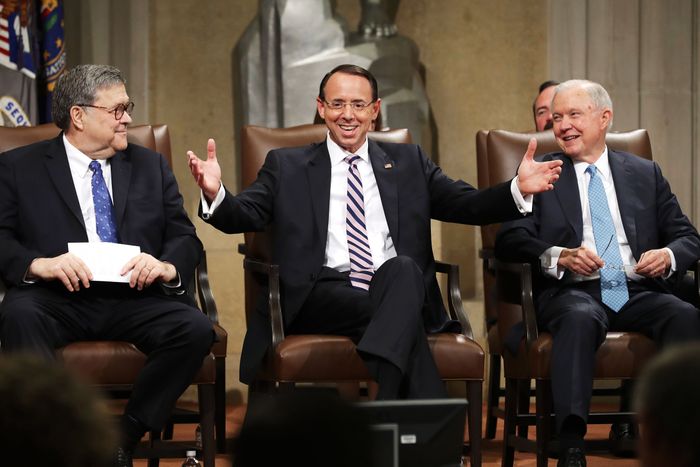 William Barr, Rod Rosenstein, and Jeff Sessions.
Photo: Chip Somodevilla/Getty Images
President Trump's progress in corrupting the Department of Justice — and, to some extent, the entire federal government — into a weapon of his autocratic aspirations relies on the acquiescence of figures like Rod Rosenstein. It is the Rosensteins who translate the president's lizard-brain impulses into practical directives and create a patina of normalcy around them. (Or, in some increasingly rare cases, refuse to do so.) And so Rosenstein's spate of valedictory remarks attempting to cleanse and justify his service to Trump give us real insight into the worldview of the compliant bureaucratic functionary.
In a speech last night, Rosenstein delivered a sharp attack on former FBI Director James Comey. Rosenstein, of course, supplied Trump with a letter justifying Comey's removal. Rosenstein justified his cooperation by claiming ignorance of any obstruction of justice motive. "Nobody said that the removal was intended to influence the course of my Russia investigation."
It is perhaps remotely possible that Rosenstein actually did not realize what was going on with Trump, Comey, and the Russia investigation. It is not possible that Rosenstein believed, as he wrote, that Donald "Lock her up!" Trump fired Comey for treating Hillary Clinton unfairly, which is the reason Rosenstein elucidated in his letter.
Rosenstein of course went through different emotional states during his period of service. At times he freaked out, musing aloud about invoking the 25th Amendment to remove Trump through a vote of his own Cabinet, or wearing a wire to a meeting with the president. But eventually, like so many members of his party, he settled on a policy of appeasement. If he stood up to Trump, Rosenstein surely reasoned, he would just be replaced with somebody worse. The process had to continue.
Rosenstein also gushed about the rule of law, assuring his audience that it is safe, and implictly crediting Trump with upholding it. "We use the term 'rule of law' to describe our obligation to follow neutral principles," he lectured. "As President Trump pointed out, 'we govern ourselves in accordance with the rule of law rather [than] … the whims of an elite few or the dictates of collective will.'"
More revealingly, Rosenstein lashed out at Comey, who has made some cutting remarks about Rosenstein's character, as a "partisan pundit." Rosenstein's conceit here is that Comey, a lifelong Republican, has become "partisan" by attacking Trump's character. Meanwhile, Rosenstein, also a Republican, has maintained his neutrality and therefore his credibility.
But Rosenstein's idea of nonpartisan neutrality does not require abstaining from political commentary. It merely requires abstaining from criticism of his boss. In another recent speech, Rosenstein attacked the Obama administration for failing "to publicize the full story about Russian computer hackers and social media trolls, and how they relate to a broader strategy to undermine America." (Blaming Obama for doing too little to stop the Russian operation, when Trump was abetting it and Republican leader Mitch McConnell threatened to publicly attack any administration statement against it, is one of Trump's Orwellian talking points.)
It might seem hypocritical for Rosenstein to parrot Trump's talking points and then lash out as Comey as a partisan pundit. But from Rosenstein's standpoint, it probably feels perfectly consistent. Opinions that extol and burnish the powers that be are qualitatively different than opinions tearing them down. Rosenstein's opinions are not opinions at all. They are merely the lubricant in the proper functioning of the machinery of government.
And so Rosenstein joined with William Barr to spin the Mueller report — in a fashion so misleading that Mueller himself memorialized his objections in a memo — and declare all of Trump's efforts to obstruct the probe to be non-crimes. Barr is meanwhile authorizing the fourth counter-investigation of the Russia probe. This will probably fail to yield any charges, but will succeed in making anybody in the Department of Justice think very carefully before looking into any crimes by Trump or his friends, with the full understanding that Republicans will harass them for years if they try.
Trump continues to mock even the pretense that his attorney general should make investigative decisions independent of politics. "I'm proud of our attorney general that he is looking into it," he told reporters today. Somehow, Rosenstein is able to look upon the situation he has left with pride. Mueller was never fired. More importantly, neither was Rosenstein himself. It is easy for the inside man to confuse a system that is intact with a system that is working.