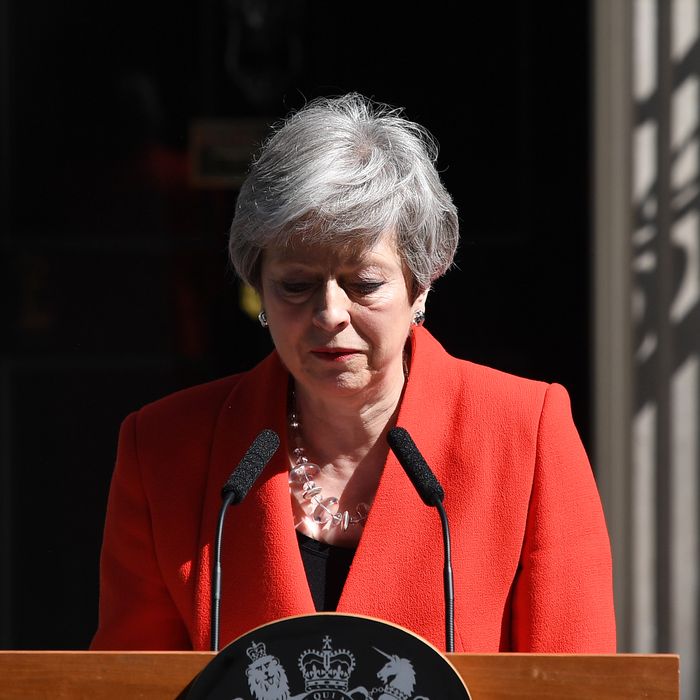 Theresa May announces her resignation outside 10 Downing Street on Friday, May 24, 2019.
Photo: Leon Neal/Getty Images
Three years after the U.K. voted to leave the E.U., it's still unclear what exactly the divorce agreement will look like, despite Prime Minister Theresa May's repeated efforts to get Parliament to accept her plan. Soon it will be someone else's problem. On Friday, May announced that she will resign as leader of the Conservative Party on June 7, clearing the way for a new prime minister.
"I have done everything I can to convince MPs to back that deal. Sadly I have not been able to do so. I tried three times. I believe it was right to persevere even when the odds against success seemed high," she said. "It is and will always remain a matter of deep regret for me that I have not been able to deliver Brexit."
"I will shortly leave the job that it has been the honor of my life to hold," she concluded, her voice cracking. "The second female prime minister, but certainly not the last. I do so with no ill will, but with enormous and enduring gratitude to have had the opportunity to serve the country I love."
May became prime minister as a result of the Brexit mess. Her predecessor David Cameron called the referendum in 2016, and resigned a day after Britain voted to leave. Like Cameron, May had pushed to remain, but once she became prime minister she made it her mission to carry out the will of the people. Though her dogged efforts to deliver a relatively orderly Brexit earned her some respect, others said she bungled the negotiating process. After suffering many humiliations, most recently Conservatives losing more than 1,300 seats in local elections this month, her departure was not unexpected.
The process to replace May as leader of the Conservative Party and of the government will begin on June 10 (which makes President Trump's state visit, which starts June 3, even more awkward). She will stay on as prime minister until Conservatives choose a new leader. As the Washington Post explained, this could take some time:
Under the Conservative Party rules, any lawmaker can put his or her name forward, as long as they have the backing of two Conservative members of Parliament. Tory lawmakers then vote in a series of rounds, removing the person with the fewest votes, until only two are left. The 150,000 Conservative Party members then select their preferred candidate. 
There is no obvious successor to May, but front-runners include former foreign secretary Boris Johnson and former Brexit secretary Dominic Raab. Whoever the next prime minister is, they're likely to push the E.U. for a Brexit plan that's tougher than May's deal, though Brussels has said it's done negotiating. After two delays, the current deadline for Britain leaving the E.U. is October 31. The most immediate questions facing the new prime minister will be whether to heed Labour leader Jeremy Corbyn and others calling for a general election, possibly breaking Parliament's stalemate over a Brexit plan:
Or to push for a disruptive no-deal Brexit. On Thursday BNP Paribas put the probability of Britain crashing out of the U.K. at 40 percent, up from 20 percent.
This post has been updated throughout.